There is nothing quite as relaxing as a cool drink on a hot summer day. Luckily for you (and your wallet), you don't need to go out to a bar to enjoy a refreshing cocktail. Whether you're kicking back after a long day of work or throwing a party with all your friends, there are tons of seasonal cocktails that will wow you. From a frozen daiquiri to a tasty mojito, these easy summer drinks are simple to make at home and enjoy with loved ones.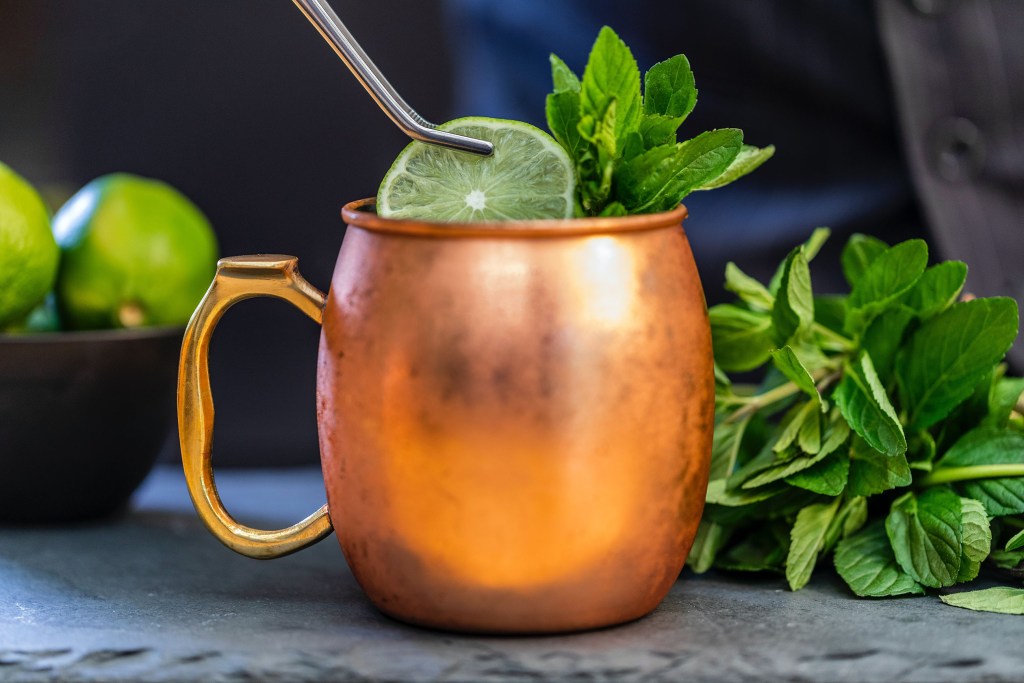 Peach basil Moscow mule
This refreshing take from Whitney Bond on the traditional Moscow mule is the perfect summer drink.
Ingredients
8 oz peach vodka
24 oz ginger beer
4 oz lemon juice
1/4 cup fresh basil
Instructions
This simple recipe makes four 8 oz cocktails and only takes about five minutes to complete. Start by filling your copper Moscow Mule cups with ice. Pour 2 oz of vodka, 6 oz of ginger beer, and 1 oz of lemon juice into each cup. Put a few sprigs of basil in each drink and stir.
Frozen sangria slush
If you're looking for a cool and classy drink to beat the summer heat, this recipe from Delish Knowledge is just the thing.
Ingredients
2 cups red wine
2 oz brandy
1/4 cup orange juice
1 whole lime, juiced
1 cup frozen strawberries
1 cup frozen raspberries
1 cup ice
Instructions
This fruity red wine sangria recipe makes six servings. Begin by adding all the ingredients into the blender and puree until the mixture is slushy. Pro tip: If you don't want to water down your drink with ice, make red wine ice cubes ahead of time to add to your drink.
Mojito
Mojitos are a classic summer drink that should definitely be in your repertoire as a home bartender. Here's a simple recipe from Liquor.com.
Ingredients
2 oz white rum
1/2 oz simple syrup (1:1 ratio granulated sugar and water)
3/4 oz lime juice
Splash of club soda
3 mint leaves
Instructions
In a cocktail shaker, muddle the mint leaves with the simple syrup. Add the rum, lime juice, and some ice, then shake. Strain the mixture into a highball glass over ice. Top the cocktail with a splash of club soda. For an aesthetic boost, garnish the drink with a slice of lime and a mint sprig.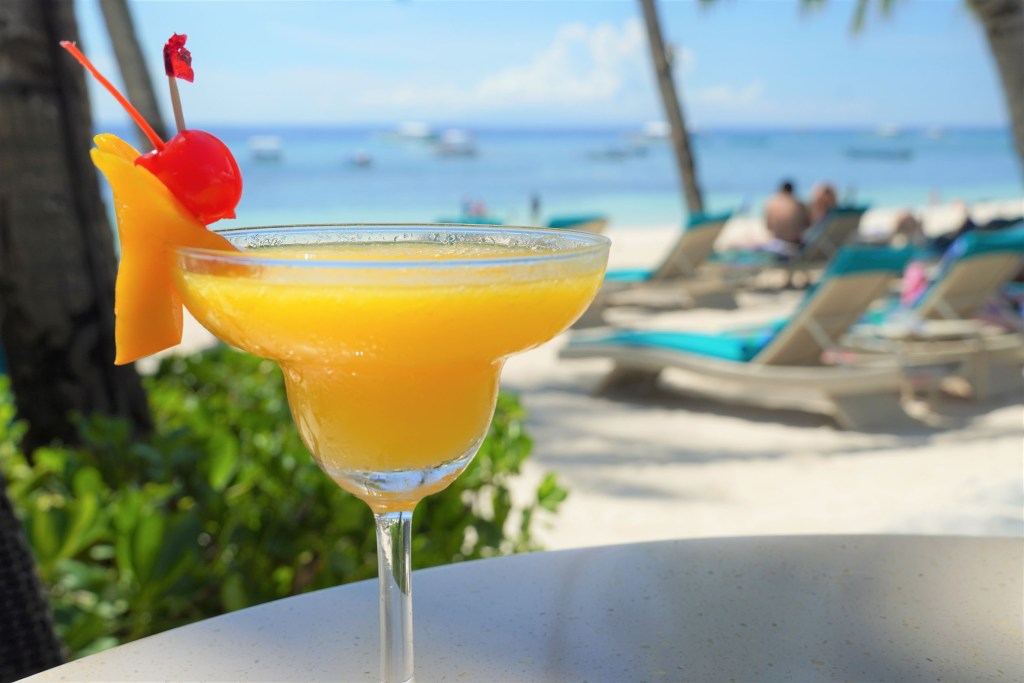 Frozen pineapple mango daiquiri
Nothing says summer quite like a fruity, frozen drink. Check out this delicious daiquiri recipe from Jelly Toast.
Ingredients
4 oz white rum
2 oz lime juice
1/4 cup water
1 cup fresh, cubed pineapple
1 cup frozen mango
1 cup crushed ice
Instructions
For this recipe for two, start by adding all the ingredients to a blender, and blend until the beverage has a smooth consistency. Divide the drink between your cocktail glasses and garnish each with a pineapple wedge.
Raspberry sorbet rosé float
Rosé lovers will absolutely adore this delicious drink from Joyful Healthy Eats.
Ingredients
6 oz vanilla vodka
1 bottle rosé wine
1 pint raspberry sorbet
Instructions
You can make about five or six cocktails with one bottle of wine, so try out this recipe next time you want to impress your guests. Pour 1 oz of vanilla vodka into each glass, then add a scoop of raspberry sorbet. Last, fill the rest of the glass with the rosé and enjoy!
Aperol spritz
This spritz is a happy-hour classic in Italy, and it's easy to see why with this basic recipe from Liquor.com.
Ingredients
3 oz Prosecco
2 oz Aperol
1 oz club soda
Orange slices
Instructions
To make this simple drink, combine the Prosecco, Aperol, and club soda in a wine glass with ice. Simply stir the cocktail and garnish the glass with an orange slice to finish.
Blueberry margarita
While margaritas are great any time of year, this fruity spin on the classic from Food and Wine is perfect for warm summer nights.
Ingredients
4 oz tequila
1 1/2 oz simple syrup
1 oz lime juice
A few dashes of orange bitters
1/4 cup fresh blueberries
Ice
Sea or kosher salt
Instructions
Rub the rims of two margarita glasses with a lime wedge. Swirl the edges through a pile of salt to coat the rims and add ice. Then, in a cocktail shaker, muddle the blueberries and lime juice until the fruit is pulverized. Add the tequila, simple syrup, bitters, and ice to the shaker. Shake forcefully for fifteen seconds before straining the drink into the salted glasses.
These are seven of the best homemade drinks for summer that anyone can make, regardless of bartending experience. No matter the occasion or your taste preferences, there is a summer cocktail that you'll love! Now, it's time to enjoy the sun (with a drink in your hand, of course).
BlissMark provides information regarding health, wellness, and beauty. The information within this article is not intended to be medical advice. Before starting any diet or exercise routine, consult your physician. If you don't have a primary care physician, the United States Health & Human Services department has a free online tool that can help you locate a clinic in your area. We are not medical professionals, have not verified or vetted any programs, and in no way intend our content to be anything more than informative and inspiring.
Editors' Recommendations