The days for sipping cold, summery cocktails are long past. The cold winter weather is perfect for warming up with a nourishing bowl of soup. When you imagine a hearty soup, you probably picture a chunky beef stew or cream-based chowder. But filling and substantial soups don't have to be loaded with calories. There are lots of healthy, hearty soup recipes to try, many of which are simple to cook at home. Here are 15 easy healthy soup recipes to make this season.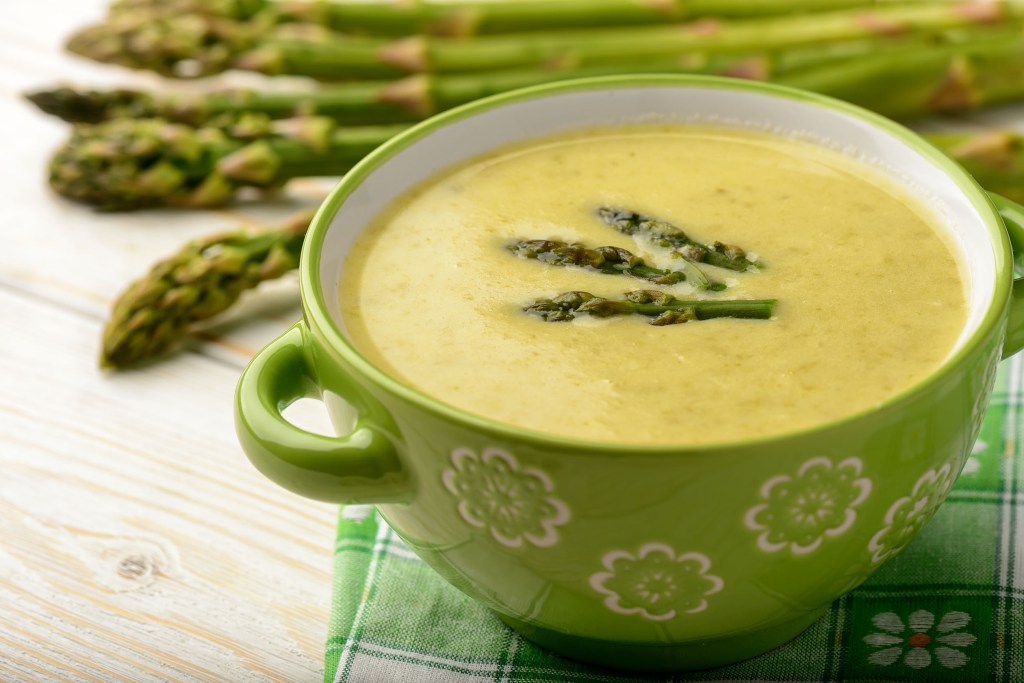 Vegetarian soup recipes
You don't have to be a vegetarian to enjoy these delicious veggie soups! And remember, chicken stock and vegetable stock are interchangeable without altering the flavor too much, so you can make these recipes strictly vegetarian (or not) if desired. These are four of our fav veggie soups. Start out with the incredible recipe for Roasted Red Pepper and Tomato Soup with Goat Cheese. This bold and bright soup only takes 20 minutes to prep.
Despite its creamy and decadent texture, this Roasted Garlic and Asparagus Soup recipe only contain 156 calories per serving. The 30 Minute Tomato Quinoa Soup packs in a lot of protein, thanks to superfood quinoa. This Creamy Broccoli Soup doesn't rely on heavy dairy for its velvety texture; it instead depends on potatoes, olive oil, and broccoli for the creamy flavor.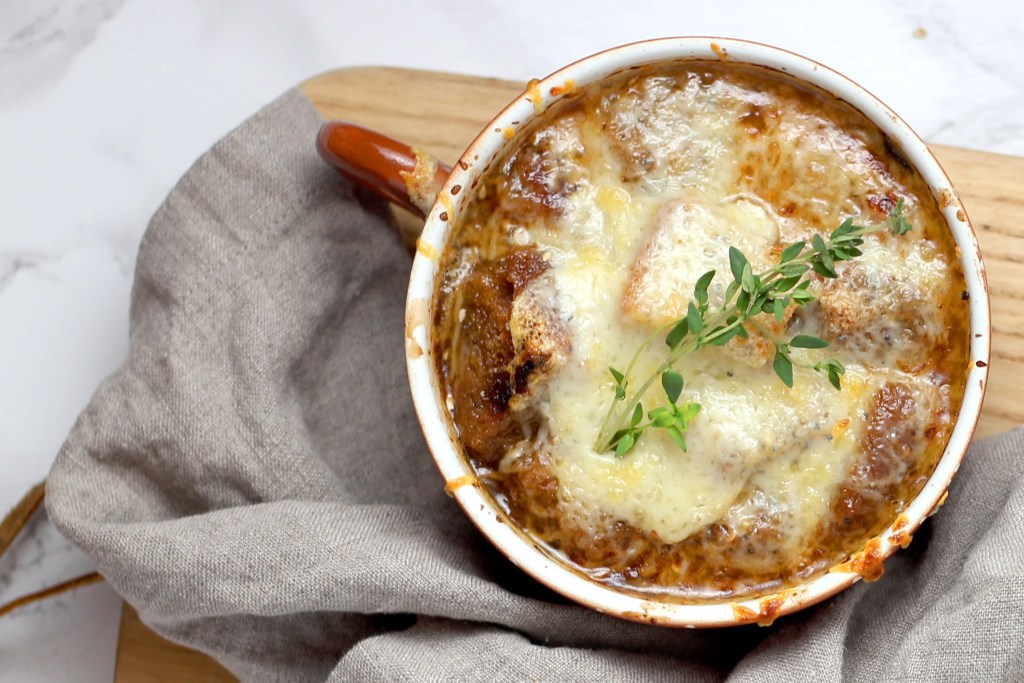 Meat soup recipes
These next four soups either contain meat or a combination of meat-based broths that contribute to the overall flavor of the dish. This Chicken & Bok Choy Soup with Ginger & Mushrooms is hearty with just the right amount of spice. Plus, the Chinese soup is low-cal, gluten-free, and contains low added sugars. The nutritious Kale & Chicken Pesto Soup uses Italian-inspired flavors to create this robust and filling dish.
For another Italian soup, try the Creamy Tortellini Soup recipe. With tomatoes, Italian sausage, and cheesy tortellini, you won't believe a dish so filling could be so healthy. Gooey and cheesy French Onion Soup doesn't have to be bad for you. This recipe puts a healthy twist on the traditional French Onion using low-sodium chicken and beef broth and protein-packed chickpea flour.
Vegan soup recipes
You don't need meat, dairy, or any other animal products to create delightful dishes. This smooth and creamy Curried Cauliflower Soup can be prepped and cooked in half an hour. The soup is also low-fat, low-cal, and full of healthy veggies. Speaking of produce, this Seriously Good Vegetable Soup is a must-try. You can use any type of seasonal veggie you want to flavor this incredible soup.
For a hearty and protein-packed dish, consider making Butternut Squash, Chickpea & Lentil Moroccan Stew. The vegan stew is bursting with flavorful spices like cumin, turmeric, cinnamon, and cayenne pepper. This savory and filling Kale and Roasted Vegetable Soup is the perfect vegan soup for chilly nights. The roasted veggies add a sweet and toasty flavor to the soup, and the white beans add extra protein and fiber to the dish.
Noodle soup recipes
Though traditional pasta has its benefits, it is also high in carbs and full of gluten. These three noodle soup recipes swap wheat pasta for zucchini noodles (zoodles) and rice noodles. For the cold winter months, you can't go wrong with this traditional Vietnamese Pho recipe. The recipe recommends cooking the soup in an instant pot, making the process much simpler and faster. Try this healthy version of chicken noodle soup, which uses zucchini noodles instead of wheat pasta. The low-carb Chicken Zoodle Soup is just as comforting and tasty as its conventional counterpart. This Golden Turmeric Noodle Miso Soup is hearty, healthy, and oh-so-delicious. You can use traditional rice noodles, nutritious zoodles, or a combination of both.
A hearty winter soup doesn't have to be full of calories; soups can be robust and satisfying while still being nutritious. These 15 hearty, healthy soups are great for people on all sorts of diets. No matter if you're on a vegetarian, dairy-free, gluten-free, or any other type of diet, one of these soup recipes is about to become your new favorite dish. Add these recipes to your bookmarks, so you don't miss out on any of these fantastic meals.
BlissMark provides information regarding health, wellness, and beauty. The information within this article is not intended to be medical advice. Before starting any diet or exercise routine, consult your physician. If you don't have a primary care physician, the United States Health & Human Services department has a free online tool that can help you locate a clinic in your area. We are not medical professionals, have not verified or vetted any programs, and in no way intend our content to be anything more than informative and inspiring.
Editors' Recommendations