Is washing your face at the end of the day enough? Should you be doing more for your skin to get it clean? If you feel like after you wash your face it still feels like it might not be completely clean, start looking for a great toner.
Even the best cleansers can leave behind clogged pores. If you find something is missing from your skincare routine, it could be toner. If you don't use one or have stared at them in the beauty aisle and then given up because there were too many and you couldn't figure out which one to grab, we will help you navigate how to find the right one for you.
What it does
What is face toner? A toner is an additional cleanser that gets your pores and skin ready to better absorb your skincare products. It will make your serums and creams penetrate deeper into your skin and be able to work more aggressively. If these benefits sound like ones you'd love to see, then toner should be a product you should start using. With continuous use, you'll see some awesome results. Here are a few benefits of using toner:
Restores skin's pH balance
Evens out skin tone
Smooths out bumpy patches
Prevents further damage
Removes leftover makeup, dirt, and oil
Toners are used twice a day, after cleansing. It won't interfere with your other serums, lotions, or creams. While you have to watch out when mixing your retinol and vitamin C serums, you won't have to check anything when you use a toner.
Ingredients to look for
There are so many kinds of toners these days. It can be overwhelming to find the one that's best suited for your skin. It's also worth noting that most toners have multiple ingredients that overlap, so you'll get a few beneficial ingredients no matter what kind you grab. Some of the most popular ingredients and what they do.
Vitamin E hydrates
Tea tree oil fights bacteria
Chamomile soothes
Aloe vera calms and tones down redness
Rosewater hydrates
Witch hazel reduces inflammation
Are there ingredients you want to stay away from? Yes! There is a particularly important one: alcohol. Alcohol is a drying agent that could leave your skin flaky and irritate it.
Should anyone skip out on using a toner?
Toner can be used by almost anyone. We encourage it. But before you dive in and add it to your skincare routine, do a small patch test. If you are extremely prone to dry skin or have noticed some products irritate your skin and make it red, you want to know before you've committed.
But otherwise, use your toner after washing your face in the morning and before you go to bed. Once your face has dried you can use your serums and creams like normal. Oily, combination, normal, and dry skin types can all use toner. Young, old, and teens — no matter who you are, you should have a bottle of toner in your bathroom.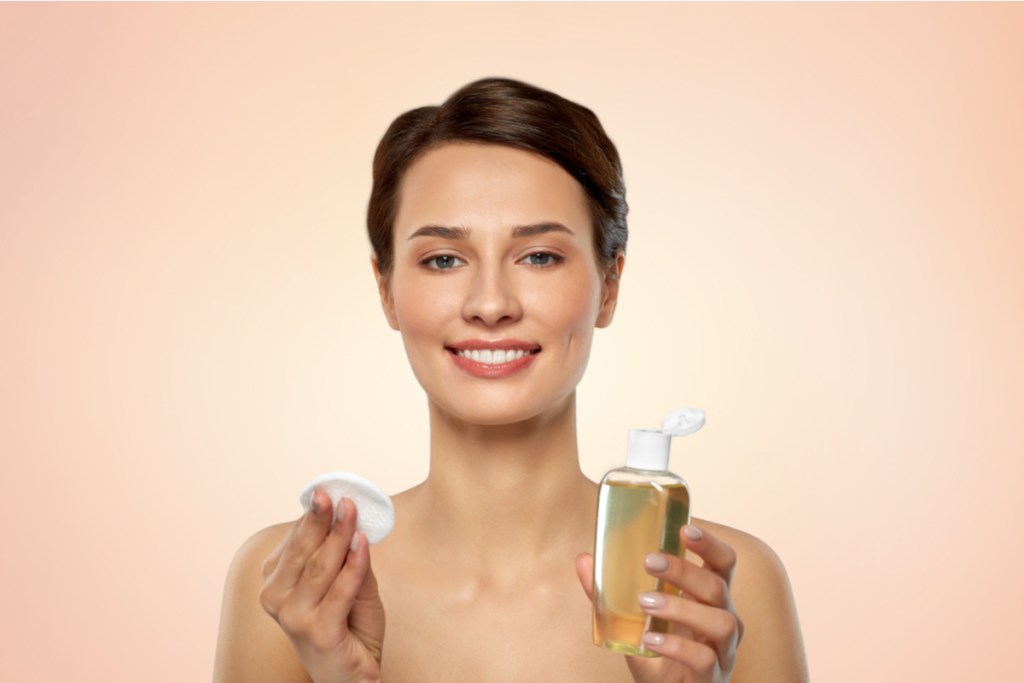 3 main types
While there can be countless ingredients amongst the types of toners, there are 3 main types.
Exfoliating
Exfoliating toners will have glycolic and salicylic acids in them. These acids aid in exfoliating dead skin, dirt, oil, and other pollutants. They will take care of everything sitting on the top layer of skin. This type will scrub out and shrink pores, even out dullness, and smooth out bumps.
These toners are great for oily, combination, and normal skin. If you have sensitive skin or dry skin, you might want to opt for a different type of product. The additional exfoliation could be irritating. Try Summer Fridays Soft Reset AHA Exfoliating Solution to see clearer pores, brighter skin, and fewer lines.
Hydrating
If your cleanser leaves your skin feeling a bit tight, a hydrating toner can make it feel more relaxed. These types, however, won't help remove extra dirt and oil that your cleanser leaves behind.
Though these are best for dry and sensitive skin types, any other skin type can see results from a hydrating toner. If you want a bit of extra radiance, try AHC Aqualuronic Hydrating Toner. It has three kinds of hyaluronic acids to make sure your skin has all the moisture it needs.
Treatment
This is kind of a catch-all name. It could list anti-aging, brightening, or a whole host of other benefits. Treatment toners are marketed as treating a specific problem. But if you look at the ingredients, you could see hydrating vitamin E and calming tea tree oil. Speaking of calming, Burt's Bees Calming Toner smells heavenly, doesn't contain alcohol, and the witch hazel and rose will shrink pores while calming your skin.
The results are in — you need a face toner. No matter what you want for your skin, there is a toner type for you.
BlissMark provides information regarding health, wellness, and beauty. The information within this article is not intended to be medical advice. Before starting any diet or exercise routine, consult your physician. If you don't have a primary care physician, the United States Health & Human Services department has a free online tool that can help you locate a clinic in your area. We are not medical professionals, have not verified or vetted any programs, and in no way intend our content to be anything more than informative and inspiring.
Editors' Recommendations