The Halloween season means candy, costumes, movies, and time to switch up your nails. It doesn't matter if you love funny or scary nail art, your hands need to get in the Halloween spirit. Show your spooky side and rock some amazing Halloween nails. Let's check out fabulous ways to transform your nails into works of art for Halloween.
Moon goddess vibes
If you love all things witchy and are drawn to the dark side of All Hallows Eve, then the phases of the moon are the perfect way to express that.
We've watched the tutorials and honestly, there is no way we could do that. Here's an easier way. Check out these amazingly detailed moon phase nail decals. These are easy to apply and will let anyone of any artistic level rock moon nails this Halloween season.
Candy corn nails
The only acceptable way to enjoy candy corn this Halloween season is by turning your nails into replicas of the famous candy.
You can do yellow, orange, white in either direction, do all your nails in the same order, or do the trend of doing four nails one way and the other nail the opposite way for a bit of fun.
Not only will you put a smile on people's faces when they get the reference, but if you love to wear all black during the fall (or all of the time, right?) then these nails will match everything. Check out this tutorial by @nailsbyjema for an easy guide to get that staple look.
Ghosts and spider webs
If you want something more than solid colors, don't want to deal with nail decals, but aren't super confident in your artistic ability — we have a spooktacular answer.
Ghosts
Anyone can paint ghosts on their nails. It's easy and even if you mess up a bit it's fine. Ghosts aren't solid beings so a little fluidity in the shape is great.
This tutorial by @IHeartNailArt will show you five different ghosts you can paint on your nails. You can do all five or find the one that's easiest for you to do.
Spiderwebs
Spiderwebs are also easy for anyone to paint on their nails. And if the lines aren't perfect, you can tell people the spider had a bit of caffeine that day. Webs are a cute way to bring Halloween flair to your nail game. This tutorial by @cutepolish is so simple to do.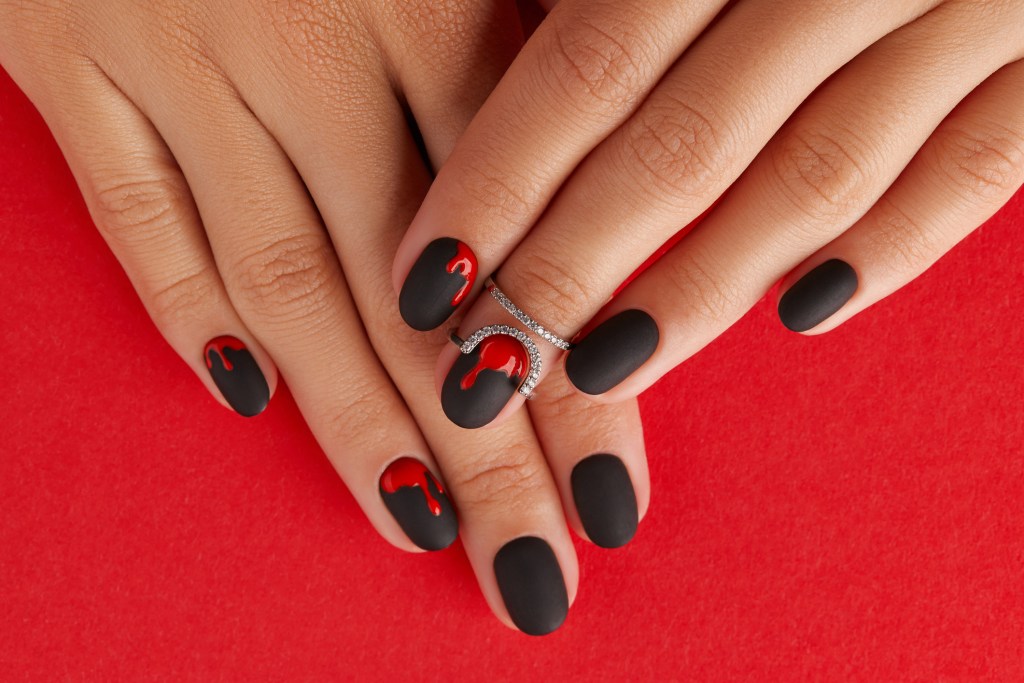 Bloody good time
What's Halloween without a little blood? Doing a bloody nail is on-trend for the season. You can either do blood dripping on all of your nails or pick only a few to do to make it pop.
Paint your nails white or black for the base. You can have the blood dripping from the top of your nail at the cuticle or start in the middle and have the blood dripping to the bottom of your nail. A quick YouTube video by @MySimpleLittlePleasures will help you out.
It's the great nail art, Charlie Brown
Maybe you want to go cute for Halloween instead of spooky. How amazing would It's the Great Pumpkin, Charlie Brown–inspired nails be? You might want to leave this one to a professional and have a nail art technician replicate this perfect video from @JauntyJuli.
Not all Halloween nail art needs to be gory or scary. Embrace the nostalgia of your childhood and rock those Charlie Brown nails.
Don't leave any Halloween theme out
A way to get your nails ready for Halloween when you have no idea which way you want to go is to have every nail be different.
Do each nail as one character from your favorite slasher movie. Have each nail be a simple Halloween theme, like a cat or a pumpkin. We found one of the most detailed tutorials from @NailsByJema that you will love.
Halloween nail art decals
Be able to change up your nails all of the time during the sinister season and not have to make constant trips to the salon or spend all of your time watching YouTube videos with a good supply of nail art stickers. This set from TailaiMei will get you through the season with plenty to spare.
Nail stickers are an affordable and easy way to bring the spooky, cute, scary, or favorite Halloween movie to your nails. They are great for adults and kids, so the whole family can show off their love of Halloween.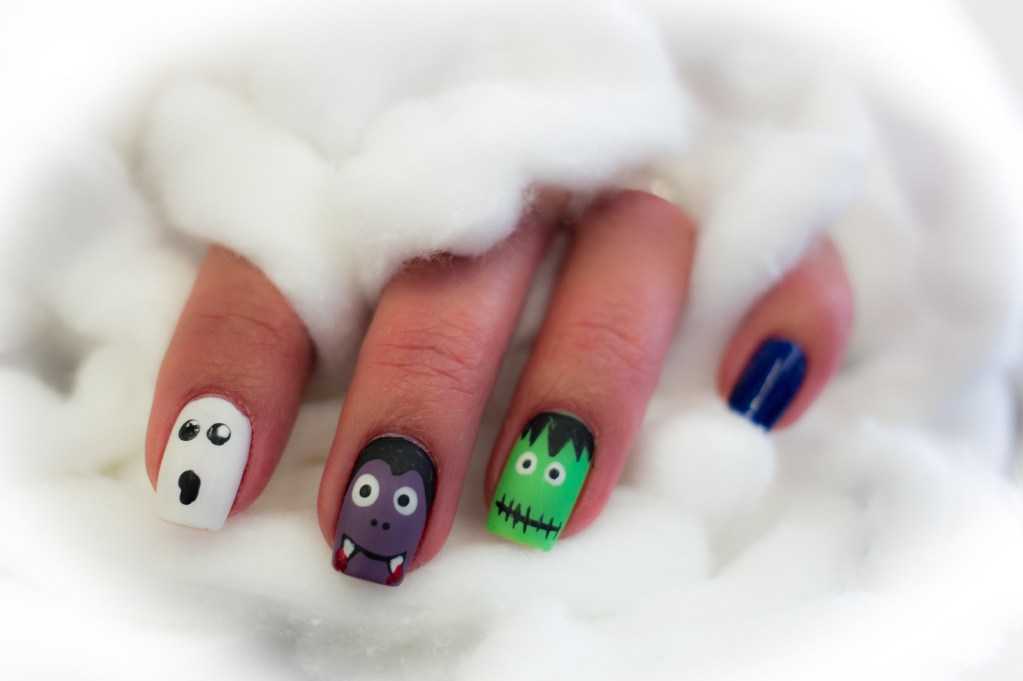 Press Halloween on
Press on nails aren't hard to apply and they can look like you hand-painted them. Get this set of beautiful Halloween press on nails from Impress. No painting, no fuss.
They come in almost limitless Halloween designs so you can find the spooky or witchy theme to match your personality.
For inspiration
Check out these IG pages for the best Halloween-themed nails
@jauntyjuli
@jauntyjuli • Instagram photos and videos
From Disney to spider-inspired, you can find all kinds of ideas on @jauntyjuli's page for your Halloween nail needs.
@Nailpromagazine
NAILPRO (@nailpromagazine) • Instagram photos and videos
Intricate designs, 3-D details, and amazing attention to detail, @nailpromagazine's page will give you goosebumps while you look for your favorite Halloween design.
@nailsbyanalilia
Analilia V. (@nailsbyanalilia) • Instagram photos and videos
Analilia V has some serious talent. You'll find plenty of nail looks to choose from. Our favorite has to be Hocus Pocus.
So get that nail appointment scheduled or gather your supplies to try your DIY skills. Even if you don't want to dress up at work or to hand out candy, you can still have the most festive nails. Whether you stay in and watch slasher movies all night with your bowl of popcorn or hit every party, your Halloween nail art can make its own statement wherever you go and whatever you do.
BlissMark provides information regarding health, wellness, and beauty. The information within this article is not intended to be medical advice. Before starting any diet or exercise routine, consult your physician. If you don't have a primary care physician, the United States Health & Human Services department has a free online tool that can help you locate a clinic in your area. We are not medical professionals, have not verified or vetted any programs, and in no way intend our content to be anything more than informative and inspiring.
Editors' Recommendations