Have you ever looked in the mirror and noticed that fuzzy fur all over your face? Have you noticed that putting on your makeup isn't turning out right? Have you gone to touch your face and wondered how long that little beard has been there? Then you need to stay with us as we tell you about dermaplaning.
Dermaplaning? It might sound like a procedure you get at the dentist's office, but it's something you can do to the skin on your face. If you struggle with blackheads, want your makeup to go on smoother, or are tired of looking at the hairs on your chinny chin chin, then let's learn how to add dermaplaning to your skincare routine.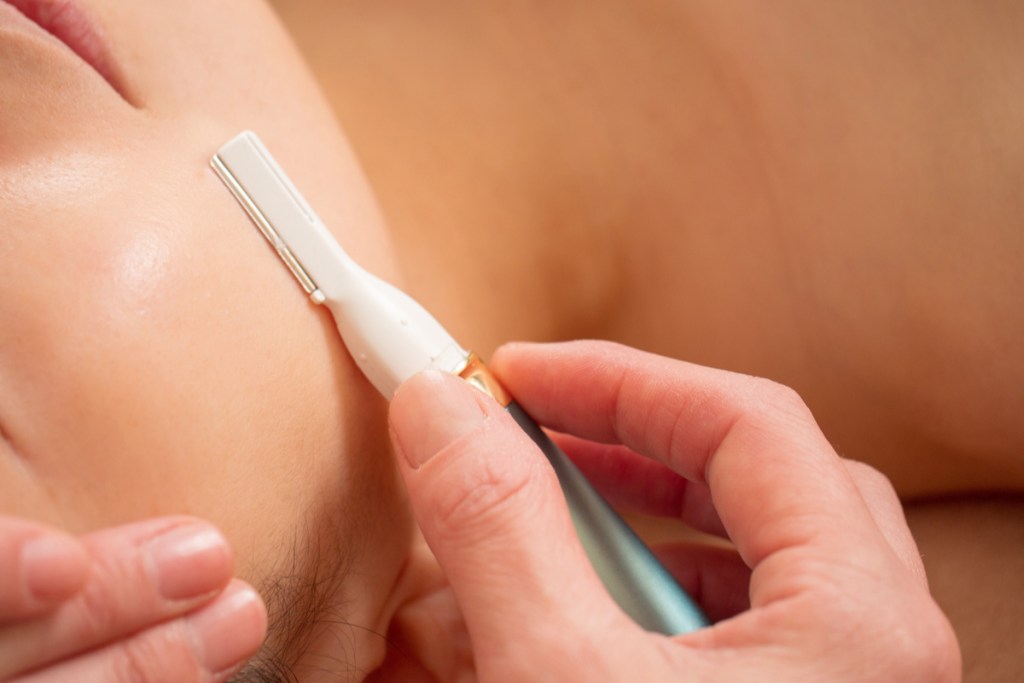 What it is
Dermaplaning is a gentle face scraping procedure that removed the top few layers of skin with a thin, single blade. The small blade takes off that annoying facial hair but also takes layers of dead skin cells with it.
It's not shaving your face
There is a difference between shaving your face and dermaplaning. Shaving is fine to get that visible hair. But to get those dead skin cells, you need to dermaplane. Using a standard two- or three-blad razor will not do.
What it does
It removes the fuzz and top few layers of skin. But what does that really mean? If you have old acne scars, lines, discoloration, or have an overall uneven skin tone, dermaplaning will help. The more you do it, the better your skin will look.
The dead skin cell buildup is what's causing your skin to look all wonky. The newer, more youthful cells are where it's at. You need those cells to rise to the top faster to see results. Exfoliating can only do so much. Depending on your skin type, using an acid peel might not be an option for you. That's where dermaplaning comes in.
Removes dead skin cells
Gets rid of peach fuzz
Promotes faster cell turnover
How you do it
Let's go over the basics. If you are going to do it at home, we want you to do it right.
Make sure you have washed your face. Wash it again. Then make sure it is completely dry. You want to get those top layers, and if your skin is wet, you won't get as much with the blade.
Don't put anything on your face
After you've washed it, don't apply toners, serums, or lotions. Your face needs to be clean, dry, and bare.
We find it easier to work your way down, but you can do the other way if you want. It's whatever is easiest for you.
You have one, smaller blade. It's going to take a minute. Don't rush, don't hurry.
Tug at your skin wherever you are blading to make sure you limit the nicking. It's also easier to see if you missed any spots.
Take a warm shower, then blade. Your skin will be soft and ready. It will be easier to move the blade along your skin after a hot shower.
What to do after
There are few things you need to remember after you're done.
You can apply your routine products
Once you have slowly and safely gone over your whole face, you can apply your serums and moisturizers. Your face will be raw, so don't use anything too harsh or with additional exfoliating properties.
You do not want to go into the sun for at least a day after. You just scraped off the top of your skin. Don't anger your face.
Don't do anything too steamy
You want to stay out of places like steam rooms, saunas, or anywhere where there's heat. Don't exercise either for the first day. Sweat is going to sting, irritate your skin, and make it red. We are basically telling you to take a lazy day after you dermaplane.
Again, you took off the top layers of your skin. Putting anything on it is going to be a risk. A calming chamomile serum is one thing. Putting on layers of makeup with who knows what chemicals is another. Go makeup-free for the first day.
What else?
The more you dermaplane, the better your skin will look. You can't just do it once and expect to see amazing results.
How often should you dermaplane? You need to do it at least once a month. It's best if you can do it every week if your skin doesn't have any negative reaction to it. The more consistent you are, the faster you'll see results and the longer they will last.
The Stacked Skincare Dermaplaning Tool is a good starter blade for you. You'll get one tool, but the blade is refillable. The aluminum handle will last for a long time so all you have to worry about is buying blades.
Dermaplaning Tool – StackedSkincare | Sephora
If you want an electric style, the Spa Sciences Sima Sonic Dermaplaning Tool is the way to go. Different speeds, rechargeable, and no need for batteries. That sounds good to us.
Spa Sciences Sima Sonic Dermaplaning Tool 2 In 1 Women's Facial Exfoliation & Hair Removal System – Pink: Target
So what are you waiting for? Wash that face, grab a blade, and watch your skin look smoother and more even after every use. You won't be able to keep your hands off of your face, but try. We don't want you to do all of that work for nothing.
BlissMark provides information regarding health, wellness, and beauty. The information within this article is not intended to be medical advice. Before starting any diet or exercise routine, consult your physician. If you don't have a primary care physician, the United States Health & Human Services department has a free online tool that can help you locate a clinic in your area. We are not medical professionals, have not verified or vetted any programs, and in no way intend our content to be anything more than informative and inspiring.
Editors' Recommendations