Fall eyeshadow trends are in full swing, and 2021 is bringing new looks to the table. Fall 2019 brought us a fresh take on white shadows and liners; fall 2020 brought back metallics, now 2021 is serving new looks in the best way!
From earthy tones to vibrant shades, there's a full spectrum of jaw-dropping eye-looks to play around with this season. When it comes to putting together fall eyeshadow looks, we'll outline the trend-to-try as well as which products will help you achieve the latest trends and makeup looks.
Forewarning, this season is a fan of color, fun textures, and creative uses of dark and light shadows for contrast, so get out your makeup brushes and shadow collection as we master makeup trends.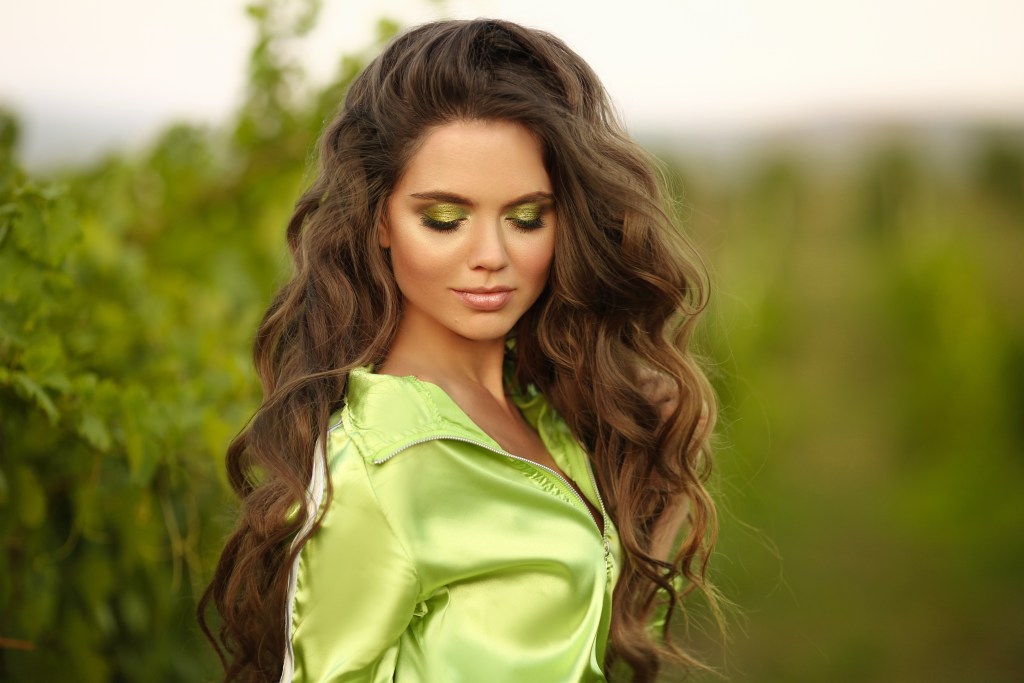 1. Mossy greens
Embracing green shades and hues is one of the popular fall eyeshadow looks of 2021. This season, the go-to eye-look for influencers has been mossy greens (occasionally referenced as tortoise green), complemented with neutral browns and beige. There's no correct way to embrace green eyeshadow looks, whether it's played down with a camo jacket and khakis or dressed up with a cocktail dress. Green eyeshadows are a versatile and universal shade this season used for every scenario. Beyond traditional top lid artistry, many celebrities, like Shea Mitchell, are experimenting (successfully) with mossy green tones under their eyes.
Shop the look: Try out Bare Minerals Palette in Sunlit if you're looking to embrace the green tones this season. The inclusion of the shade antique is a perfect mossy green eyeshadow that looks great on any skin tone. The complimenting neutral brown shades will help create the perfect eye look – allowing green to be the star!
2. Pumpkin spice
Pumpkin spice goes beyond lattes this year. Warm neutrals with hints of terracotta and dusty browns are one of the signature fall eyeshadow looks this fall season. Embrace these orange and brown shades by playing around with lid and crease colors to help intensify or highlight the warm natural tones in your eyes. Between pumpkin picking with your loved ones or brunching with friends, incorporating different styles of pumpkin spice is excellent day-focused fall eyeshadow looks.
Shop the look: Dominique Cosmetics understood the clear assignment of delivering pumpkin spice-inspired eyeshadow shades to their lineup with their shade 'pumpkin spice.' Their latte palette not only includes an orange/terracotta shade of 'pumpkin spice' but accompanying dusty browns and neutrals to help complete the look. Plus, the palette includes two fabulous shades that fit into our next trend category…
3. Mother-of-pearl
This season, incorporating pearlescence and light holographic shades into your makeup (in particular eyeshadow) is very on-trend. The mother-of-pearl trend started on the runway and has quickly made its way to retail, celebrities, influencers, and now the mass public. Incorporating a pearlescent look into your makeup roundup will give your eyes light-reflecting properties that will create a glowing and youthful look — great for any occasion. While many think of pearlescence shades being purely white or light pink hues, to complement different skin tones, try exploring warmer colors such as gold and bronze hues as well.
Shop the look: When looking for an eyeshadow that will pop with an iridescent glow, look for one that combines texture, pigment, and shade. A great go-to is Stila's Glitter and Glow Liquid Eyeshadow. Coming in 11 different pearlescence shades, this long-lasting formula features incredible shine and luster!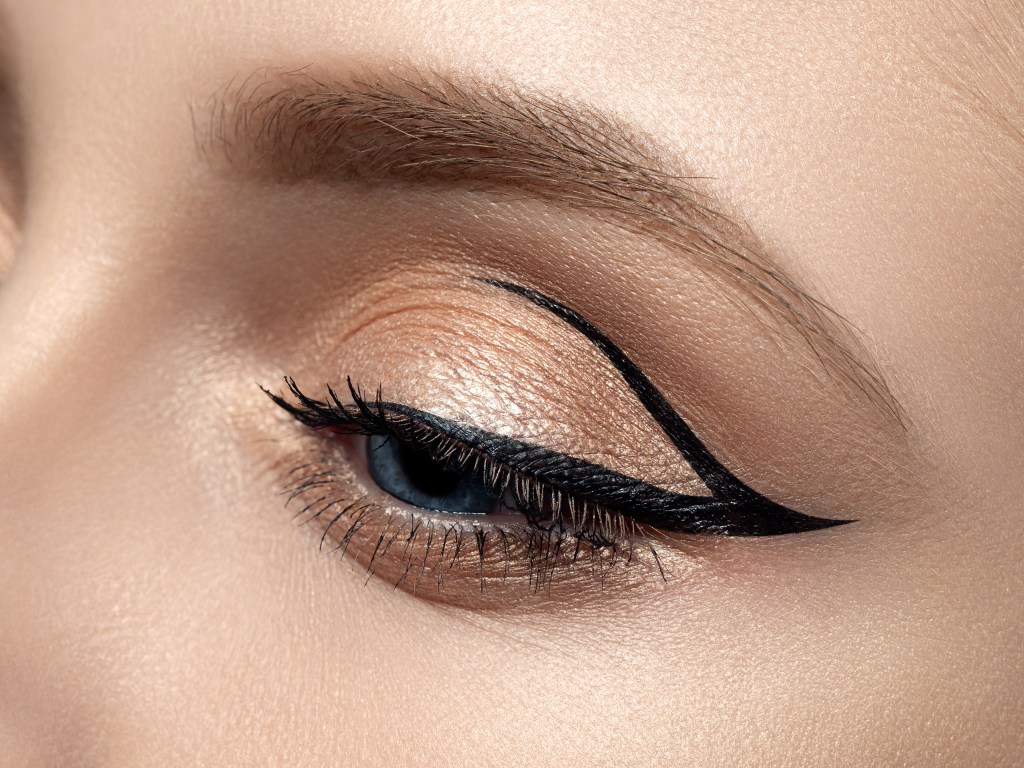 4. Dark shadow crease
Known as the 60's crease to some, many popular makeup artists are having fun incorporating darker shade (cut) crease definition in eyeshadow and liner looks. Whether it's Gigi Hadid's green cut crease in her Architectural Digest feature or Ariana Grande promoting the new r.e.m. beauty line, the cut-crease is on display with a flare for fall 2021. One helpful hint when creating a dark shadow cut crease, utilize concealer when separating the lid from the crease to help make more definition in contrasting light and dark colors.
Shop the look: Versatility and quality are essential for a product to incorporate a cut crease eyeshadow look. The KVD liner, shadow, and brow pomade is a beautiful formula that can help create various cut crease looks in 17 different shades. From softer and shaded lines to harsh lines, this formula has the capabilities to do it all!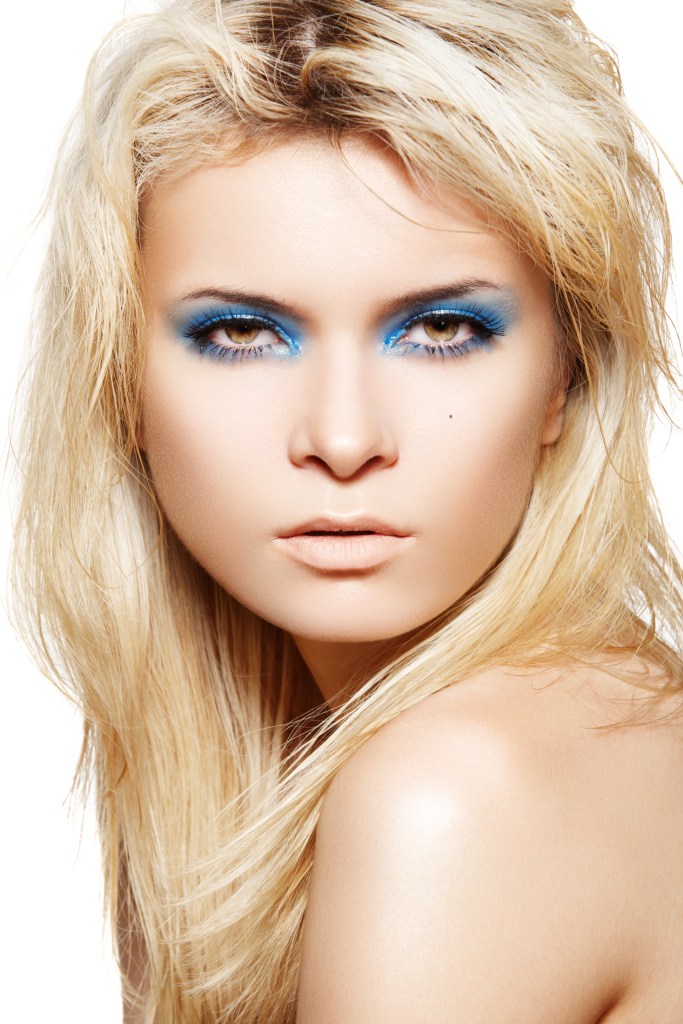 5. Jewel tones
If you've tuned in to this year's Video Music Awards, you've seen this trend shine (both literally and figuratively ). The jewel-tone fall eyeshadow looks have been alive in a big way this year. Whether worn by stars like Dua Lipa or Doja Cat on stage, there's a reason these bold and vibrant tones are making their way around. Many individuals are still wearing masks, and the jewel tones allow the eyes to sing and show off. Jewel tones can range in color from reds, purples, blues, and greens.
Shop the look: Hourglass' Scattered Light Glitter Eyeshadow is an eye-popping product that is sure to give you many variations of the jewel-tone fall eyeshadow looks. From pink, purple, gold, and red (with beautiful variations in between), there are nine bold and highly pigmented jewel tones to choose between. Best of all, the formula is infused with refined micro-glitter to give the end-look a real burst of pigment and jewel-envy shine.
By incorporating any of these five popular fall eyeshadow looks, you're guaranteed to be on trend this season! Whether you take the trend and put your spin on it, or replicate it verbatim to your favorite celebrities or influencers, makeup and eyeshadow looks are considered creative artistry and one you should have fun with! We hope you enjoy learning about the latest trends and hope you consider trying a trend or two.
BlissMark provides information regarding health, wellness, and beauty. The information within this article is not intended to be medical advice. Before starting any diet or exercise routine, consult your physician. If you don't have a primary care physician, the United States Health & Human Services department has a free online tool that can help you locate a clinic in your area. We are not medical professionals, have not verified or vetted any programs, and in no way intend our content to be anything more than informative and inspiring.
Editors' Recommendations