Packing your suitcase often means obsessively reviewing your mental (or physical) checklist, ensuring all the essentials are accounted for. Along with the trusty toothbrush, phone charger, and medications, make sure your skincare products land a spot on your list of must-haves.
Along with eating a balanced diet and staying hydrated, your skincare routine encourages healthy, youthful-looking skin and keeps acne at bay. Taking a holiday from work doesn't mean taking a break from this regimen. We're sharing the best travel-safe beauty products so you can fill your bag with everything you need to keep your skin glowing when you're on the go.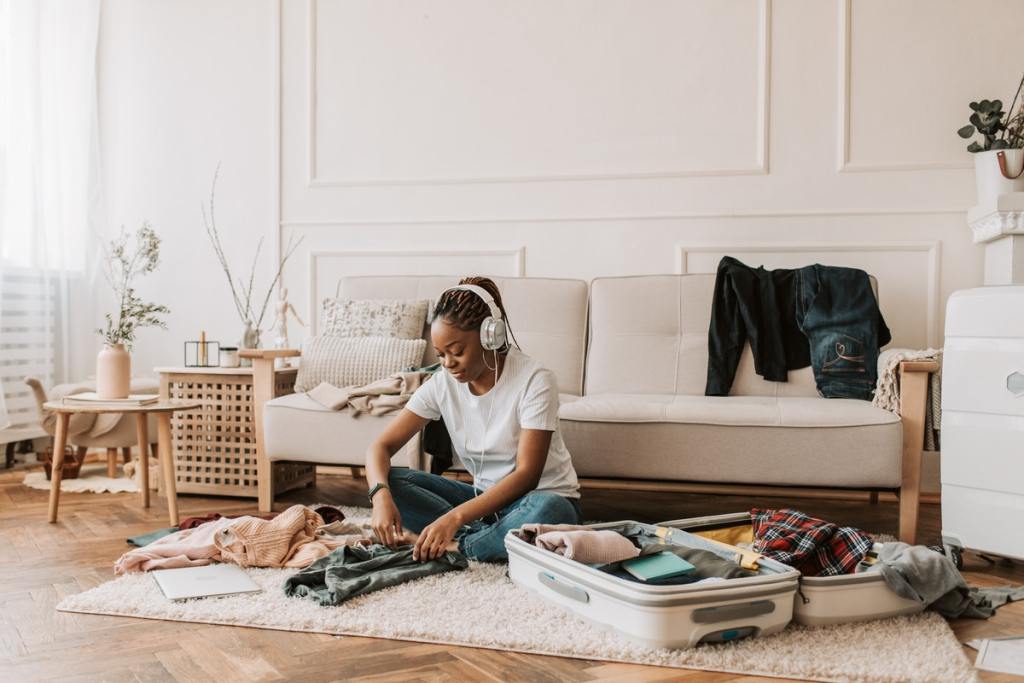 What to leave at home
Fight the urge to pack the entire bathroom with you. We know it'd difficult, but with limited room in a suitcase, it's important to stick with the essentials and leave those rarely used products in the cabinet.
Lose the liquids: If you're jumping on a plane, this advice goes double for liquids. Not only do bottles take up a lot of space, but TSA imposes strict limits on how much you can carry on the aircraft. Even if you're taking land transportation, liquids are precarious to pack. The last thing you want is your favorite perfume leaking all over your belongings.
No large bottles: In this case, instead of bringing your tried-and-true favorites, pick up travel-safe options from the beauty store. Further, many brands have travel versions of your favorite products with packaging that was developed to handle the non-stop jostling of your luggage. You may also find alternatives to liquid products, like toning pads and makeup-removing wipes.
A pack of Neutrogena Makeup Remover Face Wipes is every traveler's dream. It's as effective as any liquid makeup remover, all without the risk of spilling.
What to bring
So, what should you bring with you?
Moisturizer: Travel does a number on your skin, especially if you're traveling to a different climate. To keep your skin moisturized and protected from the sun, opt for a facial moisturizer with SPF. This will keep your skin hydrated and safe from those dangerous UV rays whether you're driving across the state or flying around the world.
Aveeno Positively Radiant Daily Face Moisturizer with SPF15 is the perfect travel-size moisturizer that fits easily in a carry-on bag.
Facial cleanser: Facial cleansers are not one-size-fits-all. Your skin type, activity level, and climate, and many other factors determine what type of products you should use on your face. All that being said, there's very little chance that the hotel soap fulfills your cleanser checklist.
We recommend taking Cetaphil Gentle Skin Cleanser on the road with you, as it's safe for sensitive skin and is free of fragrance and synthetic chemicals. No matter where you go or what kind of weather you head into, this lightweight cleanser will leave you refreshed and won't dry out your skin.

Tips and tricks
If you know you're taking a trip ahead of time, keep these tricks in mind to ensure you pick up all the beauty items you need at the best price.
We love Sephora's rewards program, especially because they have an ever-changing selection of travel-size products that you can redeem using reward points. If you don't have enough points to snag a freebie, check out Sephora's extensive travel-size section, anyway.
As we mentioned before, keep liquids to a minimum as much as possible. Switch out liquid toner for pads, makeup remover for wipes, and your favorite perfume for a roller. This will save so much room in your luggage and minimize your risk of leaks.
The key takeaway here is to stick with the basics. If you have a face mask or treatment that you've been meaning to try, leave it at home. That being said, your skincare routine is uniquely your own, so if your must-haves include an exfoliant, concealer, and an eye-catching highlighter, throw it all in the bag! Just be sure to have an honest conversation with yourself about what you need and what you'll actually use. Don't let the stress of traveling steal your shine. Pick up some travel-friendly products on your next run to the beauty store and stay selfie-ready all vacation long.
BlissMark provides information regarding health, wellness, and beauty. The information within this article is not intended to be medical advice. Before starting any diet or exercise routine, consult your physician. If you don't have a primary care physician, the United States Health & Human Services department has a free online tool that can help you locate a clinic in your area. We are not medical professionals, have not verified or vetted any programs, and in no way intend our content to be anything more than informative and inspiring.
Editors' Recommendations