One step you should already have in your skincare game is using a toner. Toners help shrink pores, take care of dirt that your makeup remover might have left behind, and help reduce the appearance of lines. Depending on your skin type you should be using it one to two times a day. We love a good toner. It's satisfying seeing what it picks up.
But as with all skincare products, there are ones you should stay away from. When it comes to face toners, you want an alcohol-free toner. Why? Well, we'll tell you.
What it does
Let's dig more into what a toner can do for your skin. The biggest enemies of your skin are dirt and oil. They block your pores, causing dead skin cells to hang out in groups, and stopping fresher skin cells from emerging. This is why you may develop blackheads, whiteheads, and blemishes.
If your pores look large, it's the dirt buildup. To get those pores back to a more modest size, you need to remove that dirt. Using a toner is a great way to do that.
Toner can help protect your pores from pollution if used regularly and gently exfoliates the skin to remove the oil and buildup without having to use a harsh scrub.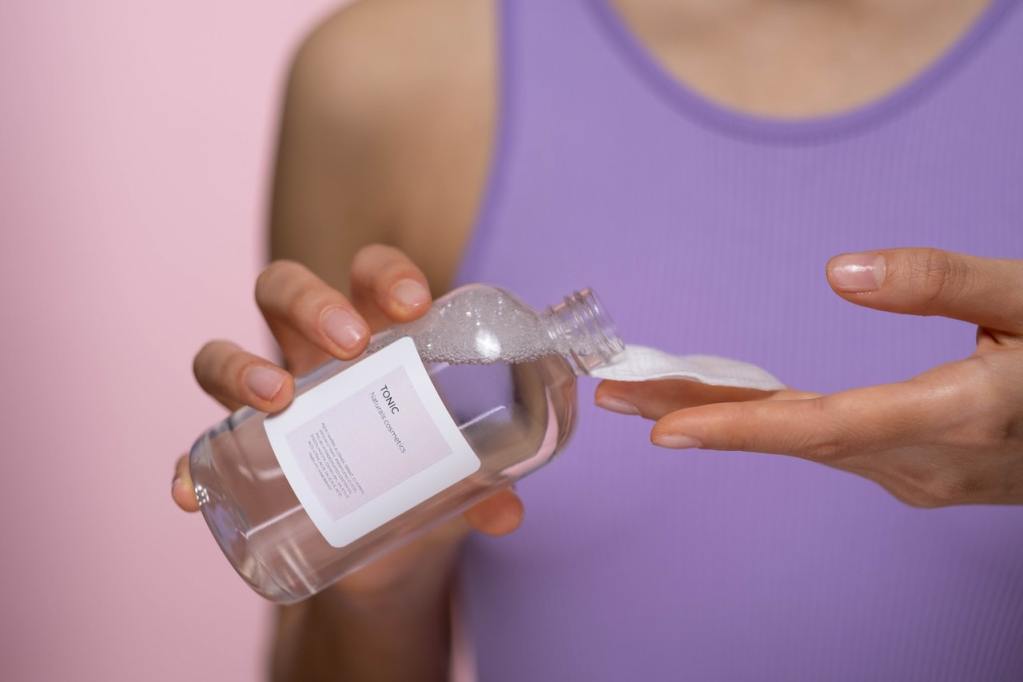 Ingredients to look for
There are always ingredients you don't want to see in your skincare products, but in this case with toner, there are ones you want to see.
Not only does rosewater have a lovely scent, but it can also help balance your skin's pH, which if thrown off can be why you might see that hormonal acne along your jawline. It will also hydrate your skin.
This anti-inflammatory is perfect for calming redness and the antioxidants can help your skin feel better overall and look healthier.
Though it may seem counter-intuitive to use something acidic on your asking, this multi-purpose fluid exfoliates your skin without the need to scrub. It can help your skin look more even in tone and develop that glow from within.
Our grandmothers and great-grandmothers always had this stuff in the medicine cabinet to treat many ailments. When it comes to your skin, it can reduce inflammation and acne, shrink your pores and calm irritated skin, This is the golden stuff you want to see immediately in the ingredient list.
The main ingredient to avoid
You may have discerned from the title of this post that the one ingredient (or the main one) that you do not want in your toner is alcohol. Any of them. All of them.
Now, you might be thinking to yourself, but I put alcohol on cuts and other skin problems, so why wouldn't I want it in my toner?
We would ask you right back, doesn't it always sting when you do that? Do you want that on your face every day? No. Unfortunately, because alcohol is a good antiseptic it is in a lot of toners. But if you find your skin burning, red, irritated, or just not feeling right, it's probably your toner. Look at the ingredients and we bet alcohol is high up there on the list.
Alcohol can dry out your skin and make skin issues worse by stripping away all of your natural oils. It can also throw your pH off, which will mess with your skin.
Some great toners
Here are some of our favorite, gentle but effective toners.
Thayers Witch Hazel Alcohol-Free Toner Rose Petal
Our favorite one is Thayers. They offer a whole line of alcohol-free toners, but this one is our favorite. It has rose water, which gives it a pleasant light scent, and will help keep your skin's pH balanced. Just get two bottles to be good to go for a bit.
Thayers Witch Hazel Alcohol-Free Toner – Rose Petal – 12 Fl Oz: Target
Kiehl's Ultra Facial Oil-Free Toner
Keihl's is known for having products that are good for your skin, body, and environment. This one is alcohol and oil-free and won't mess with your skin's pH while keeping your face hydrated and calm.
Kiehl's Since 1851 Ultra Facial Oil-Free Toner | Ulta Beauty
Humphreys Soothe Witch Hazel with Rose
This has a little bit of everything. It's alcohol-free and contains witch hazel and rosewater. Your skin will look brighter, feel softer, and look more even. It's also great for sensitive skin and won't dry your face out.
So check your toner right now and see if you find alcohol in the ingredient list. If you do, get one of our recommendations to help see a smoother and brighter face. You'll love what having an alcohol-free toner can do for your skin.
BlissMark provides information regarding health, wellness, and beauty. The information within this article is not intended to be medical advice. Before starting any diet or exercise routine, consult your physician. If you don't have a primary care physician, the United States Health & Human Services department has a free online tool that can help you locate a clinic in your area. We are not medical professionals, have not verified or vetted any programs, and in no way intend our content to be anything more than informative and inspiring.
Editors' Recommendations