If you follow any fitness influencers or trainers on Instagram, you have likely come across photos of a power drill-looking device pressed up against someone's back or muscle. No, this isn't a power tool–it's a percussion massager.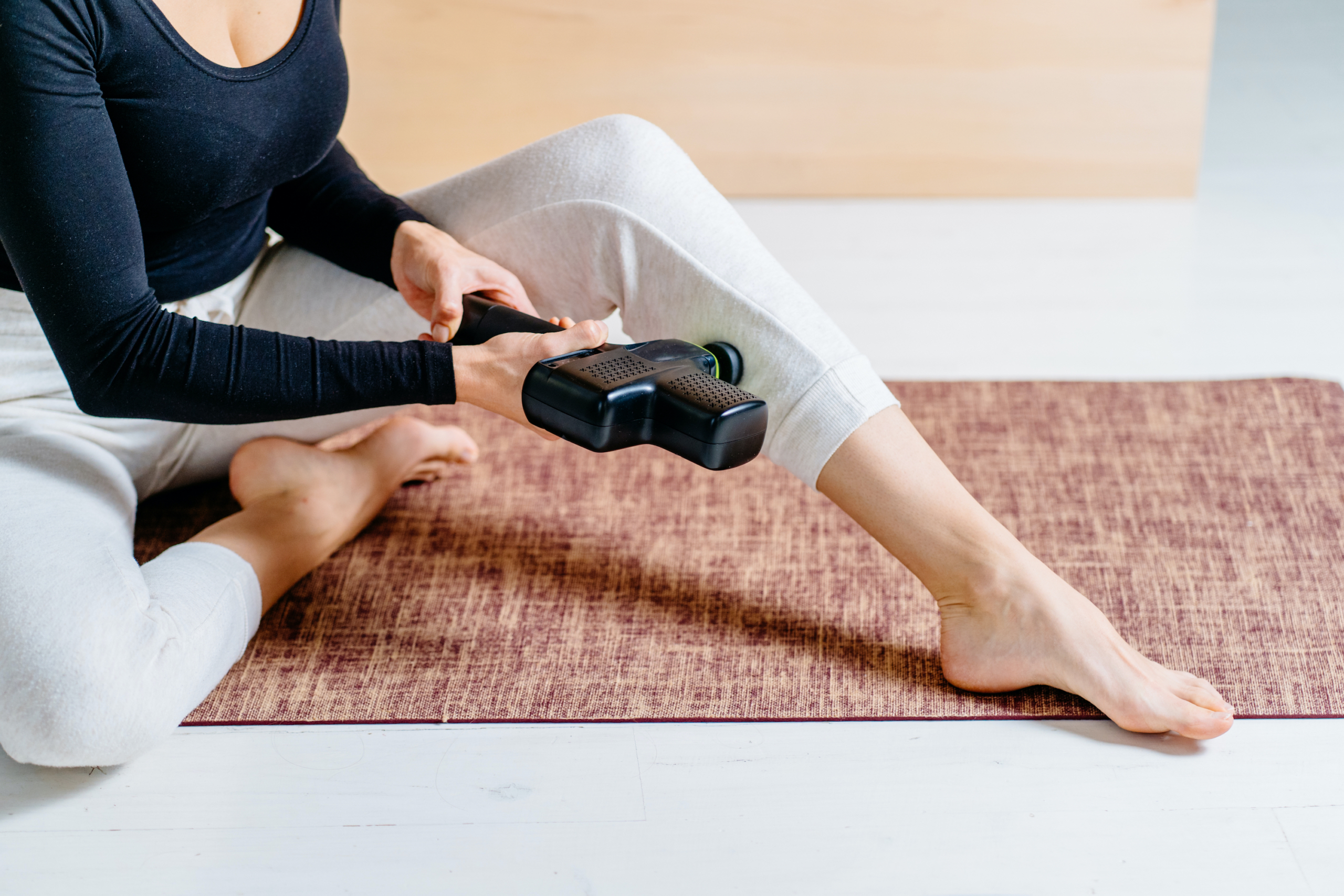 What is a percussion massager?
Theragun launched the first percussion massager in 2016 with the TimTam Power Massager. Unlike other personal massagers which primarily use vibration to knead muscles, this uses percussive massage therapy, simulating the effects of a deep tissue massage.
"The research isn't there yet, but think of your percussion massager as your own personal massage person or masseuse," David Reavy, PT, owner of React Physical Therapy, tells BlissMark.
"A percussion massager comes in many forms," adds Dr. Martin Ridley, a physical therapist at Tru Whole Care. "They have become a favorite of many because they can easily be purchased online and have been advertised to exhaustion."
Many utilize percussion massagers for muscle aches – and it seems as though these have become the ultimate answer to such issues. Reavy explains that percussion massagers quickly and effectively treat muscle tightness and general soreness. "The advantage is to increase blood flow to injured muscle tissue," says Dr. Ridley. "Oxygen enriched blood is the key to healing an injury."
Who should use a percussion massager?
While you can use them to treat sore muscles, Reavy points out that you should "never use them for strains, sprains, or broken bones."
Some fitness enthusiasts use them as an alternative to a foam roller, but Ridley only recommends them for people who are already active. "The point massager that offers an aggressive penetrating motion in a muscle is only good for usage in a moment a person is most physically active," he explains. "Not having a clear definition of a person's injury, I am reluctant to flippantly say yes to using one."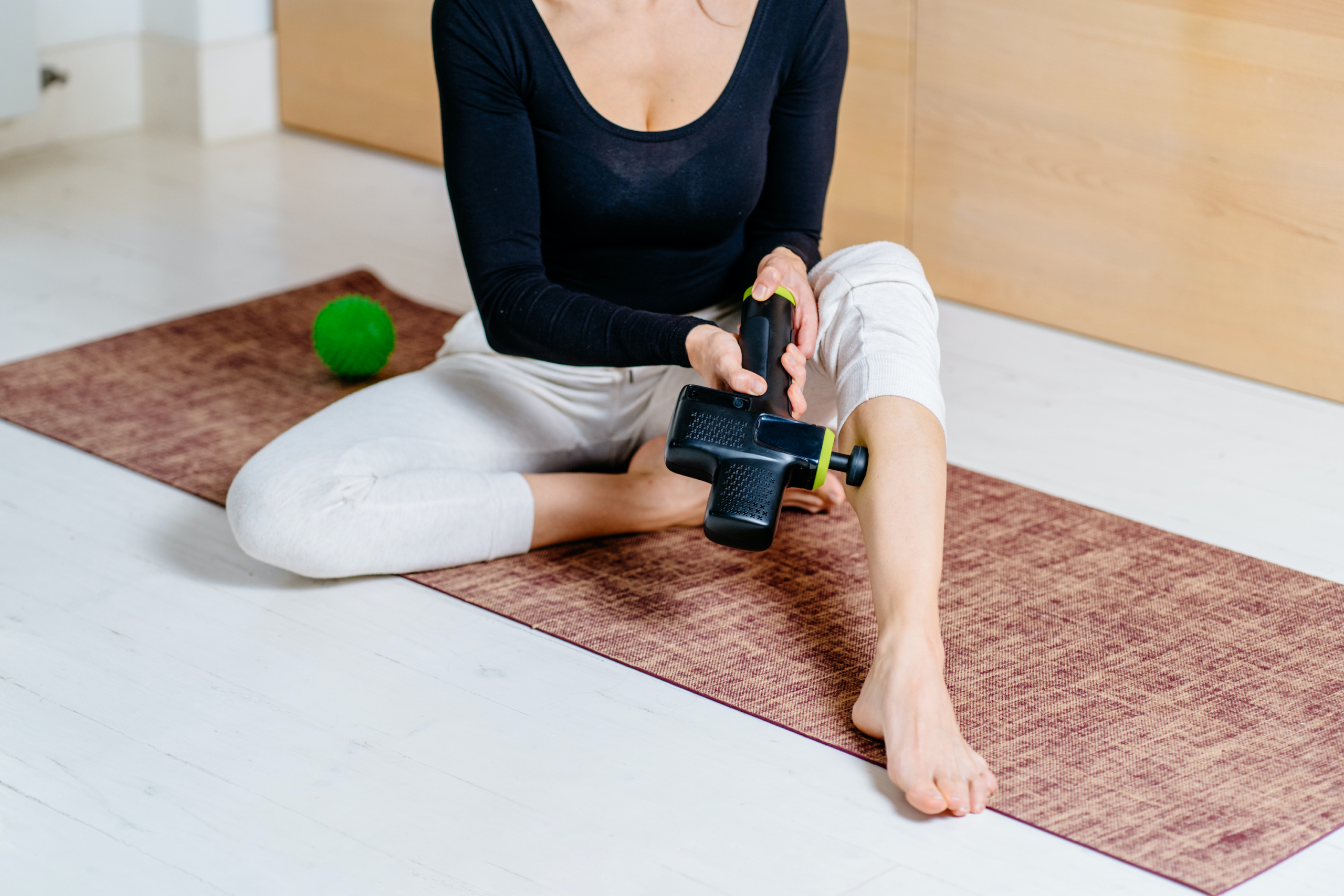 How do you use a percussion massager?
According to Ridley, percussion massagers aren't exactly easy to use. In fact, most people do not know how to use them appropriately. "Using one should be accompanied by professional supervision for appropriate efficacy," he maintains.
Reavy explains that when he uses them to treat patients, "the body tells me where to go." If you are using it yourself he suggests using it on the anterior, or front, chain, "since we hold ourselves in a flexed position" first. "Follow the directions on the machine. Stay away from the major innervated and vascular areas such as armpits, hip flexor, or groin," he instructs.
Also, make sure to avoid using it for longer than 30 seconds in one spot. "I have seen significant bruising from my patients overusing it," he reveals. "If done in a systemic or reflexive way then the muscle will relax and never bruise. If done forcefully and overused you will experience increase soreness and potential bruising."
Which percussion massager is the best?
Percussion massagers can range in price from $50 to over $600. In order to get a high-quality, effective gadget you should be spending in the $100-plus range. Here are a few of the top-rated percussion massagers on the market:
Best Splurge: Theragun PRO, $599
Theragun is one of the original companies to sell percussion massagers and is still considered the Rolls Royce of the industry. It's one of the most powerful on the market offering 1750-2400 PPMs (percussions per second) and 300 minutes of continuous battery life. It is professional-grade, offering smart app capabilities and tons of bells and whistles including four arm positions and six attachments.
Best Value: Lifepro Fusion FX, $244.95
Lifepro has a reputation in the fitness industry for producing high-quality equipment at reasonable prices, and their percussion massager is no exception. It offers five speeds, five heads, three bonus modes, and provides more than 240 minutes of on-the-go relief. You also get to choose from heated, variable, continuous, or increasing speeds.
Best Budget: Legiral Le3 Massage Gun, $129.99
This affordable percussion massager is one of the highest-rated on Amazon, with 85 percent of more than 6,400 reviewers giving it a perfect five out of stars. It offers twenty different speeds, six attachments and will provide up to 360 minutes of use per charge. Fans maintain it is just as powerful as some of the more expensive models while remaining surprisingly affordable.
BlissMark provides information regarding health, wellness, and beauty. The information within this article is not intended to be medical advice. Before starting any diet or exercise routine, consult your physician. If you don't have a primary care physician, the United States Health & Human Services department has a free online tool that can help you locate a clinic in your area. We are not medical professionals, have not verified or vetted any programs, and in no way intend our content to be anything more than informative and inspiring.
Editors' Recommendations