Percussion massagers are all the rage in fitness circles right now, with professional athletes and casual gym-goers alike swearing by this tool. Percussion massagers, also known as percussion massage guns, give you all the benefits of a deep tissue massage from the comfort of home. Even if you aren't an athlete, this simple but powerful tool can also be a method of stress and anxiety relief.
Curious to learn more? Below we've compiled all the benefits of percussion massagers, as well as key features and other information you need to determine whether this device is right for you.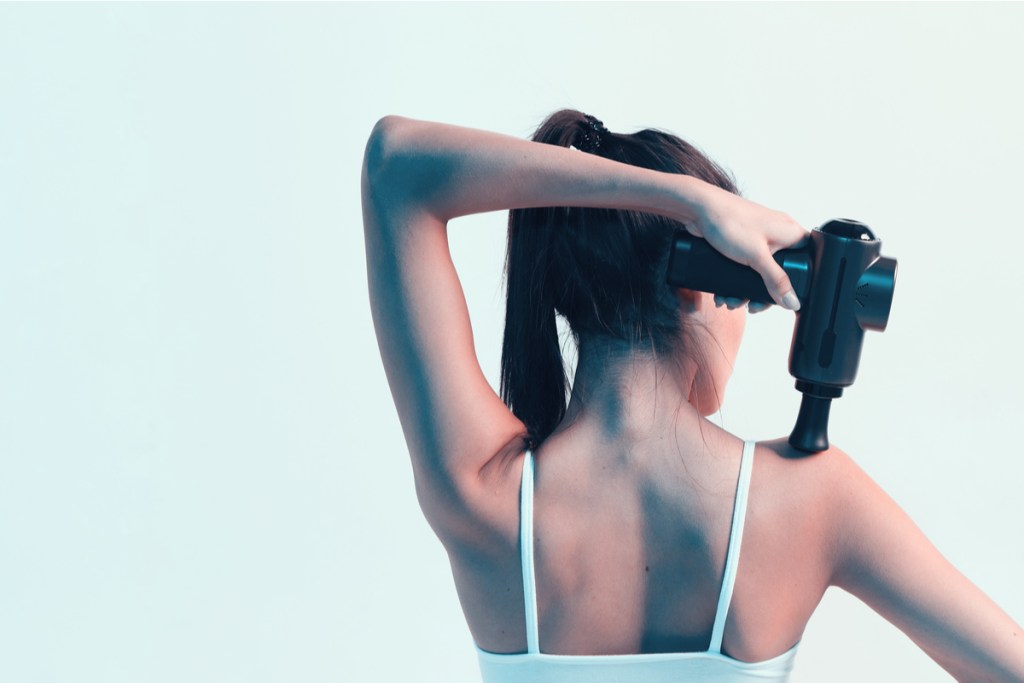 What, exactly, is a percussion massager?
Handheld massagers are nothing new. These portable, lower-cost alternatives to in-person massages and massage chairs have been on the market for decades. Some of these massagers produce a vibrating effect that loosens and relaxes tight muscles. The percussion massager elevates this concept to an entirely new level. Unlike the consistent rumble of many classic handheld massagers, a percussion massager uses quick pulses designed to reach deeply into sore tissues and muscles. The soft rubber mallet also gives pointed contact to areas of particular concern. Different attachments tend to come standard with most, if not all, massage guns, helping you target smaller areas more closely, penetrating even the deepest of deep tissues.
Popular percussion massager brands include Theragun and TimTam, but these devices require a substantially greater financial investment than more traditional massagers or off-brand versions. However, if you regularly find yourself needing a massage for recovery or an ongoing health issue, you may find that a percussion massage pays for itself (and then some) over time. Your body will also thank you when those stiff muscles finally find some relief.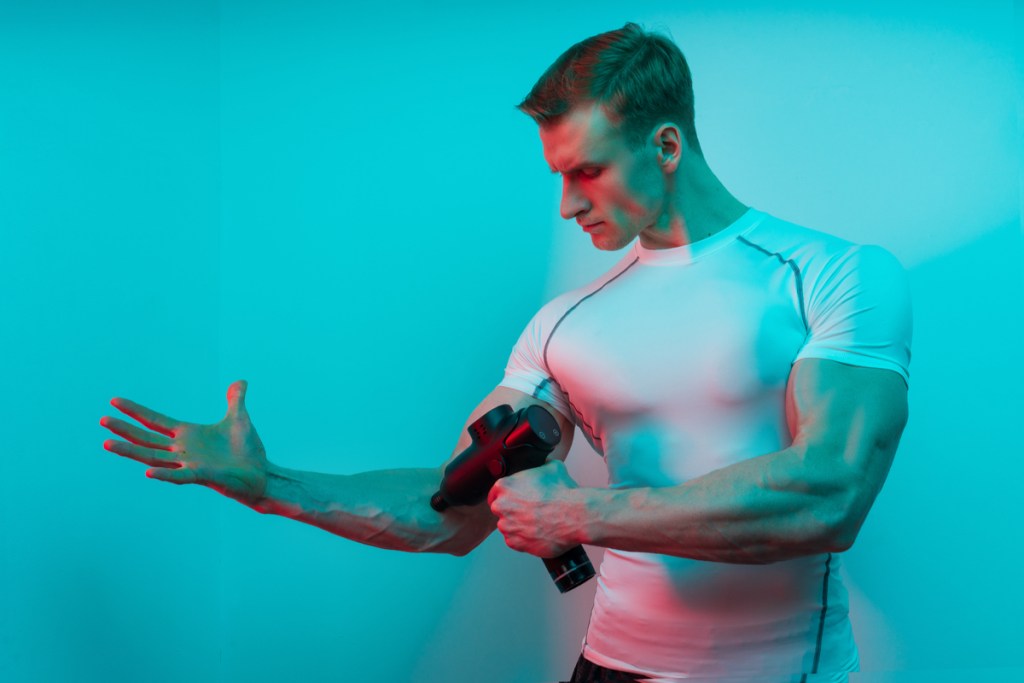 Benefits of a percussion massager
Percussion massagers penetrate deep into the body's tissues, and in so doing offer a range of positive health effects. In fact, studies show that vibration therapy can relieve muscle soreness as effectively as a classic massage. In addition to relaxing muscles and relieving stiff joints, percussion massages can also improve blood circulation, break up adhesions in muscles and scar tissue, and ease overall muscle pains. Because of all these benefits, these massages are especially helpful for people recovering from an injury or managing a chronic condition.
Regular visits to a massage or physical therapist sound great, but sometimes they just can't fit into your busy lifestyle. Having the ability to treat yourself to a massage on your own time is a life-saver.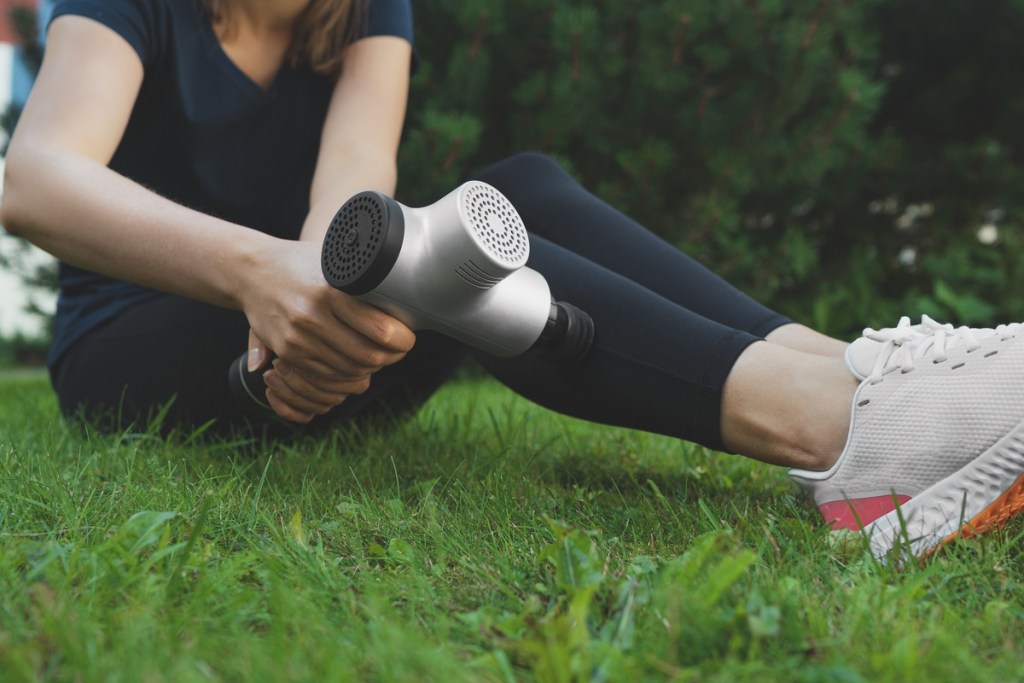 Is a percussion massager easy to use?
Yes! The leading percussive massage guns essentially do all the work for you. Just turn it on and run it over the area or areas you're looking to soothe. Most are operated by rechargeable batteries, so you also don't have to navigate around annoying cords or worry about finding an outlet.
There is a range of percussion massagers available online or at brick-and-mortar stores. Before you buy, do some research to find the one that has the features you need and best fits your budget. If you're ready to make a long-term investment in one of these trendy devices, your deep tissues will thank you sooner rather than later. We also recommend speaking to a physical therapist or doctor before you begin, especially if you're using the tool to treat an injury or other medical condition.
An in-person appointment with a massage therapist can be a terrific way to enhance recovery or rehab. At the end of the day, it's hard to simulate human skill and intelligence when it comes to treating or healing the body. That said, percussion massage guns may well be the next best thing from a therapeutic standpoint. If you've been considering investing in one of these massage tools, we hope this inspires you to take the plunge!
BlissMark provides information regarding health, wellness, and beauty. The information within this article is not intended to be medical advice. Before starting any diet or exercise routine, consult your physician. If you don't have a primary care physician, the United States Health & Human Services department has a free online tool that can help you locate a clinic in your area. We are not medical professionals, have not verified or vetted any programs, and in no way intend our content to be anything more than informative and inspiring.
Editors' Recommendations