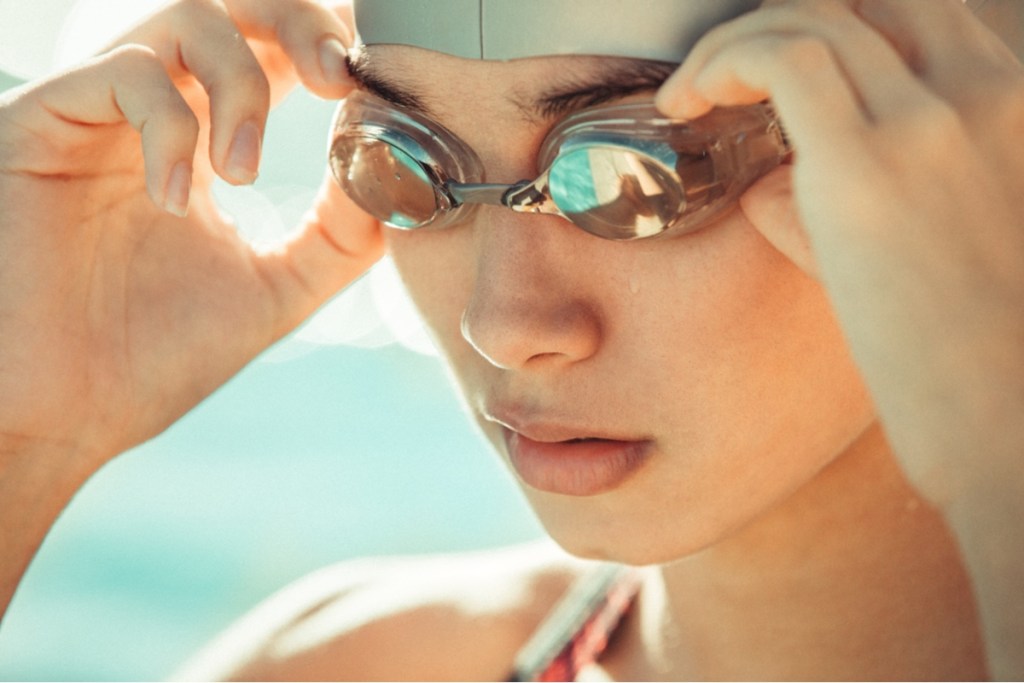 Swimming has long been a favorite workout because of its big benefits and low impact–making it a virtually ideal form of exercise for people of all ages and fitness levels.
But that doesn't mean anyone should simply dive in and start paddling. Obviously, being a strong swimmer is the most important prerequisite, but there are important pieces of gear–including tech–to make your dips in the pool as productive and enjoyable as possible.
What are the most essential pieces of swim gear for the most effective workout? These six pieces of swim gear will give you the edge you need to outpace the competition.
Goggles
First things first. It's hard to get far in a pool without a solid pair of goggles to keep out that chlorine burn, which is harmless but can be highly irritating for hours after you leave the pool.
The Tracks Swim Goggles from Arena are among the most highly rated pairs of goggles on the market. They are fog-proof, UV-protective, easy to adjust, and come in a variety of colors and styles.

Swim cap
Every swimmer knows the havoc chlorine can wreak on hair. Chlorine leaches important oils out of your hair, leaving it dry and brittle. Split ends and even color changes are frequent results.
That's why investing in a swim cap is often a key consideration. Go with the gold standard, the silicone solid black swim cap from Speedo, a longtime leader in the swim-gear industry.
Earplugs
Stop swimmer's ear before it starts with the AquaBlock earplugs from Mack's. The official earplug of USA Swimming uses soft-silicone phalanges to mold snugly and safely to the ear canal.

Apple Watch
These days, having the right gear often is synonymous with having the right tech. The good news is that a variety of exercise apps are designed for swimming. The bad news is that there aren't a lot of devices that are designed for water.
That's why the best swimming apps are designed for the Apple Watch, which is water-resistant up to 50 meters or about 164 feet. So unless you're a hardcore scuba diver, you're pretty well covered.
Some of the Smart Watch-compatible apps include:
Swim.com: Swim Tracker
Developed by swimmers for swimmers, with an easy-to-use tracking tool. It can also serve as a great motivator, particularly for those who swim on their own.
https://apps.apple.com/us/app/swim-com-swim-tracker/id956030704
MySwimPro
https://apps.apple.com/us/app/myswimpro-1-swim-workout-app/id994386450
MySwimPro offers hundreds of workouts divided into categories based on stroke, duration, and intensity.
Turn up the tunes
Plenty of folks can't work out without their trusty tunes in tow. Water doesn't mean you have to leave your music behind. Just grab a waterproof music player like this model from H2O Audio, which is compatible with MP3, iTunes, and other file types and comes equipped with underwater headphones.
Quick-dry towel
The gear doesn't stop when you exit the pool. Grab a microfiber quick-dry towel from Flow Swim Gear, which is built to get you dry in a flash. Its specially woven fibers are designed for maximum moisture absorption.
Get your swim-gear game together with these accessories for in and out of the pool. Optimize your workout or just make yourself more comfortable or streamlined in the water.
No matter your starting point, these six pieces of gear will help jump-start your swimming regimen and keep it going strong over the long term.
BlissMark provides information regarding health, wellness, and beauty. The information within this article is not intended to be medical advice. Before starting any diet or exercise routine, consult your physician. If you don't have a primary care physician, the United States Health & Human Services department has a free online tool that can help you locate a clinic in your area. We are not medical professionals, have not verified or vetted any programs, and in no way intend our content to be anything more than informative and inspiring.
Editors' Recommendations