The era of the toaster is coming to an end. Before you get too worried, no, we're not saying you should avoid carbs. For many of us, the joy of bagels and pasta is too great to give up!). However, it is time to rethink how we prepare them. While convenient, toasters are not essential anymore. They're bulky, single-function appliances that take up precious counter space.
Instead of the tired old toaster, try pan-frying your bread in oil to produce delicious, crispy toast that is endlessly versatile. Read on to learn about the benefits of pan-frying bread and the best way to try it at home.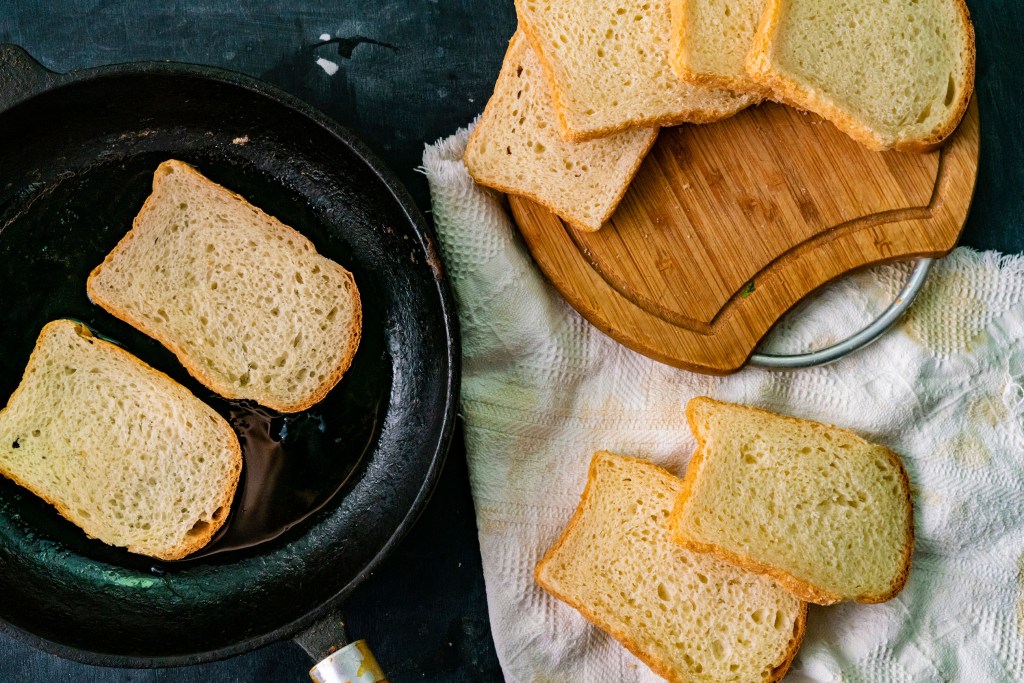 Pan-frying is simple
Okay, so it's not quite as easy as putting bread in a slot and pushing down a lever, but it's still incredibly simple. After one try, you'll see that the improved flavor and texture are well worth the extra few minutes of effort. Simply start by heating your preferred cooking oil in a frying pan over medium heat. When the oil is hot, add your bread, let it fry, and then flip it over. Once the toast is a beautiful golden brown, put it on your plate and enjoy with the seasoning and toppings of your choice. It's that easy!
It makes your toast more flavorful
Pan-fried toast also tastes incredible. When the bread is fried in oil, the little bit of extra fat gives it a more decadent flavor boost. Further, unlike traditional toast, you can change the flavor based on which type of oil you use so you can suit your toast to fit whatever topping you prefer. Some great options include coconut oil, sesame oil, peanut oil, butter, and olive oil. For an even stronger burst of flavor and color, sprinkle spices in the oil before tossing the slices in. With savory toppings, consider using cumin or paprika, and throw in cinnamon for sweeter meals.
Ready to give it a try? Use this method from The Kitchn.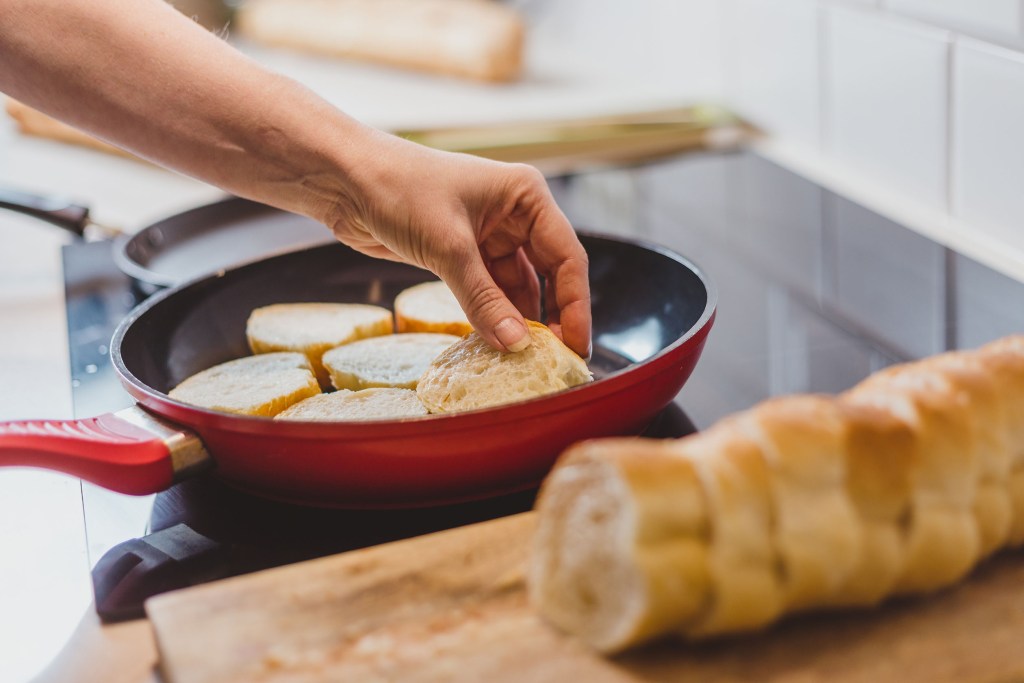 How to pan-fry your bread
There are two basic ways to pan-fry your toast: low and slow or high and fast. The best method depends mainly on the type of bread you use. You are better off using the low and slow technique with rustic kinds of bread like sourdough or baguettes. This will keep the bread crispy on the outside and chewy on the inside. On the other hand, if you're frying light and fluffy bread like challah or brioche, the high and fast technique is preferable. It ensures the bread keeps its soft center while still crisping the outside.
To make toast on the stovetop, you will need:
A medium or large frying pan
Thick-sliced bread
Butter or cooking oil
The Kitchn also recommends using a heavy lid or plate to weigh down the bread and ensure it's thoroughly toasted.
Low and slow
Add a thick slice of butter or splash of cooking oil to the pan and heat on low.
Once the oil is hot, place the bread in the pan, ensuring the side is fully coated in the oil.
Place the lid directly on the bread and let it sit for two or three minutes.
Take the lid off and flip the bread. Make sure the second side is coated in oil, too, then replace the lid for two to three more minutes.
Remove from the pan and enjoy!
High and fast
This method follows essentially the same steps.
Start by heating your oil or butter on medium-high heat.
Coat the slice of bread and let it toast for only a minute.
Flip it over, then repeat with the other side.
Voila! You have an easy and delightful slice of toast.
Pan-frying bread is the simple kitchen hack that can bring your meals to the next level. When you fry bread in your favorite cooking oil, you can enjoy a flavorful and versatile toast that goes great with any meal. This little bit of effort goes a long way, and you'll savor every slightly sweet crunch of your favorite sourdough. Trust us; once you start pan-frying your bread, you'll never go back to regular toast again!
BlissMark provides information regarding health, wellness, and beauty. The information within this article is not intended to be medical advice. Before starting any diet or exercise routine, consult your physician. If you don't have a primary care physician, the United States Health & Human Services department has a free online tool that can help you locate a clinic in your area. We are not medical professionals, have not verified or vetted any programs, and in no way intend our content to be anything more than informative and inspiring.
Editors' Recommendations