Thanksgiving may be known as a day for family, food, and football, but the week after is known for leftovers. Every year, there's so much turkey leftover that you end up eating it every day. If just thinking about the post-holiday week makes you feel sick of turkey sandwiches and turkey pot pie, keep reading. Here are six imaginative leftover turkey recipes that will keep you and your family well-fed after Thanksgiving.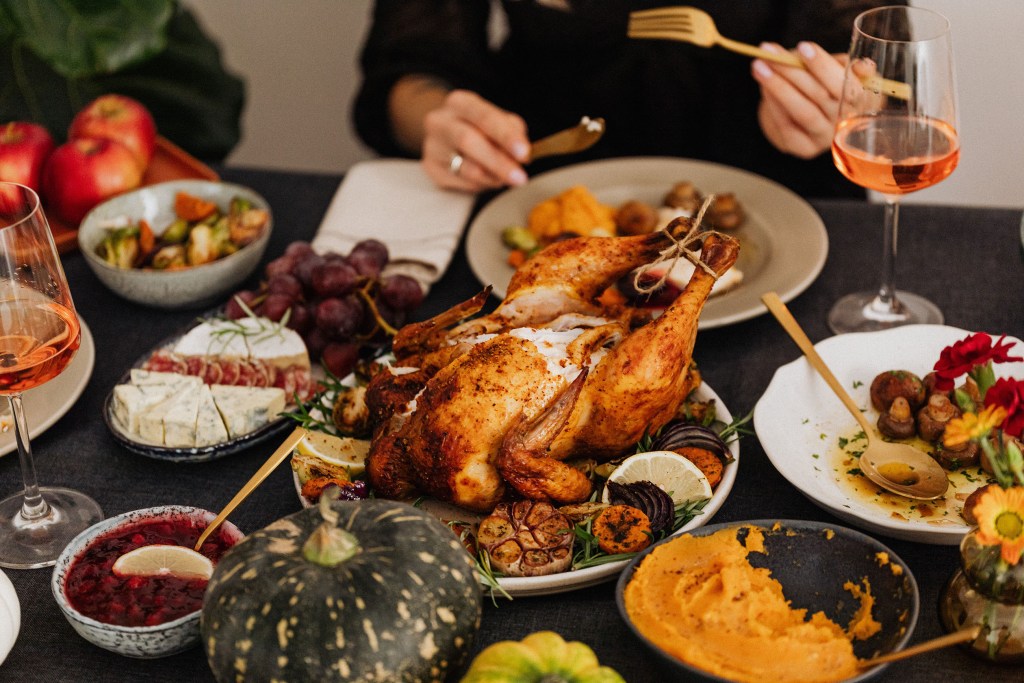 Turkey, Sweet Potato, and Black Bean Soup
Adding turkey to your favorite soup recipe is one of the best ways to use up leftovers. Check out this delicious low-carb recipe for turkey, sweet potato, and black bean soup from Kalyn's Kitchen.
Ingredients
1 15 oz. can black beans
1 4 oz. can diced green chiles
6 cups turkey stock
4 cups turkey, diced
2 cups sweet potato, chopped into 1/2-inch pieces
1 cup onion, diced
1 cup celery, diced
1/4 cup lime juice
1 tbsp olive oil
2 tsps dried oregano
2 tsps ground cumin
1 tsp ground chile powder
1/2 tsp dried sage
Salt and pepper, to taste
Instructions
Heat the olive oil and sauté the onions and celery for about five minutes in a heavy soup pot. Add in the sweet potatoes, turkey stock, oregano, cumin, chile powder, and sage. Reduce the heat to a simmer and cook for 40 minutes, stirring infrequently. Pour in the black beans and all the bean liquid, then simmer for an additional 15 minutes. Add the turkey and green chiles. Simmer for another 15 minutes. Stir in the lime juice and season with salt and pepper. Let the soup cook for five more minutes before serving hot.
Leftover Turkey Harvest Cobb Salad
For a healthy leftover dish, try making a Cobb salad with fall harvest flavors. You can view the recipe for the recommended vinaigrette on Skinny Taste.
Ingredients
3 strips bacon, cooked and crumbled
6 oz cooked turkey breast
3/4 oz crumbled feta
3 cups spring mix lettuce
2 cups butternut squash, cubed in 3/4-inch pieces
1/4 cup pecan halves
2 tbsps craisins
1/8 tsp salt
Pepper, to taste
Instructions
Preheat the oven to 425 degrees Fahrenheit to cook the squash. Grease a baking sheet and lay out the squash pieces. Season them with salt and pepper, then bake for 25 minutes, flipping them after 15 minutes. Let the squash cool before plating the salad. Add the lettuce to a serving dish, then layer the remaining ingredients on top. Drizzle the salad with dressing.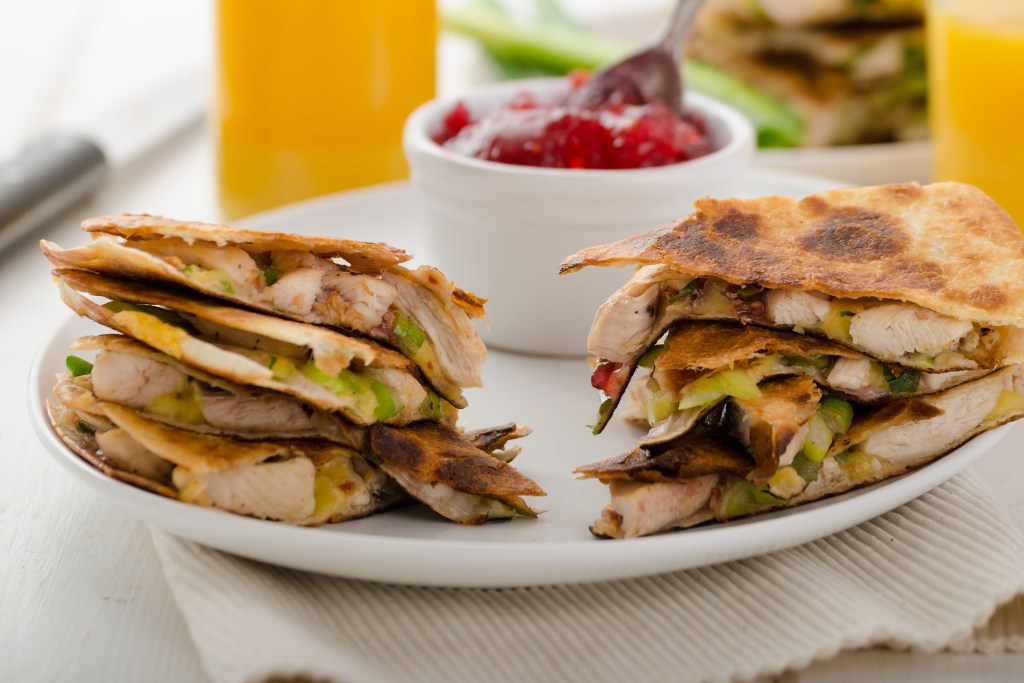 Thanksgiving Leftovers Quesadilla
Who wants to eat a boring turkey sandwich when you could have thanksgiving-style quesadillas instead? Try this recipe from The Cookie Rookie.
Ingredients
4 whole-wheat tortillas or wraps
2 cups turkey breast
2 cups shredded cheese, cheddar, asiago, and pepper jack
1/2 cup cranberry sauce
1/4 cup fresh sage
Instructions
Grease a large skillet with olive oil spray and heat it over medium heat. Lay a tortilla in the skillet and top it with 1/4 cup cheese and half of the turkey, cranberry sauce, and sage. Add on another 1/4 cup of cheese and a second tortilla. Cook the quesadilla for five minutes on each side or until the cheese melts. Repeat the process to make a second quesadilla.
Turkey Cranberry Pasta Salad
Turn your Thanksgiving main course into a side dish with Spend with Pennies' recipe for turkey. Cranberry pasta salad.
Ingredients
12 oz. bow-tie pasta
2 cups cooked turkey, diced
2/3 cup craisins
2/3 cup poppy seed dressing
1/2 cup celery, chopped
1/3 cup pecans or almonds, sliced and toasted
1/3 cup mayonnaise
1/4 cup green onions, sliced
2 tbsps apple cider vinegar
1 tsp sugar (optional)
Instructions
In a small nonstick pan, cook the almonds or pecans over medium heat for a few minutes until they're lightly browned. Boil water and cook the pasta al dente according to the instructions on the box. While the pasta is cooking, combine the poppy seed dressing, mayo, apple cider vinegar, and sugar in a small bowl. Mix it well. Drain the cooked pasta and pour it into a large bowl. Add in the other ingredients, including the mayo/dressing mixture, and toss to coat the ingredients. Chill for at least an hour before serving.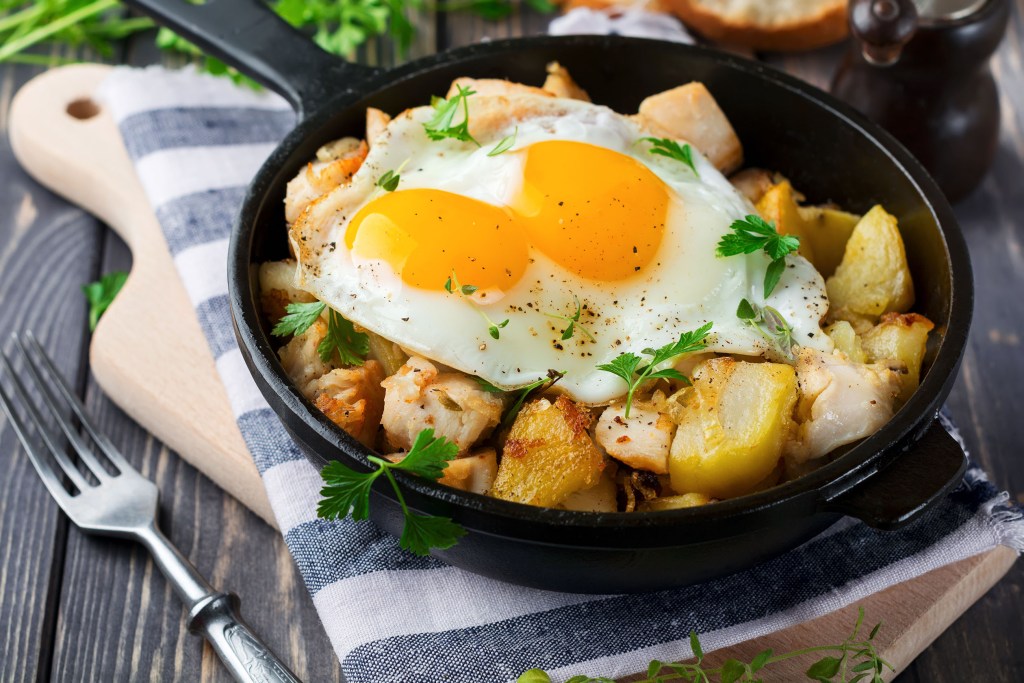 Holiday Turkey Hash
With this tasty breakfast recipe from Southern Living, you can use up your leftover turkey to make a hearty and filling hash.
Ingredients
4 strips bacon
4 large eggs, fried
1 lb. Yukon Gold potatoes, cut into 1/2-inch pieces
1 1/2 cups cooked turkey, torn
1 cup yellow onion, chopped
1 cup red bell pepper, chopped
2 tbsps thinly sliced scallion
2 tbsps canola oil
2 tbsps red wine vinegar
1 tsp chopped garlic
1 tsp kosher salt
1/2 tsp pepper
Instructions
Cook the bacon over medium heat in a large cast-iron skillet until crispy. Lay the cooked bacon on a paper towel-lined plate to soak up the grease. Crumble the bacon and set it aside. Reserve about two tbsps of bacon drippings in the pan. Add the potatoes and canola oil into the skillet. Cook over medium heat for 10-12 minutes, or until the potatoes are brown and soft. Add in the onion and bell pepper, and cook for another 10 minutes. Stir frequently. Pour in the garlic and constantly stir for one minute. Dump in the turkey, vinegar, salt, and pepper. Stir occasionally and cook until the turkey is warm, about two minutes. Top the hash with fried eggs and garnish with the scallion and crumbled bacon.
Thanksgiving Leftover Pizza
You can use up all your Thanksgiving leftovers with The Stay at Home Chef's recipe for pizza with an autumnal twist.
Ingredients
1 ready-to-bake pizza crust
2 cups shredded mozzarella cheese
1 cup turkey, diced
1/2 cup turkey gravy
1/2 cup stuffing
1/2 cup cranberry sauce
1/3 cup mashed potatoes
2 tbsp fresh parsley, chopped
Instructions
Preheat the oven to 450 degrees. Unpackage the pizza crust and spread the gravy in an even layer on the dough. Make sure to leave an edge for the crust. Evenly distribute the turkey atop the gravy, then sprinkle on the shredded cheese. Spread spoonfuls of mashed potatoes and stuffing around the pizza. Drizzle the cranberry sauce on top. Bake the Thanksgiving pizza for 12-15 minutes, or until the cheese starts to bubble and brown. Garnish with the parsley and slice the pizza.
There are so many different leftover turkey recipes that you can try. So, say goodbye to leftover turkey sandwiches for good and hello to these creative dishes. With these recipe ideas, you can enjoy turkey for breakfast, lunch, or dinner. And with so many unique options, you won't hear a single complaint from your family. These delicious dishes may just make the days after Thanksgiving your favorite week of the year.
BlissMark provides information regarding health, wellness, and beauty. The information within this article is not intended to be medical advice. Before starting any diet or exercise routine, consult your physician. If you don't have a primary care physician, the United States Health & Human Services department has a free online tool that can help you locate a clinic in your area. We are not medical professionals, have not verified or vetted any programs, and in no way intend our content to be anything more than informative and inspiring.
Editors' Recommendations