Ice cream is a sweet and tasty treat, perfect for hot summer days and cozy winter nights. But for people on specialized diets, traditional ice cream can cause nothing but pain. And with all the added sugar, even those who can eat this dessert without digestive distress may be better off without it.
Thankfully, there are ice cream alternatives that are just as delicious as the real deal. These low-cal options are typically healthier, plus you can adjust the recipes to make them vegan, dairy-free, or paleo if needed. Here are a few healthy ice cream alternatives that you can enjoy all year long, entirely guilt-free.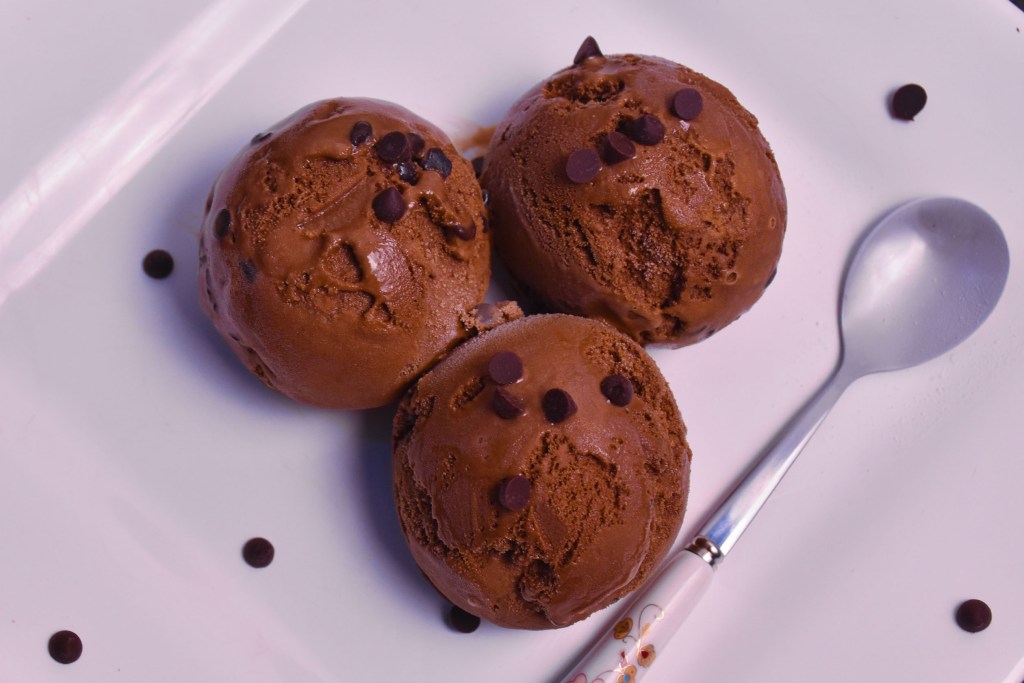 Healthy Chocolate Ice Cream
Rich and indulgent chocolate ice cream doesn't have to be unhealthy. This recipe from Chocolate Covered Katie uses creamy bananas as a base, so it's dairy-free and much better for you than store-bought ice cream. Plus, it only takes five minutes to make!
Ingredients
• 3 bananas, peeled, chopped, and frozen
• 1/3 cup cocoa powder
• Pinch of salt
• 2-3 tbsp peanut or almond butter, optional
• Dark chocolate chips or brownie chunks, optional
Instructions
For best results, make sure to use soft, slightly brown bananas prior to freezing them. Add all the ingredients to a food processor or high-speed blender. If you want to use the chocolate chips or brownie bits, you can add them before or after blending. Blend the mixture until it's smooth. If it's too dense for your appliance, you can thin the ice cream with a splash of milk or a non-dairy alternative. You can eat it right out of the processor for a soft-serve consistency or freeze it for an hour to let it solidify to ice cream texture.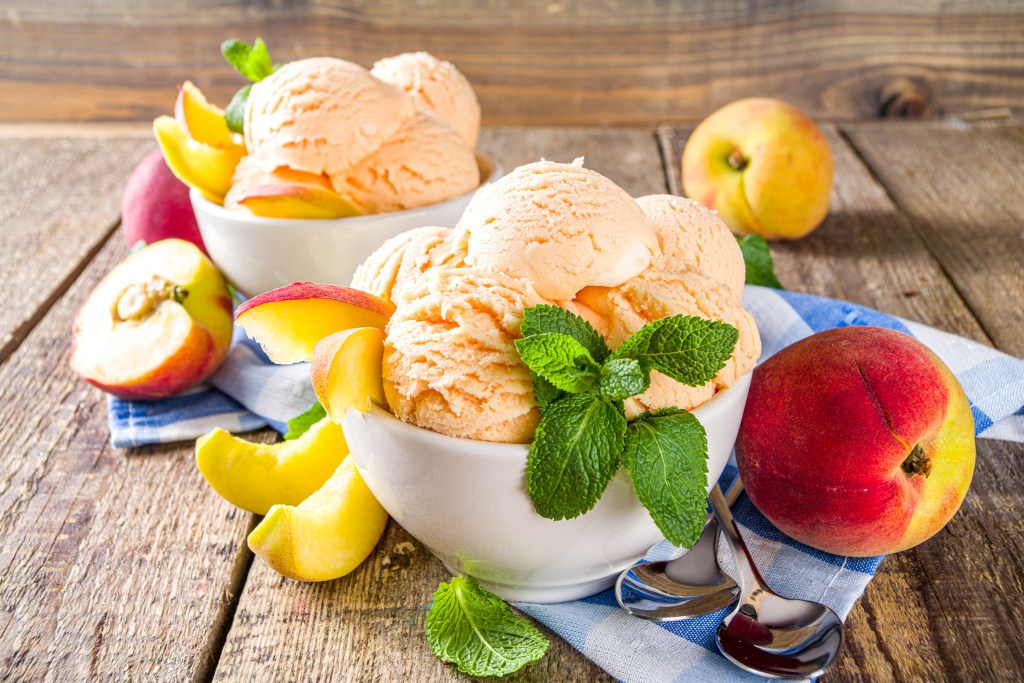 5-Minute Healthy Peach Frozen Yogurt
The four-ingredient fro-yo is tart, fruity, and, most importantly, delicious. Check out this simple recipe from Just a Taste.
Ingredients
• 4 cups frozen peaches
• 1/2 cup plain yogurt
• 3 tbsp agave nectar or honey
• 1 tbsp lemon juice
Instructions
Add the frozen peaches, yogurt, agave, and lemon juice in a food processor or strong blender. If you like your ice cream to be sweet, you can add more honey or agave nectar. Process the mixture for about five minutes or until it's creamy. Serve the froyo right away or store it in an airtight container in the freezer for up to a month.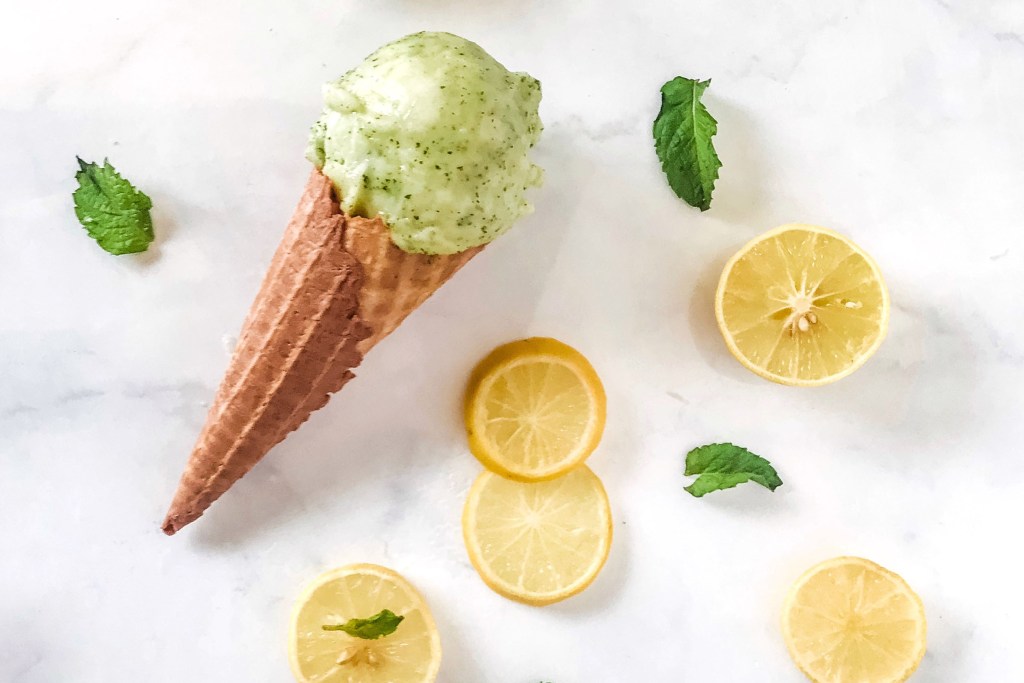 Avocado Ice Cream
Creamy avocado makes the perfect nutritious ice cream alternative. Feel Good Foodie originally posted this vegan and paleo-friendly recipe.
Ingredients
• 2 ripe avocados, halved, pitted, and peeled
• 1 14oz can full-fat coconut milk, refrigerated
• 1 banana, peeled, chopped, and frozen
• 4-5 large mint leaves
• 3 tbsp maple syrup
• 2 tbsp lemon juice
Instructions
Chill a loaf pan in the refrigerator for at least half an hour or up to a day. Add the peeled avocado to a high-speed blender with the banana, maple syrup, lemon juice, and mint leaves. Scoop out the solid part of the coconut milk and add it to the blender, too. You can save the liquid for future smoothies. Blend the ingredients until the mixture is smooth. Pour the creamy mixture into the chilled loaf pan and spread it evenly. Put the pan in the freezer for at least four hours or overnight before serving. To reduce browning, eat the ice cream within 48 hours and store the leftovers in an airtight container.
Healthy Banana Fro-yo
This banana-based frozen yogurt recipe is from Spoon University. It's highly customizable, so you can try out all sorts of flavor combinations to create a treat you'll want to eat all the time.
Ingredients
• 1 banana, peeled, chopped, and frozen
• 1-3 tbsp water, milk, or non-dairy milk substitute
• 3-6 ice cubes, optional
• Toppings and mix-ins
Instructions
Place the frozen banana in the blender with the water or milk. If you want the consistency to be more like sorbet or icier than fro-yo, you can add a few ice cubes. Add in your favorite mix-ins and blend until the mixture is smooth and creamy. Then pour on your preferred toppings and enjoy. Spoon University offers some great topping and mix-in ideas like peanut butter, grape jelly, chocolate sauce, and more.
Who knew there were so many ways to make faux ice cream? With bananas, avocados, and yogurt, you can mimic the creamy texture of this dessert without tacking on any extra calories. Plus, there are plenty of options to suit any dietary needs, whether you're dairy-free, paleo, or vegan. Are you ready to try one of these guilt-free frozen desserts? Get out your blender and start mixing your ice cream alternatives today.
BlissMark provides information regarding health, wellness, and beauty. The information within this article is not intended to be medical advice. Before starting any diet or exercise routine, consult your physician. If you don't have a primary care physician, the United States Health & Human Services department has a free online tool that can help you locate a clinic in your area. We are not medical professionals, have not verified or vetted any programs, and in no way intend our content to be anything more than informative and inspiring.
Editors' Recommendations