Once that sun starts to shine, it makes you want to take your workout outside. Being able to enjoy the fresh air instead of running on a treadmill in a gym is what you look forward to. But now you're going to be out in the elements.
That means more sweat, more sun exposure, and more ways to clog your pores. It's important to switch up your routine once you take the workouts outside so your face doesn't pay the price for the additional wear and tear it receives. Let's review a summer skincare routine you can start right now.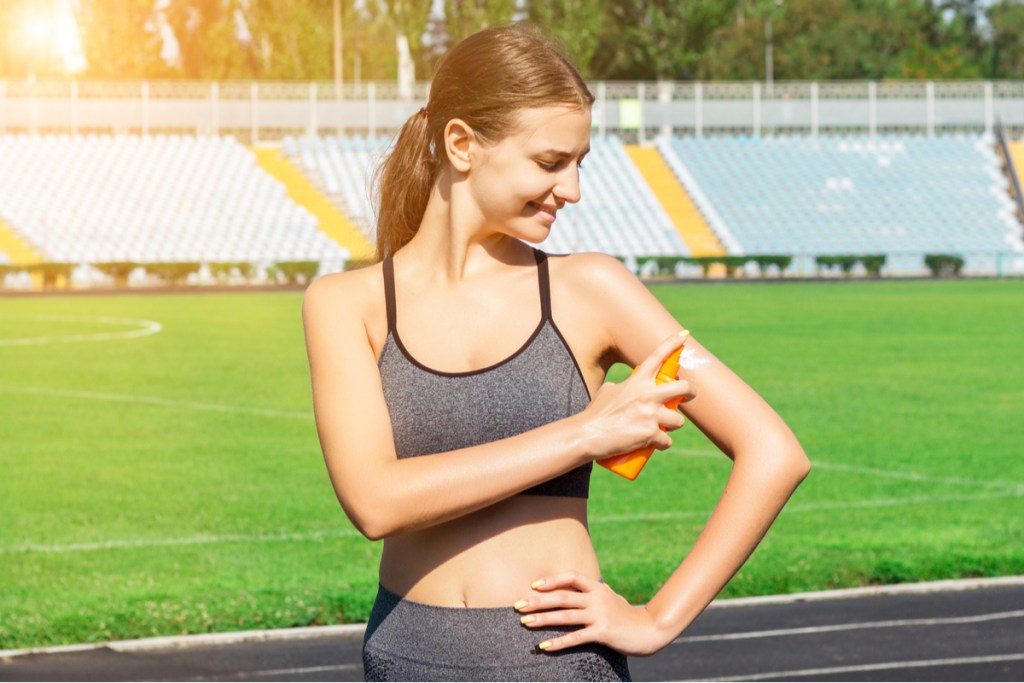 Before you work out
Before you step foot out of the house there are a few things you should do.
Make sure your face is clean
That doesn't mean you need to do your full face routine. A once-over with your micellar water or toner is okay. As long as you've removed the dirt and oil so your pores don't get super clogged up. Bioderma Sensibio H2O Micellar Water Makeup Remover is great if you need to get that makeup off before you work out. Or Dickinson's Original Witch Hazel Pore Perfecting Natural Toner to tighten up those pores before you get your sweat on.
Bioderma Sensibio H2o Micellar Water Makeup Remover: Target
Dickinson's Original Witch Hazel Pore Perfecting 100% Natural Toner – 16 Fl Oz: Target
After your face is clean don't put on any makeup. We know you might not want that blemish to be out in the open, but your skin needs to breathe while you work out.
If you need to or want to put on a little moisturizer on your face, that's fine. But make sure it has SPF protection. Mad Hippie's Hydrating Facial SPF 25+ is a good one. It's waterproof so it won't slide off your face while you get sweaty. For the rest of your body try Mad Hippie's Sheer Mineral Sun Spray with SPF 25+ on any part that's going to be exposed to the sun.
Hydrating Facial SPF – Mad Hippie
Sheer Mineral Sun Spray – Mad Hippie
During your workout
Between the heat, the humidity, the sun, and your sweat, your skin will be more prone to breakouts and your pores will get clogged a lot easier. Of course, SPF is everything for sunny days, but that's not all.
Try to wear workout clothes that have UPF protection. There are plenty of workout lines that have sun-protective pieces. Pretty much all of All in Motion's workout gear offers SPF protection. Grab a Women's Essential Racerback Tank Top and get your heart rate up.
Women's Essential Racerback Tank Top – All In Motion™: Target
After your workout
When you get back from your workout, if you can't immediately shower, you need to at least wash your face. Your pores are open and the outside pollutants you picked up on your run are all over you. At the very least, use a salicylic acid pad cleaner. You can swipe it over your face to remove the oil and dirt and clear your pores out.
Now you can do your full routine
After your workout is when you can do the whole process. Apply your serums, your creams, or whatever else you normally do after you wash your face. There's no need to do it before and after. All you're going to do is sweat it off or wash it off after your workout. That's a waste of your time and money.
Your clothes are holding all of your sweat. If you keep them on guess where that's all going to end up? All in your skin and pores. If you don't want back acne, you need to change your clothes as soon as possible. Don't leave your workout clothes on.
When your body is hot, your pores are open and vulnerable. You need to cool yourself down so your skin can return to normal. If you can't wash your face or take a cool shower, try keeping wipes with you. They can cool down your skin and help shrink your pores. Yes To Soothing Hypoallergenic Facial Wipes are really hand for this purpose.
https://www.amazon.com/Yes-Cucumbers-Soothing-Hypoallergenic-Facial/dp/B079NV9PBG
You are now ready to face the sun while keeping fit. Getting outdoors is better for your mind, body, and soul. Working out in the fresh air not lifts your spirits, but a change in your workout routine keeps your body working hard.
Even though you might only be outside for an hour to get your yoga on, the sun can still do some damage. Follow our skincare routine while you work out, remember our tips, and enjoy the beautiful scenery while you take care of your body.
BlissMark provides information regarding health, wellness, and beauty. The information within this article is not intended to be medical advice. Before starting any diet or exercise routine, consult your physician. If you don't have a primary care physician, the United States Health & Human Services department has a free online tool that can help you locate a clinic in your area. We are not medical professionals, have not verified or vetted any programs, and in no way intend our content to be anything more than informative and inspiring.
Editors' Recommendations