If you are like us you could eat rice with every meal. It's satisfying and provides essential nutrients our bodies need to thrive. As it turns out, it can also help your hair stronger and healthier.
You use hair masks, leave-in conditioners, and all kinds of other products in your hair to try to revive it. Using rice water may cause you to raise an eyebrow, but before you click away from the page let's look at how rice water can benefit your hair.
Why rice water?
Why not noodle water? Rice is a great source of vitamins, minerals, and carbohydrates for your body. It will give your scalp and hair the same benefits. The starch in the rice will deliver amino acids and antioxidants to your roots and scalp.
When you massage it into your hair you'll also stimulate the follicles, which promotes blood flow. That's important for your hair to grow faster. The starch in the rice water will also coat your hair, helping fight the frizz, making your hair look thicker, and leaving it with a gorgeous shine.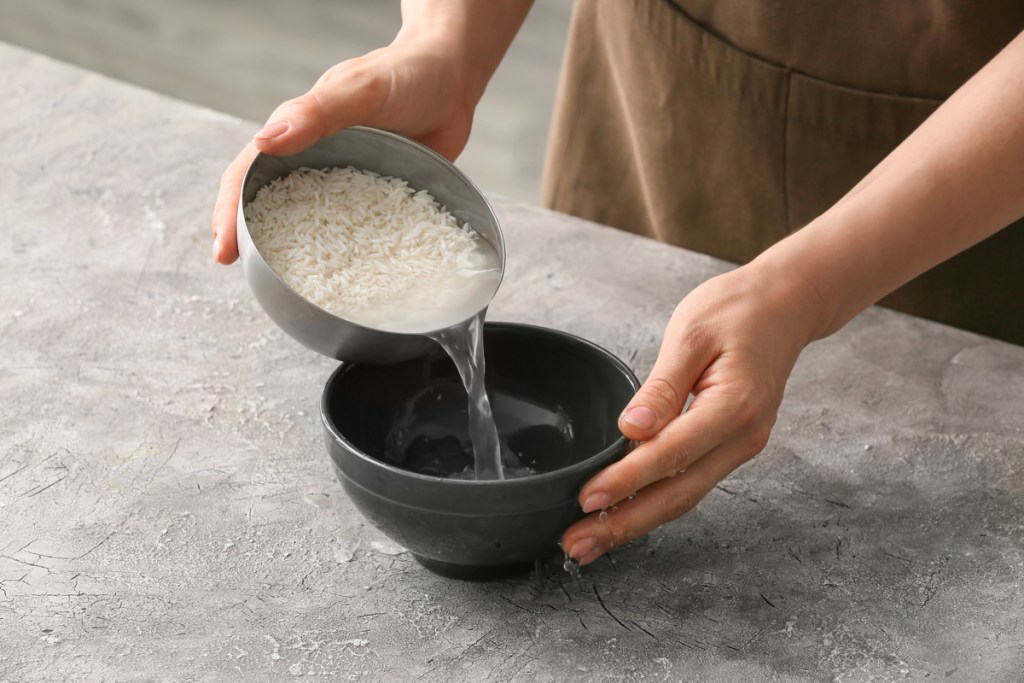 How to make it
Preparing rice water is pretty simple. You can use whatever type of rice you have on hand, though organic would be best. Once you make the rice water you can cook the rice and use it as normal, so just use your favorite brand.
Making the water
Measure out one cup of rice and rinse it clean. Then take your clean rice and put it in 1 cup of water. Mix that up until the water begins to get cloudy. Let the mixture sit for 30 minutes to an hour. Then drain your rice and let it dry for later use.
You can use the water immediately, or let it ferment. Put it in a container with a lid and let it sit out for up to 24 hours. Any longer and it will go bad and you'll have to toss it and start again.
Fermenting lets more of the antioxidants and vitamins come out, but unfermented water is also beneficial to your hair.
How to use it
Put your water in a spray bottle and spray on your hair. You can refrigerate any leftovers for up to a week. You can spray it all over your hair, but the trick is to focus on your scalp and massage it in. Healthy hair starts at the top.
Spray the water onto your hair after you've done your complete hair washing routine and let it sit. Twenty minutes is an optimum time to let rice water work its magic but even leaving it in for a few minutes will provide benefits. Be sure to wash it out completely before styling your hair.
It's not a leave-in treatment
Pro tip – don't leave it in. It's not that kind of treatment. Leaving the water in can add too much protein to your hair, causing it to become dry and brittle.
It's not for every day, all of the time
Also know that you don't want to use this on your hair every day. Again, too much protein is bad. If your hair is really lacking luster, apply the water once a day for the first week to give it a boost, then cut back to once a week. Once you have been using it for a while, you may be able to scale it back to every other week.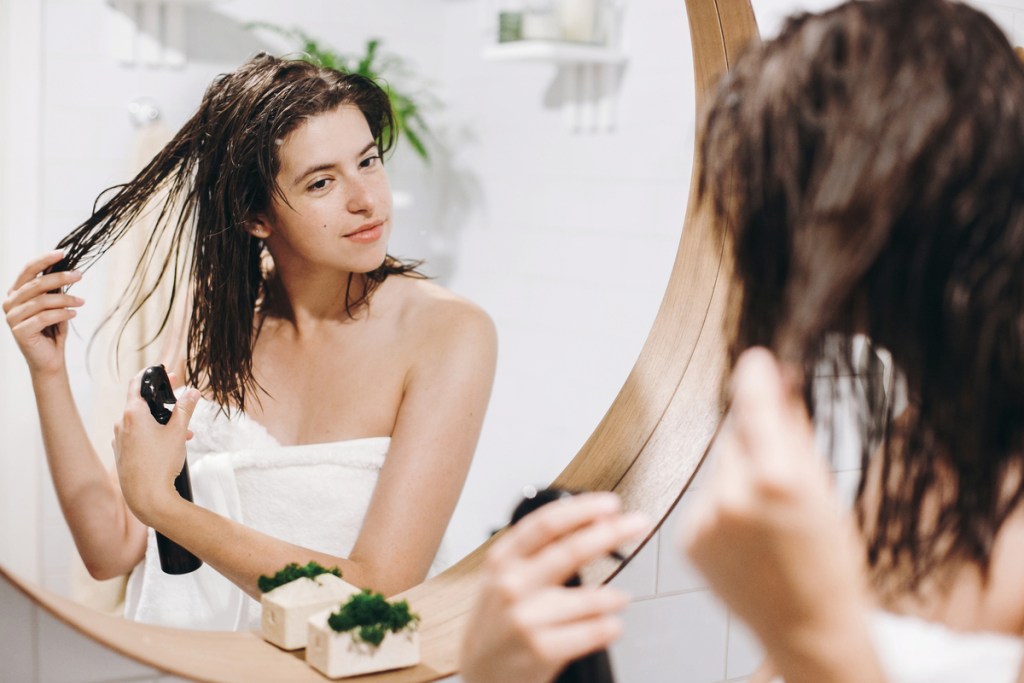 If you don't want to make it
If you don't feel like making rice water at home, there are products that contain rice water and provide the same benefits.
If you have color-treated hair, grab SheaMoisture's Purple Rice Water Shampoo. Coloring can damage your hair and the rice water will help heal that damage and then some.
https://www.amazon.com/SheaMoisture-Purple-Strength-Shampoo-Damaged/dp/B082KZ24ZP
Hairfinity Rice Water Hair Mist is super easy to use. Just spray on damp hair and style as you normally would. If you have curly hair, you can use this on dry hair to bring your bounce back to life.
https://www.amazon.com/Hairfinity-Rice-Water-Hair-Mist/dp/B08MTGT62P
Mielle Rice Water Moisturizing Milk is another handy product to have. Apply a little to wet or dry hair to add strength. They have a whole line of rice water products offering a variety of ways to incorporate rice water into your routine.
Rice Water Moisturizing Milk – MIELLE (mielleorganics.com)
If you are looking for something new to add strength and luster to your hair, give rice water a try. You can try making it at home or pick up one of the products we recommend if you are not a do-it-yourselfer. However you do it, know that using rice water can add shine, life, and fullness to your hair by repairing it from within.
BlissMark provides information regarding health, wellness, and beauty. The information within this article is not intended to be medical advice. Before starting any diet or exercise routine, consult your physician. If you don't have a primary care physician, the United States Health & Human Services department has a free online tool that can help you locate a clinic in your area. We are not medical professionals, have not verified or vetted any programs, and in no way intend our content to be anything more than informative and inspiring.
Editors' Recommendations