Many people have spent more time at home over the last year than they ever did in the past. Our humble abodes have become offices, restaurants, and even yoga studios.
Perhaps you found comfort at home, or maybe you're a tad stressed out (especially about the whole "home office" part). After a year of living life from home, you likely feel like you could use a break, whether it's one dedicated self-care day or a full-on vacation. If you're not ready to venture out into the world yet, that's okay. You can turn your pad into an oasis and have a spa-cation at home.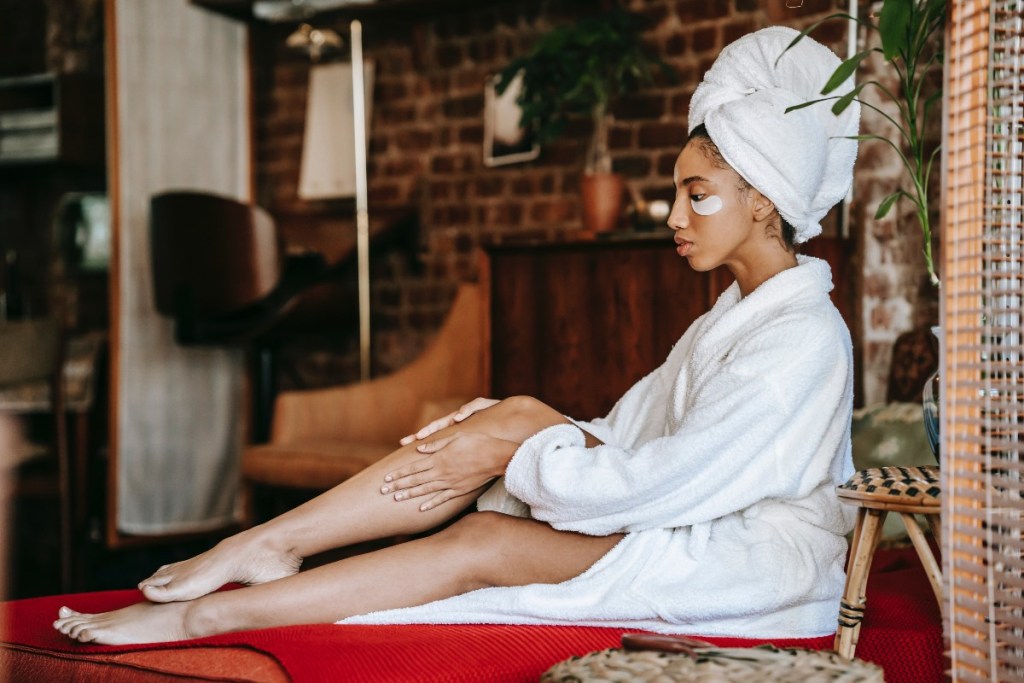 Set the mood
If you've been spending a ton of time in your house or apartment, a spa-cation at home may not feel so special — you've probably been staring at the same four walls for months on end. That's why it's important to create an ambiance that makes your home feel a little different, as if you've jetted off to someplace new and relaxing.
Engage your senses for a truly Zen experience. Start with scent — aromatherapy can have a strong impact on our mood, with certain scents making us feel calmer and more relaxed. Light scented candles or throw essential oils in a diffuser to fill your room with scents of lavender, eucalyptus, and rose. Music can also help you feel less stressed. Spotify has several relaxing playlists, but we recommend tailoring your music to whatever makes you personally feel calm. You can choose something upbeat or bright, and some researchers say even heavy metal can do the trick.
The best spa-cation accessories
Without Zoom meetings, you don't need to worry about putting on makeup or a cute pair of earrings. Complete comfort is key when staycationing:
Swap your work shirt and yoga pants get-up for a cozy robe. This robe from Jones New York looks and feels just as luxurious as one from a high-end hotel.
A refreshing drink in hand is perhaps the ultimate accessory. Water is best — it's hydrating for your skin and can aid in digestion

. Make it a bit more tasty by squeezing some lemon, lime, or even berries into your glass.

Give your tastebuds something else to enjoy by indulging in a square of dark chocolate, which is

full of antioxidants

that are good for your skin.

Lindt's Excellence Bar

is one of our personal favorites.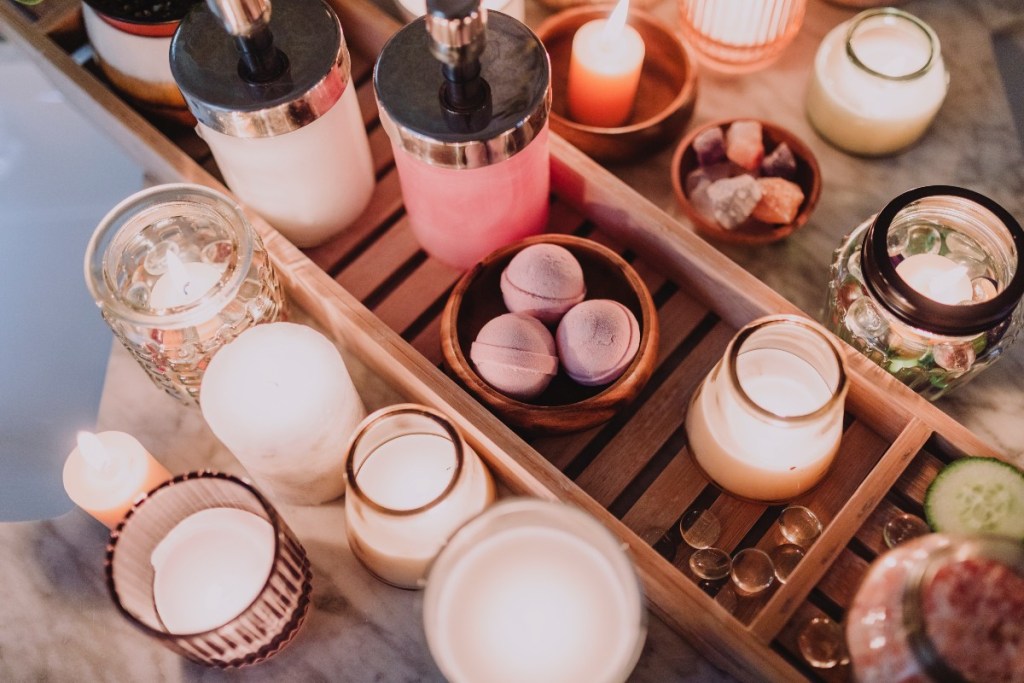 Treat your skin
If you're vacationing at home, you likely won't be seeing an esthetician. However, you can still give your body some serious TLC with at-home treatments. We recommend the Mighty Marshmallow face mask from Bliss to brighten and hydrate your skin. It's also cruelty-free, so you can indulge guilt-free.
A nice, long bath is a small luxury, particularly if you're exceptionally stressed or tired. Pour some soothing bath salts into your tub and run some warm water. The salts, like these from San Fransisco Salt Co., will soothe and soften skin. If you'd prefer something bubbly, Kneipp Lavender and Vanilla Bubble Bath will do the trick. Pro tip: Consider taking a bath before bed. Studies show that a hot bath can help you fall asleep faster.
Don't forget to show your feet some love with a tea tree scrub to remove calluses and ensure they're looking great for flip-flop season.
Try a mani/pedi
A trip to the nail salon can feel like a mini-vacation in itself. However, if you're looking for a spa-cation at home, bring the salon to your bathroom. Opt for a DIY mani-pedi that still looks professionally done. This kit from Keiby Citcom has all the tools you'll need, sans polish. You'll be able to cut, file, and refine your cuticles like a pro.
If you tend to spring for gel manicures, this kit from Nail Art Studs comes with polish and even a dryer for a longer-lasting, chip-proof look.
After spending so much time at home for the last year, the idea of spending even more time inside might not be so relaxing. However, some staycation ideas can turn your pad into an oasis. When taking a spa-cation, make it a full-sensory experience with soothing scents and calming tunes to put you in the right frame of mind. Choose a comfy robe that feels luxurious to step into, and try at-home spa treatments like face masks and scrubs, then top it all off with a salon-quality manicure.
This self-care day is time to make everything about you. Consider ditching the phone or keeping it out of reach. There's arguably nothing less relaxing than scrolling through your work email or Twitter during your time off. This year has been especially hard, so don't feel guilty about taking a little time to thank your body for everything it's done for you.
BlissMark provides information regarding health, wellness, and beauty. The information within this article is not intended to be medical advice. Before starting any diet or exercise routine, consult your physician. If you don't have a primary care physician, the United States Health & Human Services department has a free online tool that can help you locate a clinic in your area. We are not medical professionals, have not verified or vetted any programs, and in no way intend our content to be anything more than informative and inspiring.
Editors' Recommendations