If you've been to the gym recently, you may have noticed a growing section of rowing machines. While they've been around for a while, rowing machines (also known as ergometers or ergs) are becoming more common in fitness centers and home gyms. Rowing exercises provide many advantages over other types of workouts, so if you think it's time to give in to your curiosity and begin your rowing journey, keep reading! We'll review some of the benefits of rowing and share a few workout routines you can add to your exercise plan.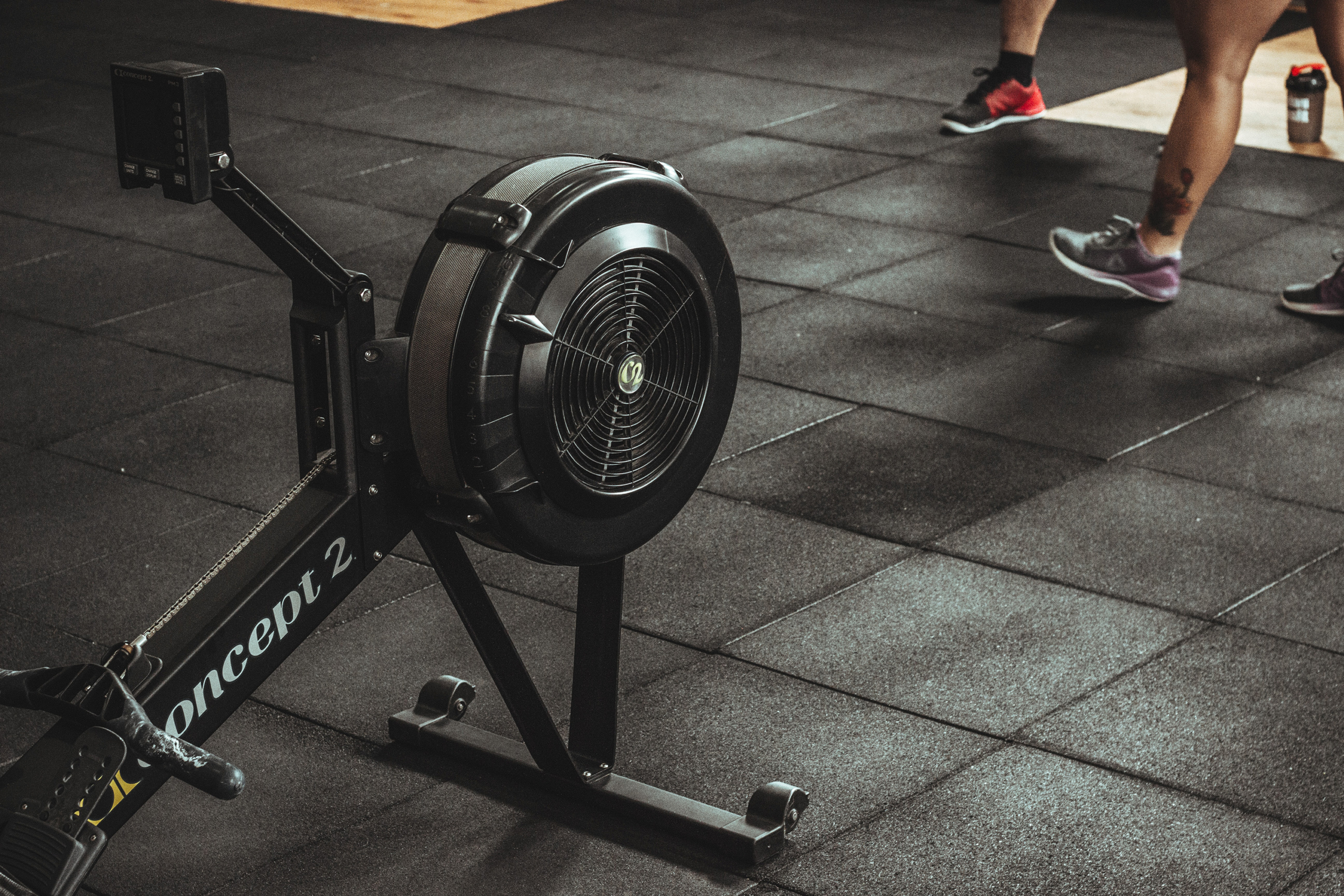 Benefits of rowing
Rowing is a low-impact, full-body workout that produces quick results through tandem cardio and strength training.
Rowing uses about 86% of your muscles during a single training session, including your legs, arms, abs, back, and more. Because rowing challenges so many of your muscle groups, it's a cardio alternative to running that delivers results quickly. Whether your goal is to improve cardio and strength or just get moving a little bit everyday, this workout can fit well within your existing exercise routine. Additionally, this low-impact exercise is easy on the joints because you regulate the speed and movement. This makes it perfect for people with osteoarthritis and other joint issues or those who are prone to shin splints and other overuse conditions.
Jumping on the erg every once in a while also has a range of health benefits. Since rowing trains cardio as well as strength, it can improve your cardiovascular and respiratory health. Further, rowing improves your posture, relieving back, neck, and shoulder pain. When you use the proper rowing technique, you become acclimated to sitting with good posture, and pretty soon, slouching and hunching will be a thing of the past.
Rowing does not have to be high intensity and can actually be quite relaxing. The meditative aspect is created by the smooth, gliding motion you make on the erg, allowing you to clear your mind and calm racing thoughts. Plus, rowing, like any exercise, releases endorphins in the brain, which helps to reduce stress and boost your mood.
Should you start rowing?
The short answer: yes! Rowing is a great exercise for people of all ages and fitness levels, and it requires little prior knowledge to get started. Plus, you don't need to be in peak physical shape to begin working out; Even if you've never been in a boat before, you can learn how to use an ergometer safely. As with starting any new exercise regimen, consult a healthcare professional to ensure rowing is a safe hobby for you.
Best rowing machines exercises
Now it's time to start preparing for your next trip to the gym. Try out these three rowing workouts that you can do on the erg at home or in the gym.
The power stroke rowing machine workout
This is a basic rowing routine that focuses on using your muscle to complete strong, explosive movements. To get the most out of your workout, try to keep your rhythm constant throughout each interval.
Start on the ergometer with a five to ten-minute warm-up of steady strokes. Then, do ten power strokes, strong strokes with a higher resistance, at a rate of 24 strokes per minute (SPM), followed by ten easy, recovery strokes. Increase your speed and complete ten more power strokes, then complete ten more recovery strokes. For your third set, increase your SPM once again for ten power strokes and ten recovery strokes. End your session with a cool-down of easy, gentle strokes for five to ten minutes.
The 30-minutes rowing machine workout
This interval routine is best for busy people who want to get as much exercise out of their time as possible. For your warm-up, do easy strokes for two minutes followed by four sets of ten strong strokes. Be sure to rest for 20 to 30 seconds between every set. Then, begin the main set. Start with one minute of rowing at 70% of your maximum effort, one minute of rowing at 80%, and one minute of rowing at 90%. Rest for a minute by completing easy strokes for active recovery. For 30 seconds, row at 100% of your maximum effort, and then spend another focused on recovery. Repeat this process four times. Round out your workout with a cool-down round, spending a minute or more on a few more easy strokes.
The ladder drill workout
With this routine, you gradually build up and decrease speed. Begin with the standard warm-up of easy strokes for five to ten minutes. For the main set, begin at a speed of 22 SPM. Increase your rowing rate by one stroke per minute every 30 or 60 seconds. Continue this process until you are rowing at 30 strokes per minute. Then, gradually decrease your speed in the same way until you return to the baseline of 22 SPM. Cool down with five to ten minutes of steady strokes.
Rowing is an excellent workout that engages and trains the whole body at any level of intensity. So, the next time you're at the gym, there's no reason to feel intimidated. With these exercise routines, you will be an expert in no time.
Editors' Recommendations