Waking up to learn that Apple released the newest app, update, feature, or product feels just like Christmas morning. Well, that might be an exaggeration, but there's definitely a sense of excitement to try out the latest upgrade. Technology develops and accelerates so quickly, it's hard to believe that the iPod Touch was the pinnacle of consumer technology just barely fourteen years ago.
One of Apple's more recent features, Face ID, was also praised for its clever use of biometric technology to keep your phone secure. Unfortunately, Apple couldn't have predicted the coronavirus pandemic, and with a mask on all day, FaceID is losing its usability. Thankfully, there's a solution coming to those who want the Face ID back. Apple is testing out a new feature in its iOS 14.5 update (available in beta now) that just might make wearing a mask and unlocking your phone easier than ever.
The solution
The developers over at Apple have been working to create a solution that allows you to unlock your phone with ease without having to type in your password each time. However, there's a slight, but expensive, catch – you have to have an Apple Watch.
As long as your devices are set up on the same iCloud account and connected, your phone can use the watch as a method of two-factor information. While wearing a mask or any other face covering, lift your phone up to activate the Face ID feature. When the authentication fails, it sends an alert to your watch, which will vibrate. As long as your watch is on your wrist and unlocked, all you have to do is double click the side button on your Apple Watch and the iPhone will unlock.
This is a quick and easy way to unlock your phone, but you need to ensure your settings are configured correctly.

Don't forget some setup details
This feature only works if both devices are close together and the watch is unlocked. Unlike the iPhone, however, you don't need to unlock the watch every time you use it — only when you first put it on your wrist. Therefore, as long as it's on your wrist and unlocked, you shouldn't have any issues using this feature.
Be aware that it's not an automatically done deal just because you have both. You have to turn on this feature by going to Settings > Face ID & Passcode, then turning on the feature that says "Unlock with Apple Watch." Additionally, your watch needs to have the watchOS 7.4 update, which will become available once your iPhone has its iOS 14.5 update.
Get all of that? Not a lot of hard work, but there are some crucial steps to take if you want the feature to function.
When you could see it
This is part of a developer beta iOS 14.5 update, so it isn't available quite yet in your general settings. However, you can sign up to be a beta tester on beta.apple.com and provide Apple with feedback on the usability of the new features.
Apple doesn't announce when updates will be released, but it is expected to be available to the general public this month.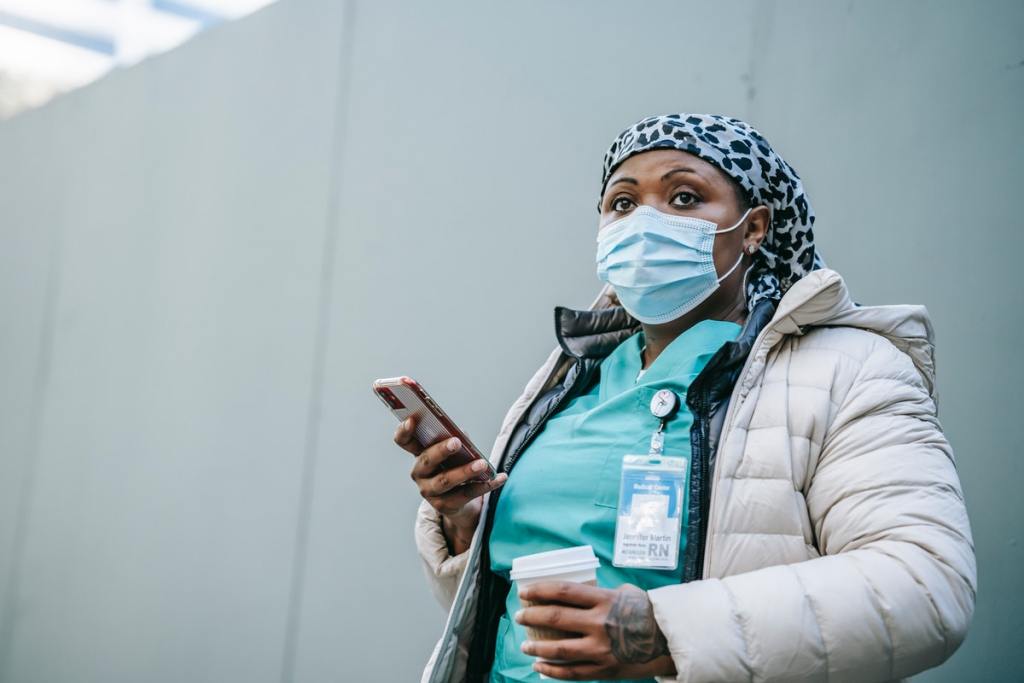 It's a smart move for Apple
Apple is known for the convenience and connectivity of its devices, like being able to answer messages and calls from your watch, phone, computer, or tablet. All of the data is shared, much of it in the cloud, making it easy to continue the same task on multiple devices seamlessly.
This is another way to make it more convenient to fill your life with Apple devices, so if you didn't hop on the Apple Watch craze a few years ago, maybe this will sway you.
While this is great for the everyday customer, people like healthcare workers, teachers, and other essential workers that cannot take their masks off (and wear them for 8+ hours a day) will benefit greatly from this new feature.
So stay safe, wear your mask, and get ready for the newest feature in Apple problem-solving.
BlissMark provides information regarding health, wellness, and beauty. The information within this article is not intended to be medical advice. Before starting any diet or exercise routine, consult your physician. If you don't have a primary care physician, the United States Health & Human Services department has a free online tool that can help you locate a clinic in your area. We are not medical professionals, have not verified or vetted any programs, and in no way intend our content to be anything more than informative and inspiring.
Editors' Recommendations