Shopping becomes so much easier once you understand your body type. A pear shape, sometimes called a triangular frame, is when a person's hips and thighs are wider than their shoulders and bust, and the waist is narrow compared to their hips. Fashion icons like Rihanna and Jennifer Lopez are both pear-shaped women, and they always dress to flatter their gorgeous curves. To learn how to incorporate the latest summer style into your wardrobe, check out our five favorite fashion trends for pear-shaped women.
How to dress if you're pear-shaped
Before we start exploring some of the summer's biggest fashion trends, let's review the basics of dressing a pear-shaped body. These tips are intended to help you accentuate your features and create a more proportioned frame. Keep in mind, too, that body shape is based entirely on your bone structure, not your weight. The tips below are essential regardless of your size.
Use your outfit to create a balance between your shoulders, bust, waist, and hips.
Lines can help draw the eye where you want it to go, create curves, emphasize your favorite body parts, or lengthen your figure.
Utilize colors to draw focus, too. The eye is naturally drawn to patterns and bright or light colors, more so than solid black or navy blue, so think about incorporating a bold belt into your next outfit.
Without further ado, here are the five best summer trends you should try this season.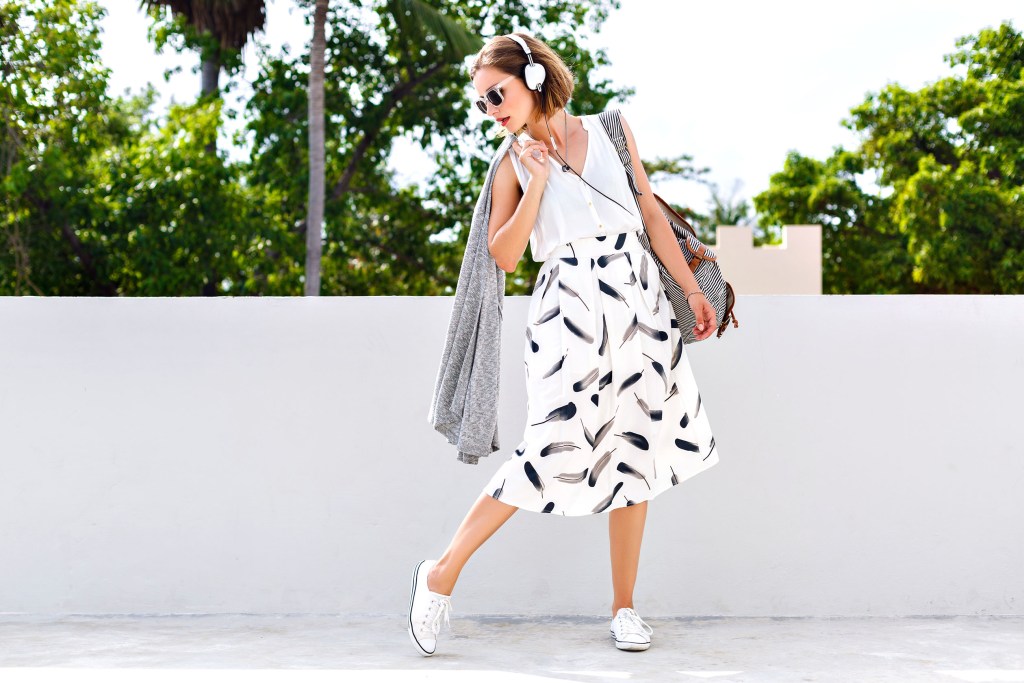 Satin midi skirts
Midi skirts, which fall on the calf between the knee and ankle, are one of the biggest trends this season. There's no more sophisticated or stylish material than satin or silk, and these elegant bottoms look just as great with a casual tee as they do with a more formal button-up. Plus, they look fantastic on pear-shaped women. The skirt will float over your natural curves, offering a comfortable fit that accentuates your shape.
Oversized shoulder pad jackets
Boyfriend jackets with large shoulder pads were all over the runways this year. If you're looking for a chic suit to try this season, try this 80s-inspired look. Thanks to the shoulder pads, this suit jacket creates a long silhouette that cinches at the waist and creates balance with your curvaceous hips and thighs. For the summer, try pairing your jacket with stylish leather shorts or a cute mini skirt.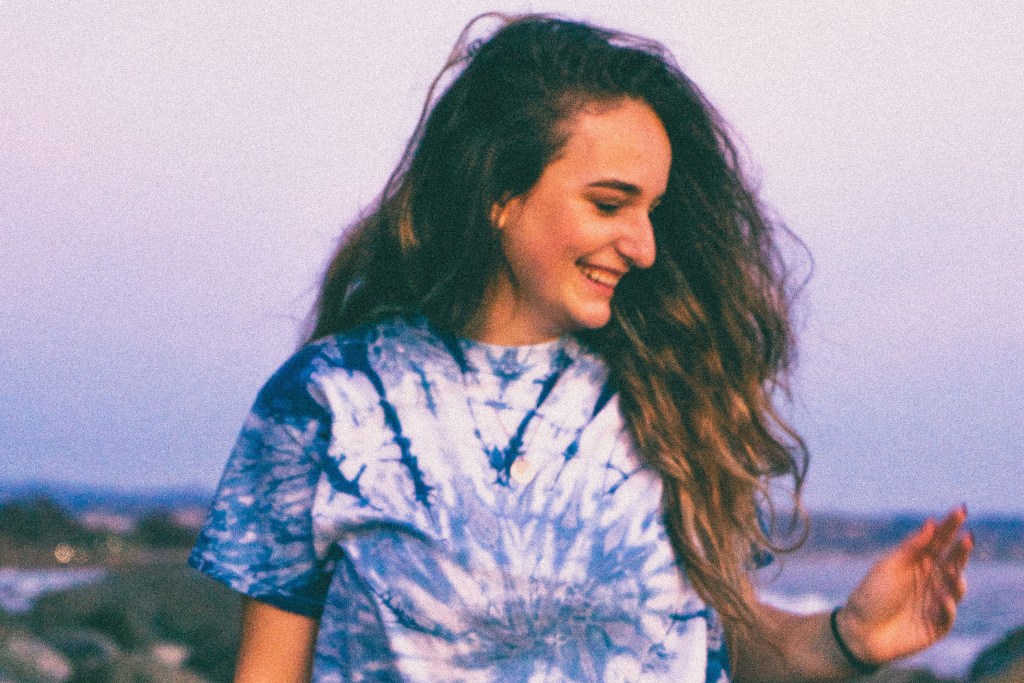 Tie-dye tops
Tie-dye is a long-running trend that is sure to stay in style this summer! Whether you choose something more laid-back like a t-shirt or pair the pattern with a second-skin top, tie-dye is always a winner. The psychedelic look is bright and colorful, which helps to add volume to your upper half and balance your features. Plus, tie-dye is so fun and versatile; you can find tops in tons of different colors and patterns, making it easy to find a shirt you'll love.
Kick-flare pants
Skinny jeans are officially a thing of the past (at least they are if Gen Z has anything to say about it). Instead, embrace this retro 1970s style and add some kick-flare pants to your wardrobe. The flared ankles create balance with your wider hips. This style is also so much fun to wear, bringing the best Mamma Mia vibes! Choose a comfy flare pant with a large, vintage floral pattern to pair with your cute ankle boots and a halter top. Or, keep it casual with a cool graphic tee and light wash kick-flare jeans.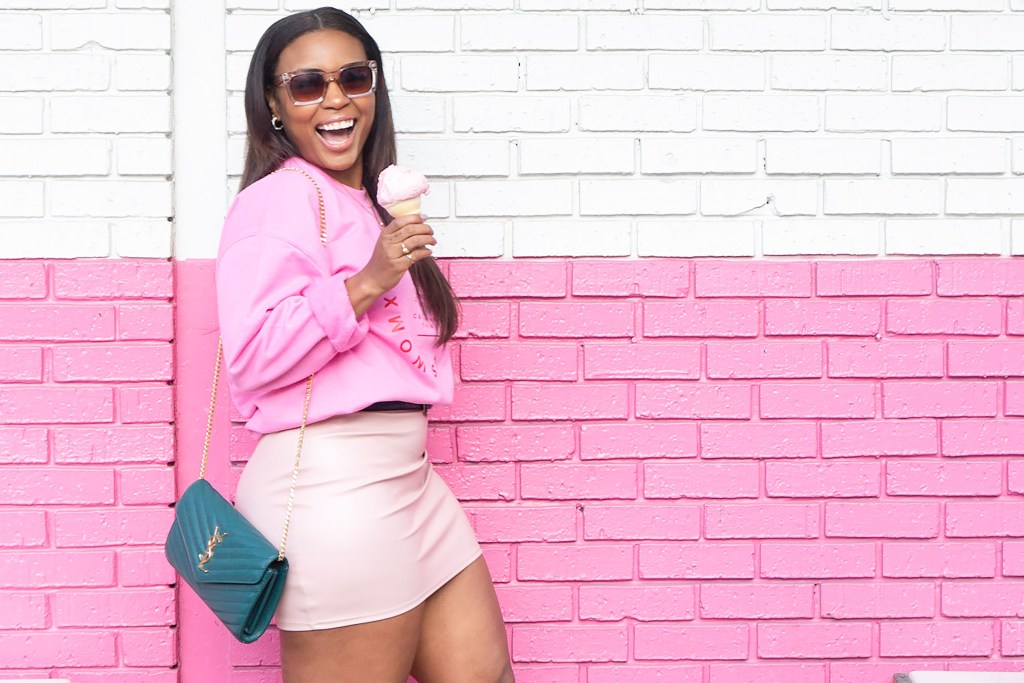 Bubblegum pink
It's time to channel your inner Elle Woods. Bright, bubblegum pink is one of the most prominent color trends of spring and summer. For women with pear-shaped bodies, try this trend on your favorite style top to draw the eye up. Alternatively, you can find a cute, bubblegum pink A-line or wrap dress that will define your waist and give more of an hourglass figure.
Summer is the perfect season to have fun with your wardrobe and try something new with your look, and these five trends are set to be some of the most popular this year. For pear-shaped women, satin midi skirts, oversized jackets, tie-dye shirts, kick-flare pants, and bubblegum pink pieces are the best fashion fads to play with. These fashion trends are sure to emphasize your natural curves, create balance, and draw the eye toward all the right places.
BlissMark provides information regarding health, wellness, and beauty. The information within this article is not intended to be medical advice. Before starting any diet or exercise routine, consult your physician. If you don't have a primary care physician, the United States Health & Human Services department has a free online tool that can help you locate a clinic in your area. We are not medical professionals, have not verified or vetted any programs, and in no way intend our content to be anything more than informative and inspiring.
Editors' Recommendations