Everyone has a body type, and determining yours is about more than what you see on the scale. While body type changes depending on diet and exercise, it's mostly influenced by genetics, which determine up to 80% of your body shape, including muscle tone and where your body stores fat.
Finding that perfect ensemble can be challenging, and sometimes it's difficult to know how a style will actually fit on your body. There are, however, some general guidelines that will help you determine what styles work best for you.
Below we've provided general advice for figuring out your body type and some tips and tricks to make sure you're dressing to impress.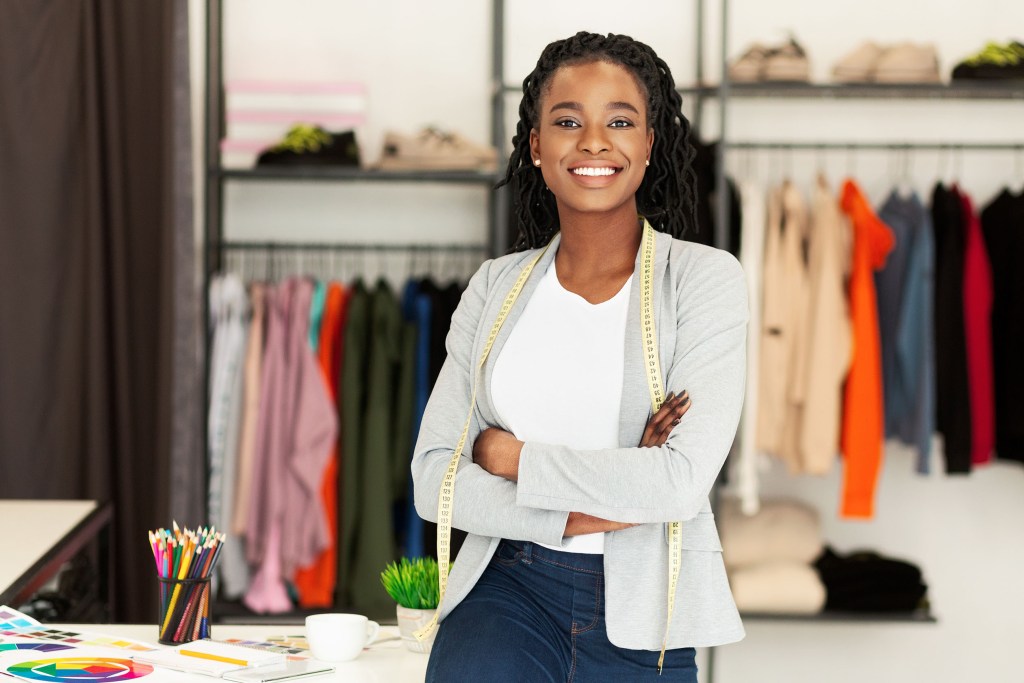 How do I know my body type?
The most precise way to determine your present body type is through your measurements, so now is the time to grab that tape measure.
Chest: Measure around the fullest part of your chest (people with breasts should wear a bra for this measurement).
Shoulders: Ask a friend to help you with this one, as you need to wrap the tape around the highest point of your shoulders.
Waist: Position the tape measure just above your navel at the narrowest part of your torso.
Hips: Stand with your feet shoulder-width apart. Find the widest part of your hips for the measurement.
Having these measurements handy will be helpful once you're shopping but can be used in various online body type calculators that give you a good idea of your natural body shape.
Rectangle shape
For rectangle or athletic shapes, your weight is evenly distributed throughout your body, so your chest, waist, and hip measurements are fairly similar. The key to dressing for this shape is to create curves, mixing together oversize and tight-fitting pieces to create different silhouettes.
For this body type, stay away from loose-fitting shirts, which often billow out at the waist. Instead, look for garments with extra shaping around the midsection. For a slim-cut shirt, be sure to tuck it in as these styles fit well around the shoulders and chest but are too large at the waist. If you're looking to give the appearance of broader shoulders, wear light-color shirts and layer with an oversize jean jacket.
Now onto the bottoms. The best pant style for the rectangle shape is a slim cut that accentuates your legs. Opt for a higher waistband that cinches at the smallest part of your waist, creating the illusion of the hourglass figure. Experiment with these different shapes, and see what oversize/fitted combination works best with your style.
Pear shape
You're likely a pear shape if you're fuller through the hips and smaller in the chest. To best dress for this shape, avoid clothes with pockets or pleats because they tend to pucker out at the hips. Instead, opt for straight-leg pants and scoop-neck tops which will balance your slimmer upper body with your wider hips.

Apple shape
Also known as the "inverted triangle," apple body types are wider in the shoulders than the hips. If you have an apple shape, purchase clothes in heavier fabrics like tweed, gabardine, or linen to accentuate your strong shoulders. Like the rectangle, many clothing items will fit snug around the shoulders but looser through the waist, so it may be worth the investment to bring your favorite pieces to a tailor, ensuring they fit you perfectly.
Hourglass shape
Individuals with hourglass figures tend to have a smaller waist, and their chest and hip measurements are about the same.
To dress for the hourglass body type, ditch the "boxy" clothing and look for garments that will give you a cleaner silhouette. High-waisted and flare-legged pants, as well as long necklaces and skinny belts, accentuate your waist, giving you that envy-inspiring bombshell figure.
Don't forget that these tips and techniques are only meant as general guidelines — it's highly likely that your body shape lies somewhere in between one of these basic categories. At the end of the day, you are the best person to determine not only your body type but the fashions that you love and feel confident wearing.
BlissMark provides information regarding health, wellness, and beauty. The information within this article is not intended to be medical advice. Before starting any diet or exercise routine, consult your physician. If you don't have a primary care physician, the United States Health & Human Services department has a free online tool that can help you locate a clinic in your area. We are not medical professionals, have not verified or vetted any programs, and in no way intend our content to be anything more than informative and inspiring.
Editors' Recommendations