There are so many types of meatless burgers available at the grocery store, but if you want to make a veggie burger that you know you'll love, try making them from scratch. It can be surprisingly simple, and you can customize the recipe to suit your palate. These black bean burgers from Serious Eats are fast and easy to make. Plus, their delicious flavor and meaty texture guarantee they'll be a hit with everyone, even the carnivores of the bunch! Ready to get your hands dirty in the kitchen? Read on to learn how to make these tasty meatless burgers.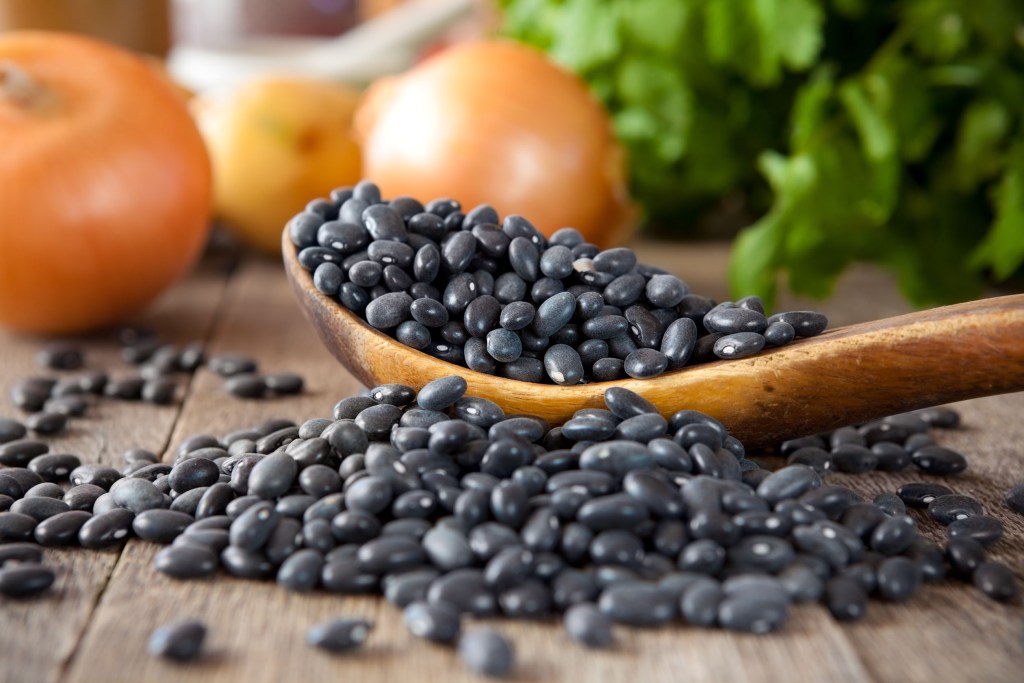 Ingredients and equipment
This recipe makes six to eight burger patties and only requires about 45 minutes to cook. In addition to your standard cooking equipment, you'll also need a food processor and a skillet or grill. Ready to get started?
Ingredients:
2 15-ounce cans of black beans
4 tablespoons vegetable oil
1 cup onion, finely chopped
1 cup poblano pepper, finely chopped
3 cloves garlic, minced
1 chipotle chili, finely chopped
1 teaspoon adobo sauce
3/4 cup roasted cashews
1/2 cup finely crumbled feta cheese
2 tablespoons mayonnaise
1 egg
3/4 cup panko breadcrumbs
Kosher salt
Black pepper
Sliced cheese (optional)
6 to 8 hamburger buns, toasted (optional)
Condiments and toppings (optional)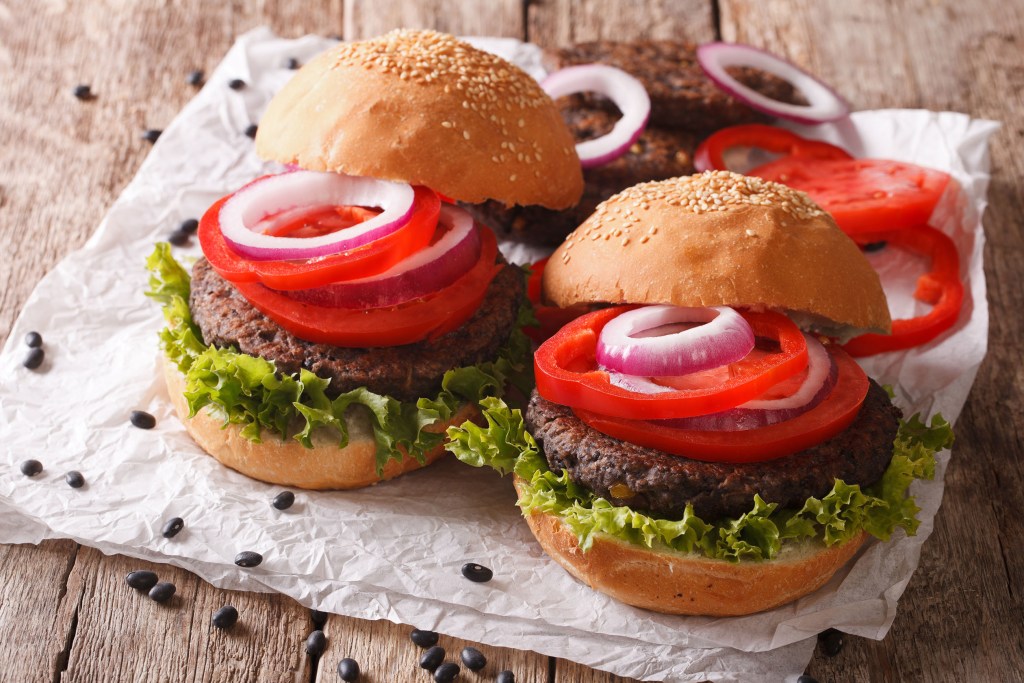 Step 1
Place your oven rack to the center position and preheat the oven to 375 degrees Fahrenheit. Open, rinse, and drain the black beans. Next, spread them on a foil-lined baking sheet in a single layer and place them in the oven. Roast them for about 20 minutes until the beans are mostly split open and the skins start to become crunchy. Remove the pan from the oven and let it cool slightly.
Step 2
While the beans are roasting, heat two tablespoons of oil in a medium skillet over medium-high heat until it simmers. Add the chopped onion and poblano pepper and stir the veggies for about five minutes or until they soften. Add the garlic and stir for about two minutes until it becomes fragrant. Add the chopped chipotle chili and adobo sauce and stir for another 30 seconds then transfer the mixture to a large bowl.
Step 3
Put the cashews in the food processor and pulse until they are chopped into pieces that are no larger than a third of an inch. After about 12 short pulses, add the chopped cashews to the bowl with the onions and other vegetables.
Step 4
Once the beans are slightly cool, add them to the food processor with the feta cheese. Pulse until the beans are chopped to about one-third of their original size. Add the chopped beans to the bowl with the veggie and cashew mixture and finish off the mixture with mayonnaise, egg, and breadcrumbs. Season to taste with salt and pepper then use your hands to gently fold the mixture together.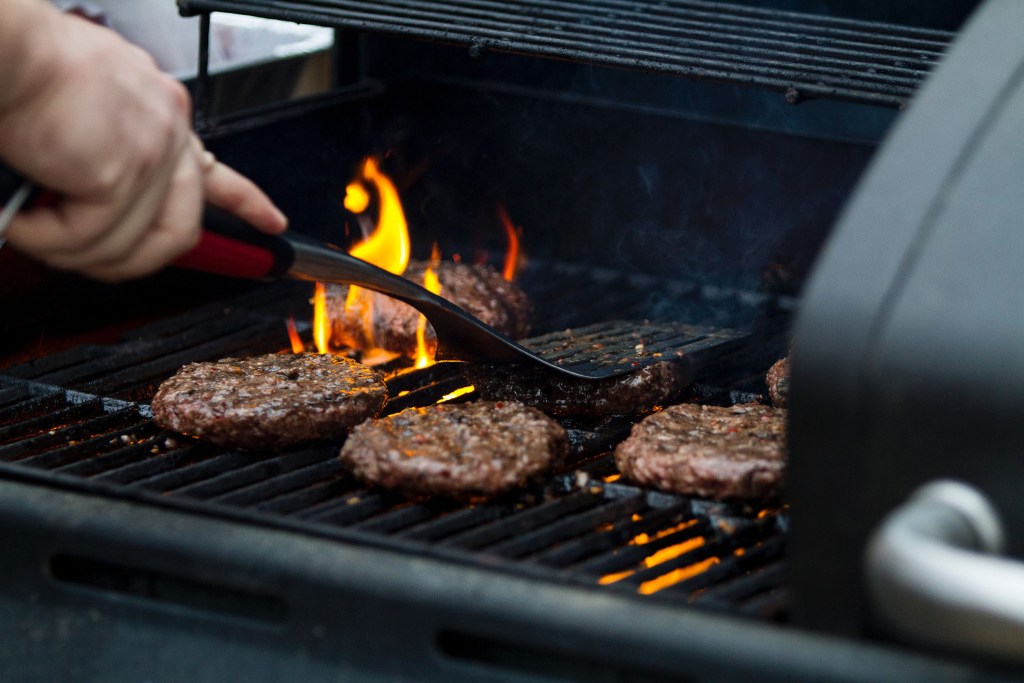 Step 5
Form the bean mixture into six to eight patties. If you plan to use burger buns, be sure to make your patties roughly the same size as the buns.
To cook your burgers on a grill, preheat your grill for five to ten minutes to ensure you get the enviable scorched grill marks. Brush the tops of your burger patties with oil and place them oiled side down on the grill for about three to five minutes until they're browned. Brush the other side with oil, flip the burgers, and let them brown for another three to five minutes.
Cooking your veggie burgers inside is just as simple. Heat 1 tablespoon of vegetable oil in a large cast-iron or non-stick skillet over medium heat. Add four patties and cook for about five minutes until they're crisp and brown. Flip and brown the other side for an additional five minutes. While you start on the second batch, keep the first four burgers warm in the oven at 200 degrees Fahrenheit.
Last, add your favorite toppings and condiments then enjoy!
Storing your mixture
If you don't plan to cook all of your black bean burgers at once, store the shaped patties in an airtight container and keep them in the fridge for up to three days. For longer storage, separate the patties with parchment paper and store them in a freezer bag for up to three months. To cook your frozen patties, thaw them at room temperature for an hour, then cook as desired.
Transform your summer BBQs with a recipe that will please vegetarians and meat-eaters alike, and with this recipe from Serious Eats, you and your family can enjoy these delicious black bean burgers in no time. Making veggie burgers at home can be so simple and fun that you may never buy those store-bought patties again!
BlissMark provides information regarding health, wellness, and beauty. The information within this article is not intended to be medical advice. Before starting any diet or exercise routine, consult your physician. If you don't have a primary care physician, the United States Health & Human Services department has a free online tool that can help you locate a clinic in your area. We are not medical professionals, have not verified or vetted any programs, and in no way intend our content to be anything more than informative and inspiring.
Editors' Recommendations