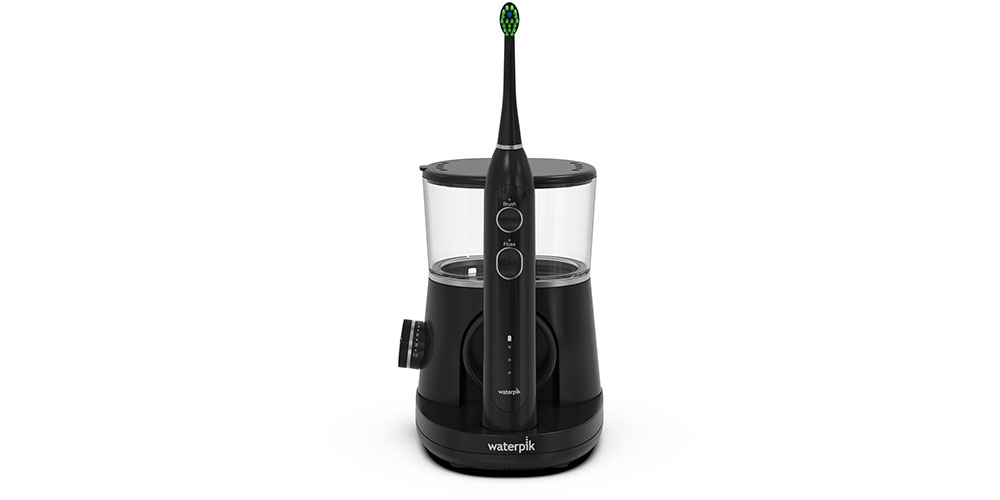 If you've already been working on your facial yoga and you want your teeth to look as good as your face, you need a great toothbrush. That's where the Waterpik Sonic-Fusion Flossing Toothbrush comes into things. Right now, it's just $140 as part of the Walmart Prime Day sales and it's a fantastic price for an equally fantastic toothbrush. If you're serious about oral hygiene, you'll be delighted with this toothbrush.
As the name suggests, the Waterpik Sonic-Fusion is a flossing toothbrush — the world's first flossing toothbrush at that. Saving you time and effort, and making sure your teeth are healthier, you can now brush and floss at the same time. It works through Waterpik's Water Flosser technology which is built into the advanced sonic toothbrush so you get a complete clean in just one step. Three cleaning modes are available — brush, floss, or brush and floss together, so you're not compelled to floss every single time (although it could help).
The sonic toothbrush cleans the surface of your teeth while the water flosser cleans between your teeth and below the gum line, reaching the areas where toothbrush bristles simply can't reach. It's a really effective way of keeping your teeth clean and healthy with the Waterpik Sonic-Fusion proven to be as much as twice as effective as traditionally brushing and flossing separately.
The Waterpik Sonic-Fusion Flossing Toothbrush comes with one patented flossing brush head, 10 pressure settings, a 15-ounce covered reservoir with a 60 second supply of water, plus it has a two-minute timer with a 30-second pacer so you brush appropriately. There's a premium toothbrush travel case bundled in too so you can keep it safe at all times.
Simple to use yet highly effective, the Waterpik Sonic-Fusion Flossing Toothbrush is just $140 right now as part of Walmart's Prime Day deals. That's a savings of $20 on the usual price, making it a small price to pay for great oral hygiene. If you're passionate about removing up to 99.9% of plaque from treated areas, this is the toothbrush for you. It makes a regular electric toothbrush look ancient thanks to how well it works. Snap it up now while stocks last.
Editors' Recommendations