For people struggling with fine lines, large pores, dark spots, and wrinkles, microdermabrasion can be a beneficial cosmetic procedure to help reduce these skin blemishes. As a minimally invasive and non-surgical procedure, many people have found relief and satisfaction in getting microdermabrasion treatments from their skincare experts.
Unfortunately, this procedure can be costly, excluding many people from getting this beneficial treatment. Thankfully, there are ways to go about microdermabrasion without breaking the bank. Here's how.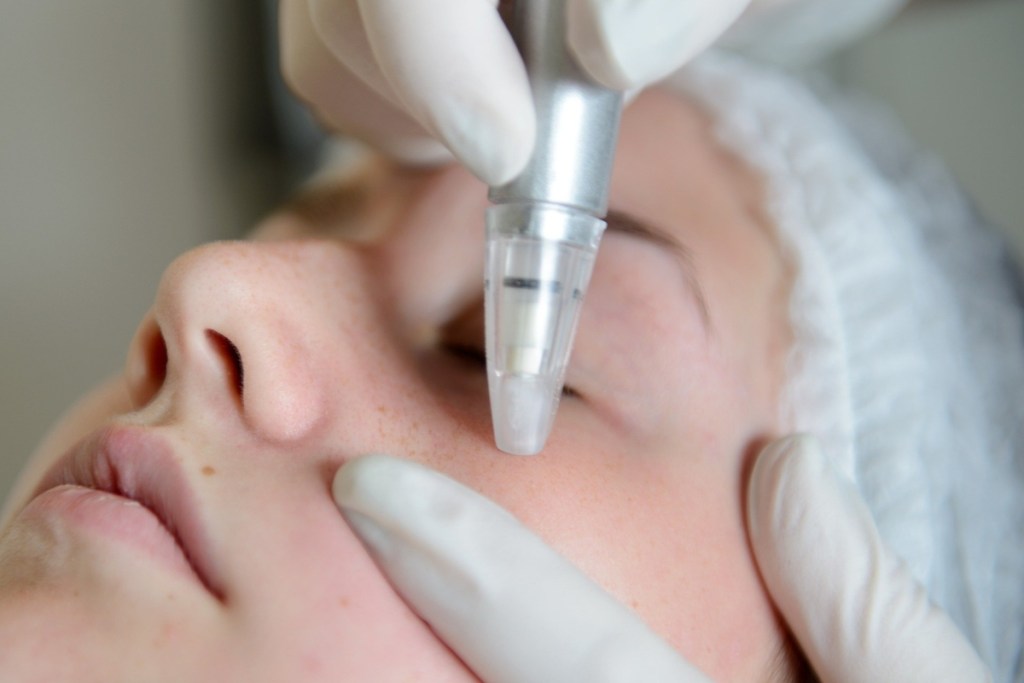 What is microdermabrasion?
Microdermabrasion is a minimally invasive, non-surgical cosmetic procedure performed by skincare professionals and dermatologists to help you reduce the appearance of blemishes and wrinkles on your face.
To perform microdermabrasion, a small applicator removes the outer layer of skin to help rejuvenate skin cells and layers underneath. Other forms of microdermabrasion might be done by using small crystals or suction to help remove dead skin cells on the surface of the skin and diminish skin imperfections. This procedure is often done by a skincare clinician and is performed in an office/clinical setting.
How does it help your skin?
Microdermabrasion helps to remove dead or damaged skin cells that clog pores or increase the process of aging. The treatment allows the lower layers of skin to rejuvenate and creates a healthier glow by eliminating blemishes.
The problem with getting the treatment done professionally
Since a skincare specialist often performs microdermabrasion, the procedure is done in a medical setting. The cost of getting treatment done professionally is normally over $100 and, in some places, can be much more expensive. This is a steep price for many people who may be interested in the procedure. Unfortunately, medical insurance often doesn't cover the cost of microdermabrasion since the treatment is considered a cosmetic procedure. This means that you will have to pay out of pocket if you want to obtain healthy, glowing skin.
What a personal microderm tool can do for you
With new advances in recent years, microdermabrasion has become more accessible to people who would prefer to perform the treatment at home. Tools like the PMD Personal Microderm have made it easy for people interested in microdermabrasion to perform the procedure at home.
What makes PMD so amazing is that you can achieve the same results you would from a professional appointment, but you have the ability to save money in the long run. Microdermabrasion is not a one-time treatment. After a while, more damaged and dead skin cells will form on the outer layer of skin, and to combat this, you'll have to schedule another costly appointment. A personal microderm tool like PMD is a one-time fee that you can use over and over again for years to come.
If you're wondering what a personal microderm can do for you, here are a few of the best benefits of an at-home treatment tool like PMD.
Reduce wrinkles
One of the best features of this tool is its calibrated vacuum suction. This mode of microdermabrasion increases blood circulation in the skin and encourages the natural creation of collagen and elastin. By boosting these natural processes, your skin will increase its elasticity and vitality, meaning there will be a reduction of wrinkles and lines.
Create glowing skin
The PMD personal microderm tool has patented spinning discs that are embedded with aluminum oxide crystals. These crystals help to exfoliate the skin and remove dead skin cells to showcase the skin's vitality. With the dead and damaged skin cells removed, your skin will have the chance to reintroduce its natural glow, making you feel more youthful and radiant.
Reduce the appearance of pores
Since the personal microderm diminishes the number of dead skin cells, this will help remove blockages that collect within your pores. Unclogging your pores will help to reduce their size and eradicate their appearance on the surface of your skin.
If you want to save money by performing an at-home microdermabrasion treatment, then PMD is a fantastic choice. It works just as well as a clinical appointment with a skin specialist and costs a fraction of a single appointment when you consider how much use you'll be able to gain from this product over time. Originally $159, this tool is on sale for $99 , making it extremely affordable. If you want healthy, glowing skin, then this personal microderm tool may be the answer you've been searching for. But you'll have to act quickly if you want this great price — Walmart's Deals for Days event ends tomorrow.
Editors' Recommendations