Cardio is an essential part of any good health and fitness regimen, improving cardiovascular health, mood, and mental acuity. However, improving your cardio doesn't have to mean signing up for the next half-marathon, although it's very impressive if you do choose to do so.
Not everyone has the time for a run or the funds for an exercise bike, and as more and more people continue exercising at home, there's a greater need for workouts that can be done in relatively tight confines. This is why jumping rope has recently become such an attractive cardio option for people at all fitness levels.
These few jump-rope exercises can get you going, no matter where your workout takes place.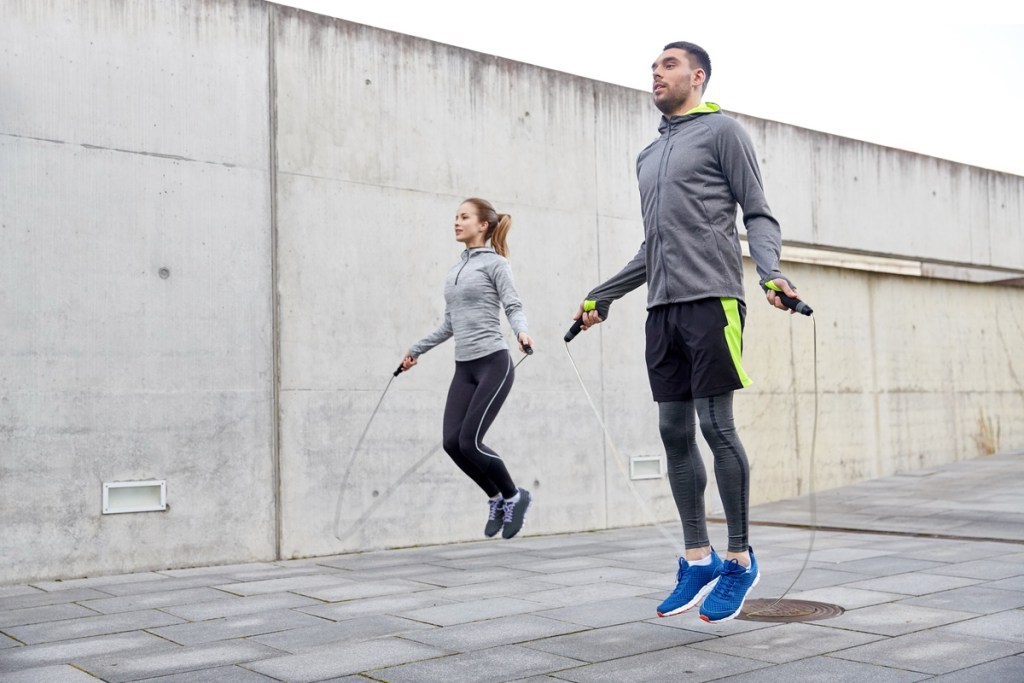 Why is jumping rope the right exercise for me?
Jumping rope isn't just for boxers and grade-schoolers. A mere 10 minutes of rope skipping was enough to improve cardiovascular performance among male college students significantly. Cardiovascular health is just one of several health benefits you can reap from skipping rope, but this full-body workout provides a range of benefits that includes:
Cardio, cardio, cardio: We can't mention it enough. Jumping rope, like jogging, cycling, and other cardiovascular activities, improve heart and lung functioning.
Nothing fancy required: Simply buy a jump rope and you're all set! There is no assembly, lessons, membership, or fancy equipment needed to get started. Further, you can do it from the comfort of your living room (if the ceiling is tall enough).
Big-time calorie burn: When it comes to burning calories, jumping rope is one of the most effective exercises. Expect to burn approximately 600 calories or more per hour.
Stronger bones: The repeated jumping required in rope-skipping can increase bone density and even prevent injuries to your bones over time.
Better balance: This exercise also trains balance and hand-eye coordination, given that your hands, arms, feet, and legs all need to work together in rhythm. For an extra challenge, try jumping on one foot at a time.
Sculpted calves: In proper form, your heels should never touch the ground while you're jumping rope. By staying on the balls of your feet, your calf muscles launch your body into the air and absorb the shock when you land. That adds up to a powerful workout for your lower legs.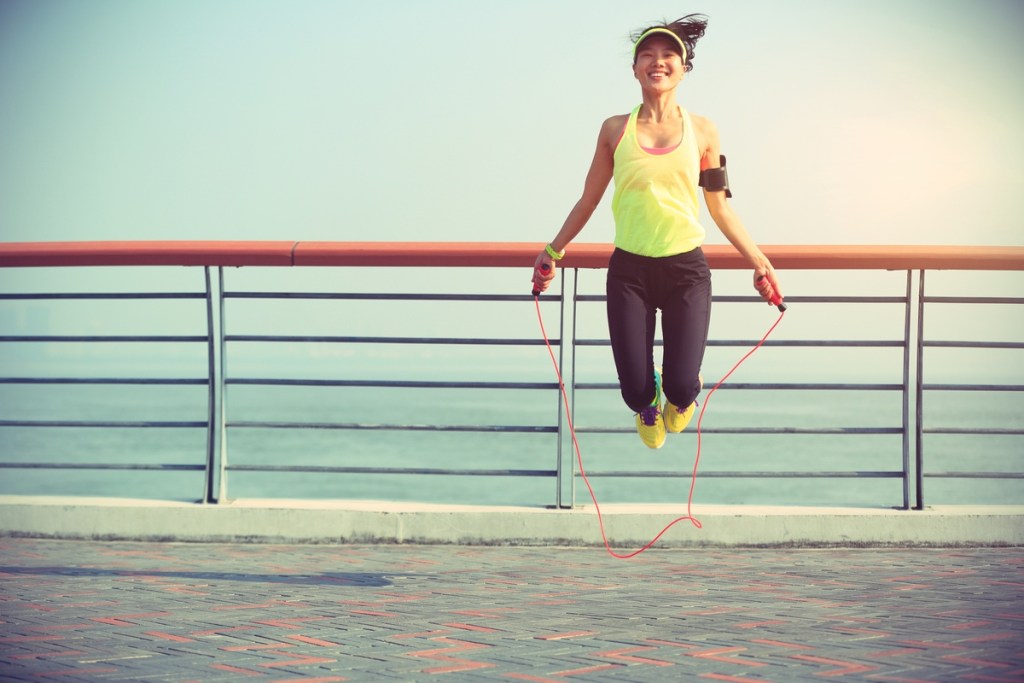 Basic jump rope exercises
Does jumping rope sound like a good fit for you? If so, it's incredibly easy to get started. Just pick up a jump rope online or at any sporting goods or department store. Although no specific shoe is recommended for jumping rope, trainers or CrossFit shoes are a good bet, and the extra shock absorption is worth the additional investment.
The basic motions of jumping rope may feel simple and familiar, but as with any exercise, proper form is key.
To begin, grip one handle in each hand. Start with the rope behind your feet, then use your wrists (not your arms or shoulders) to flip the rope up and over your head.
Bring the rope down and jump over it, aiming to land on your toes rather than your heels.
If possible, avoid the "double jump," where you take a small extra hop while the rope is moving. Stick to one powerful jump for maximum benefit.
Lather, rinse, repeat.
When you are ready to challenge your skills jump rope manufacturers, CrossRope, offers tutorials on fun jump rope tricks and exercises. A quick search on YouTube will also provide you with links to the best jump rope workouts for every skill level and fitness goal.
Just like with any exercise, it's okay to take breaks when you're first starting out. Take it slow, and listen to your body when it's telling you to take a break or two. Once you begin jumping rope regularly, you'll be able to up the intensity or duration in fairly short order. Just be ready to sweat!
BlissMark provides information regarding health, wellness, and beauty. The information within this article is not intended to be medical advice. Before starting any diet or exercise routine, consult your physician. If you don't have a primary care physician, the United States Health & Human Services department has a free online tool that can help you locate a clinic in your area. We are not medical professionals, have not verified or vetted any programs, and in no way intend our content to be anything more than informative and inspiring.
Editors' Recommendations