Black and white stripes are a fun, neutral pattern that can be dressed up for a night out or dressed down to grab your morning coffee. The design is fun but also neutral enough to play around with and pair with other fun colors and designs. No matter what kind of black and white striped outfit you're wearing, here are some exciting ways you can complete your look.
Add a pop of color
One of the best ways to dress up a black and white striped shirt is to incorporate a pop of color. Both black and white are versatile shades, so you can pair them with nearly any color under the sun! If you want something bold, choose a skirt, pair of pants, or jacket in a bright color like red or yellow. For a more understated look, choose a gray-blue or light green. Adding color to the outfit also includes accessories, so don't be afraid to grab your most vibrant necklaces, bandanas, and belts to complete the look.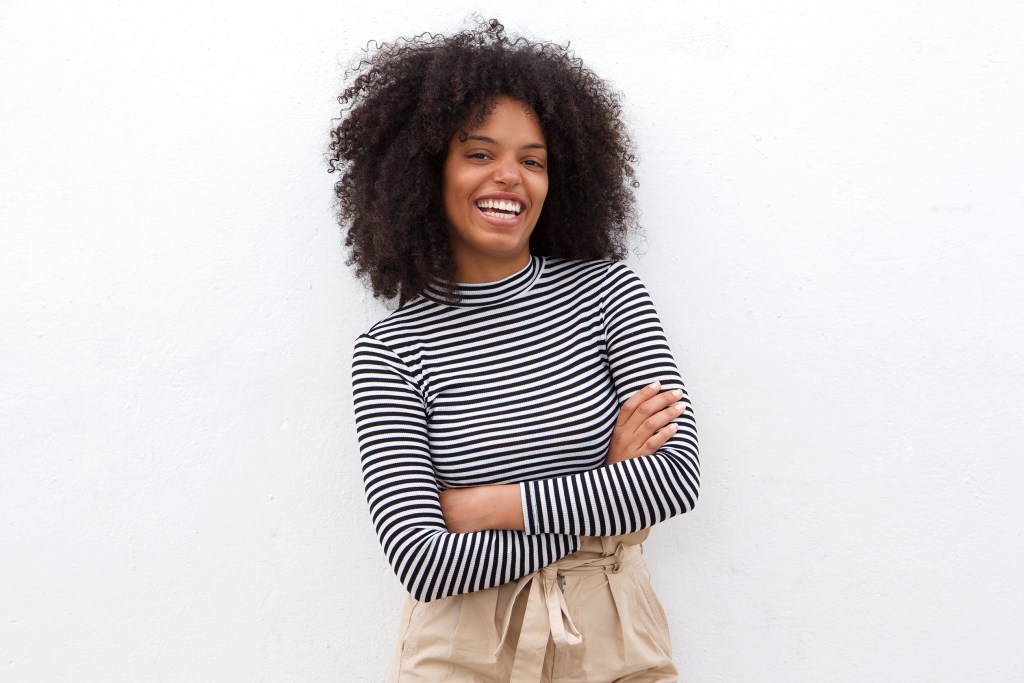 Commit to the black and white look
To keep your outfit modern and sleek, stick with the dual-tone look. Select other black and white pieces like a pencil skirt or patent leather jacket. This contemporary outfit is the ideal day-to-night look — it's professional enough for the office, but it can also be dressed up to go out with friends. If you like the modern look but want to add a little variety to your outfit, accessorize with other neutral colors and top off your black and white outfit with gray or tan shoes and other accessories.
Layer up
Stripes are perfect for layering. A cute jacket can make all the difference when you're putting together an outfit with black and white stripes. Overalls are always fun to wear with stripes, adding a level of sophistication to the look. Additionally, a denim or faux leather jacket can pull together a striped dress perfectly.
Try the Parisian look
Black and white stripes are quintessential French attire, so channel your inner Coco Chanel when planning your next striped outfit. Skinny Breton stripes are a staple of French style, inspired by 19th-century sailors and popularized as a chic tomboyish classic during the 1950s and 1960s. Pair a striped shirt with black jeans and a trench coat or with a cute skirt and silk scarf. To really commit to the French look, try on a beret with your stylish stripes.
Choose a statement piece
Accessories can make or break any outfit. To best compliment your black and white stripes, choose a bold statement piece, whether that be a floppy sun hat, long necklace, or dangly earrings. You can also use this opportunity to add a little more color to your outfit and incorporate a bright purse or pair of shoes to elevate your look and make it a little more interesting.
Mix patterns
We know it can be scary to mix patterns without looking like you got dressed in the dark. If you're smart about it, though, mixing patterns can be a chic and daring look. Because black and white are both neutral tones and stripes are a simple pattern, you have a lot of options. If you're wearing skinny stripes, consider pairing them with a bold, graphic pattern. Or, if you're worried about going overboard, choose a limited color palette. Texture can be a type of pattern too, so don't be afraid to add garments made out of canvas, chiffon, silk, and other materials that add diversity to your look. This will create a cohesive ensemble that is still a lot of fun!
Black and white stripes come in all forms and sizes. They can be fun and playful or sleek and contemporary, depending on how you style them. Though this pattern is fun on its own, push yourself to add other elements that jazz it up. By incorporating a pop of color, adding statement jewelry, layering, or mixing patterns, your striped piece will look amazing every time you wear it out. As long as you're confident in what you're wearing, you're certain to feel runway-ready!
BlissMark provides information regarding health, wellness, and beauty. The information within this article is not intended to be medical advice. Before starting any diet or exercise routine, consult your physician. If you don't have a primary care physician, the United States Health & Human Services department has a free online tool that can help you locate a clinic in your area. We are not medical professionals, have not verified or vetted any programs, and in no way intend our content to be anything more than informative and inspiring.
Editors' Recommendations