Spooky season is upon us. But Halloween isn't just a day for candy and frights — sometimes you have to go for the funny bone instead of the jugular. From silly outfits to pun-based costumes, the sky is the limit for funny Halloween dress-up. If you're a real jokester, check out these five incredible funny Halloween costumes to buy online this season.
Smart Cookie
Why wait for others to give you Halloween treats when you can dress like a sweet treat yourself? Show off your brains and your sense of humor with the Smart Cookie Costume. This punny costume accessory kit comes with a circular tunic that looks like a chocolate chip cookie, fake glasses, and a graduation cap, complete with a tassel. A shirt and pants are not included, which allows you to add your own flair to the outfit. To complete the look, carry around a portable chalkboard with a festive Halloween message on it. The costume is made for adults and only comes in one size.
Gnome Riding On Snail Inflatable
Inflatable costumes are always crowd-pleasers. But instead of the overdone "man being abducted by an alien" costume, try something new and out-of-the-box this year. This Halloween, choose a funny fantasy costume and dress as a gnome riding a snail. The costume comes with the inflatable ride-on suit, yellow gnome hat, an air pump, and a portable battery pack. You can wear any shirt you want with this costume; we recommend a plain white or black tee, so you don't distract viewers from the priceless expression of the green and purple snail. The costume is one-size-fits-all.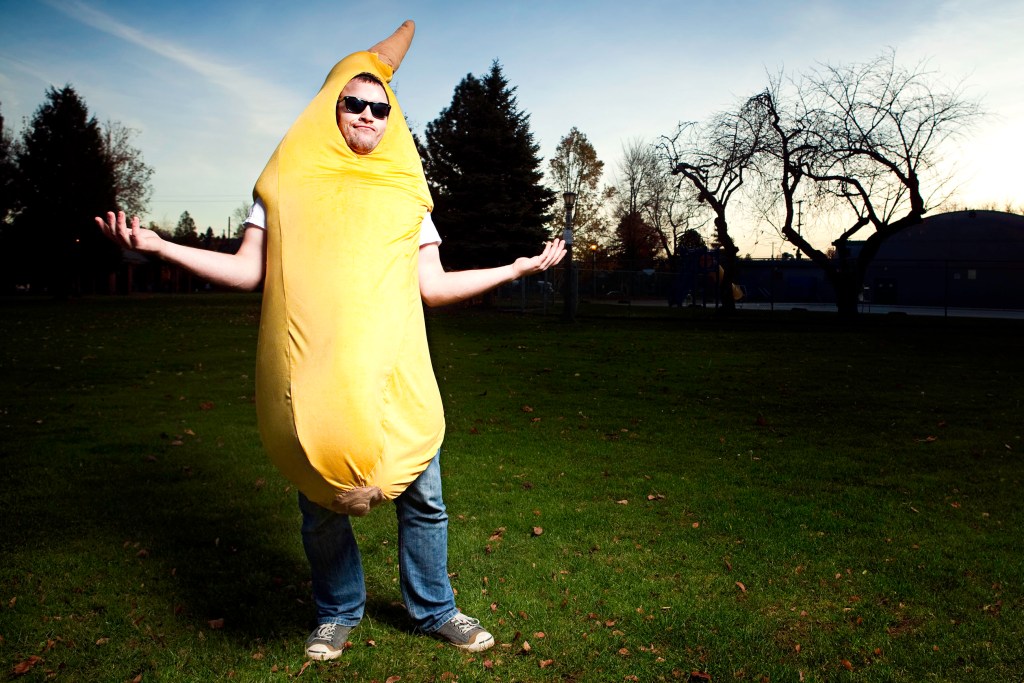 Banana
If you're looking for a simple costume that is sure to get a laugh, dress up as a banana. This unisex banana suit is ultra-low effort; you can simply put it on over any clothes you want to wear. And the top of the costume is peelable! You can zip or unzip the tip as you please, which is sure to make everyone else go bananas for your outfit. Keep in mind that some reviewers stated that the costume arrives very wrinkled. Before wearing it, be sure to wash and hang it to dry to flatten out any creases.
Runny Nose
While it may be a little puzzling at first, once people solve the riddle of the runny nose, they won't be able to stop laughing at this pun-based costume. The affordable costume kit comes with blue athletic shorts and a white tank top with a runner's bib. It also includes a large poly-foam headpiece shaped like a huge nose with a sweatband on top. To finish off your costume, all you need are sneakers and a pair of socks. The runny nose costume is one-size-fits-most, so be sure to check the measurements before purchasing it.
Funky Chicken
For a goofy Halloween look, try out this funky chicken costume. The outfit comes complete with a fuzzy yellow bodysuit with a green tail, a hood that mimics a chicken's head, and striped leggings with chicken feet attached. You can don't have to worry about wrinkles or shrinkage with this costume since it's made entirely of polyester. Some reviewers found this costume to be a bit small. This outfit is a unisex adult size small/medium, but the manufacturer also sells a large/extra-large version.
While scares and frights can be fun, there's nothing like making others laugh. And there is no shortage of funny Halloween costumes to choose from. No matter what type of sense of humor you have, you can be sure to find an outfit that will inspire screeches of delight instead of terror.
Editors' Recommendations