Have you ever imagined yourself living "a long time ago in a galaxy far, far away," fighting for the resistance alongside your favorite heroes or following Kylo Ren and the First Order? Now is your chance!
Disney recently revealed details about their newest hotel at Walt Disney World in Florida, the Star Wars: Galactic Starcruiser. This is no average hotel; it's an immersive experience and not a cheap one at that. Though the Galactic Starcruiser doesn't open until sometime in Spring 2022, superfans are already eagerly planning their trips. Keep reading to learn everything you need to know about the Disney Star Wars experience.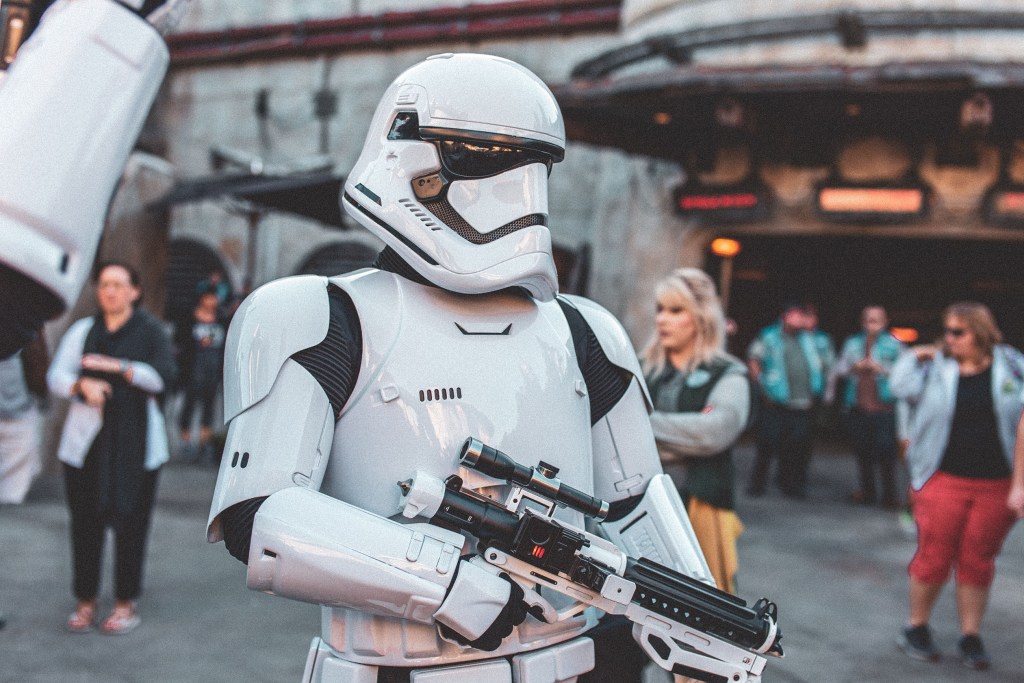 Live your own Star Wars adventure
In recent years, Disney has been adding more and more Star Wars experiences to their parks, from the Galaxy's Edge section of Disneyland in California and Walt Disney World's Hollywood Studios to the new hotel experience. The Galactic Starcruiser will be Disney's first Star Wars-themed hotel and its first fully immersive environment for guests. During their stay, guests can fully inhabit the world created in the movies and live out their own Star Wars story about the Halcyon starcruiser.
According to Disney, the Galactic Starcruiser is "part live immersive theater, part themed environment, part culinary extravaganza, part real-life role-playing game — and yet so much more." Guests can interact with new and existing characters to embark on secret missions and make new alliances, operate the ship controls, explore the planet Batuu, and enjoy food from around the galaxy. Each of the vacation packages includes a two-night stay in a themed cabin or suite, meals (but not alcoholic or specialty beverages), entertainment, and the chance to live in the Star Wars universe.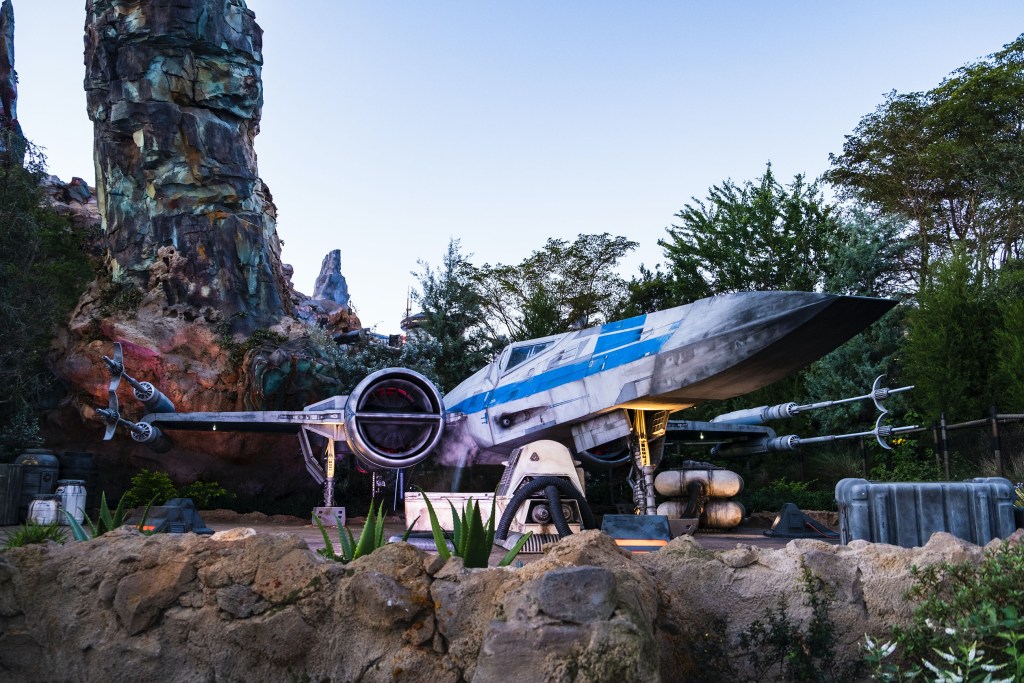 A day on the Halcyon starcruiser
Much of what happens during your stay is up to you, as you can choose the path you want your "character" to take. When you arrive at the Walt Disney World Resort "terminal," your group will take a "launch pod" to board the Halcyon starcruiser where you'll be staying. The whole experience is designed to make you feel like you're in the Star Wars universe, complete with stars and spaceships outside the windows.
There are plenty of activities to keep the whole family occupied. Guests can join lightsaber training and explore the bridge to learn how the starcruiser works. Or, you can grab a drink, play a hand of holo-sabacc, and watch the story unfold at the Sublight Lounge.
Guests also have the chance to explore the Black Spire Outpost on Batuu, which will factor into your Star Wars story. The "planet" is part of the Star Wars: Galaxy's Edge in Hollywood Studios. You will get a one-time entry to the two main attractions in this section of the park, Star Wars: Rise of the Resistance and Millennium Falcon: Smugglers Run. Meals are served in the Crown of Corellia Dining Room, and guests can enjoy live music and delicacies from around the galaxy. Guests are also encouraged to dress in costume, though this is not necessary.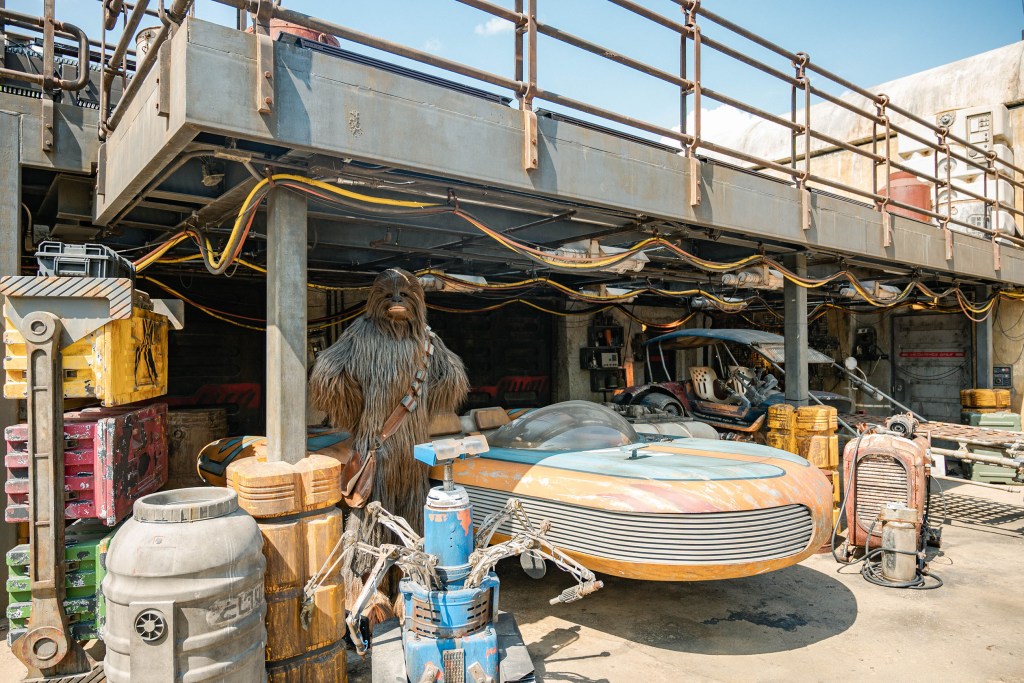 Inside the cabins and suites
Keeping up with the appearance and feel of living aboard a Star Wars cruiser, the experience is designed to be more intimate than other Disney hotels. There are only 100 rooms in the resort, each designed to look like the cabin of a starship. The rooms feature sleeping pods built into the wall, windows that look out into outer space, and tons of tiny details that fans will love to discover.
Guests can choose from three types of cabins and suites. Each room has the following amenities:
Mini refrigerator
Hairdryer
In-cabin safe
Phone with voicemail messaging
Interactive TV
H2O Plus spa, bath, and shower products
The Standard Cabin sleeps four to five people with a queen bed, two bunk beds, and a wall pull-down bed. The Galaxy Class Suite provides one bedroom with a living space, bar area, double vanity bathroom, and more. It sleeps four passengers. The Grand Captain Suite is suitable for up to eight people, with all the comforts of the Standard Cabin plus a little extra. The large room has a seating area, two bathrooms, and a bar area.
Pricing
The resort is not accepting bookings yet, but Disney has provided sample rates. As you may have guessed, the Star Wars experience is not cheap. For a two-night, three-day stay in the Standard Cabin, a party of two can expect to pay $4,809. A group with two adults and one child will pay a total of $5,299, and for a family of four, rates start at $5,999. The actual rates vary depending on the dates of your trip, the number of guests in the cabin, and the room type.
Disney vacations are known for being expensive, and there is no doubt that the cost of stay on a Galactic Starcruiser is out of this world But with that massive price tag comes a once-in-a-lifetime chance to be a part of your favorite movie universe. At the moment, it's hard to say if the two-night stay is worth the price. But for many superfans of the franchise, any cost may be worth it to experience Star Wars firsthand.
Editors' Recommendations